JUST IN: Air Force's Advanced Battle Management System Takes New Step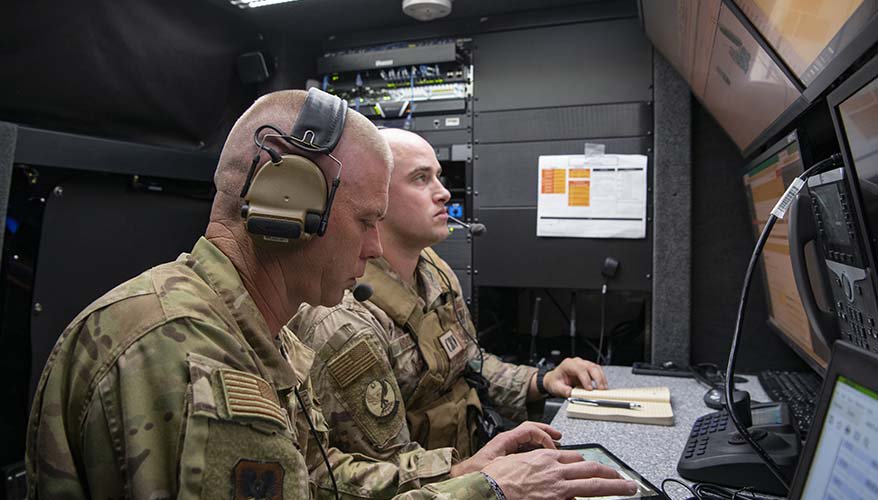 Airmen take part in an Air Force Advanced Battle Management System exercise at Nellis Air Force Base, Nevada, Sept. 3.
Air Force photo by Tech. Sgt. Cory D. Payne
In a move solidifying the importance of the Advanced Battle Management System program to the Air Force, officials are transferring parts of the high-profile effort to its Rapid Capabilities Office, the service's acquisition chief said Nov. 24.

Will Roper, the Air Force's assistant secretary for acquisition, technology and logistics, signed a directive Nov. 23 assigning the Advanced Battle Management System delivery phases to the Air Force's Rapid Capabilities Office. The RCO will be responsible for the ABMS acquisition strategy and integrating all ABMS capabilities for delivery to operational users.

"ABMS is ready for a program executive office," Roper said in a briefing. "I've taken a more delayed approach, which you know is unusual for me, I definitely like to go fast — as fast as we possibly can to compete — but when you tell the Pentagon and the world that you are finally going to build the internet [of things] for the military, it takes some real thought and diligence to back that up."

The program is a top priority for the service and is envisioned as a network of interconnected platforms that will allow users to rapidly collect, analyze and share information.
This network — an "internet of things" for the military — will connect the Air Force and Space Force together, as well as the other services, through a concept called joint all-domain command and control, or JADC2. ABMS underpins the Air Force's approach to the concept.
ABMS is intended to replace the capabilities of the Airborne Warning and Control System, or AWACS, and the Joint Surveillance Target Attack Radar System, or JSTARS.
The service has already held high-profile "on-ramp" exercises this year where it has worked alongside industry to test out numerous technologies.
Roper cited an inherited acquisition system, which does not "deal well with cross-cutting capabilities or with capabilities that continually update" as an issue prior to transferring ABMS to the RCO.

"This has been particularly challenging," he said. "You can't assign something this cross-cutting to one individual program team and hope they can go sit in isolation and birth a capability that in theory should touch every platform."

ABMS "on-ramps" will remain under the service's Chief Architect Preston Dunlap.

"The team has done remarkable over the last year and a half," he said. "I didn't want to water down what the architecture team is doing so well on, which is these rapid spirals and demonstrating internet like effects."

As the architecture team remains in place, the RCO, which was designed to speed development and fielding of capabilities, will be responsible for the ABMS acquisition strategy and integrating all ABMS capabilities for delivery.

"They will also be responsible for providing the consolidated work breakdown structure, the consolidated baselines, and most importantly, making funding trades when there's not enough funding to do all," Roper said.

The RCO is expected to ensure that the Air and Space Force deliver usable capabilities to the joint force and not partial capabilities that don't add up operationally, Roper said.

"I would rather have 70 percent of ABMS completed at a 100 percent level and be ready to be used operationally, than a hundred percent of ABMS completed at a 70 percent level," he said. "The RCO will have that task to meet."

Additionally, another reason the RCO was chosen as the integrating program office is due to its experience working with cross-organizational and multi-classification issues, he said.


Topics: Air Force News, Acquisition Programs