Pentagon Expands Hypersonics Transition Office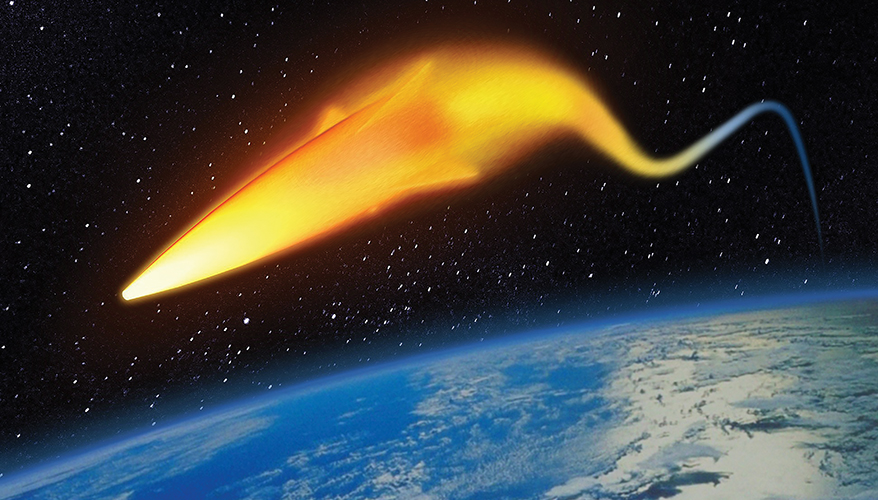 Concept art of a hypersonic glide vehicle
Lockheed Martin illustration
The Defense Department's joint hypersonics transition office is working with the Naval Surface Warfare Center Crane Division to expand its engineering expertise, according to the group's director.
"One thing that we kind of thought it was missing was a rigorous systems engineering approach," Gillian Bussey said in an interview.
The organization — which is nestled under the office of the undersecretary of defense for research and engineering — was set up in April to help move hypersonic weapons from research-and-development efforts to official programs of record, she noted.
The technology is listed as the Defense Department's third R&D priority, but it does not have any efforts that have reached Milestone C. The transition office's responsibilities include examining hypersonics projects from companies and universities that may be relevant to the Defense Department's needs, Bussey said. The organization is exploring topics such as thermodynamics systems and engineering and design.
"We'll go through the list of projects and identify the priority ones and the ones that we can fund," Bussey said. "We have a call every year for members of our [integrated product teams], who are all plugged into these programs, … to propose projects, and these projects all have to be tied to the programs, they have to be tied to specific capabilities."
Mark Lewis, acting deputy undersecretary of defense for research and engineering and director of defense research and engineering for modernization, said in a news release: "We often have difficulty transitioning department-funded basic research from universities through industry to operational applications. It is a particular challenge in hypersonics, where multiple disciplines must intersect precisely to move forward."
One of the most prominent initiatives includes the air-launched rapid response weapon, or ARRW. In 2018, the Air Force service awarded Lockheed Martin a $480 million contract to develop the product. ARRW was tested on an Air Force B-52 Stratofortress at Edwards Air Force Base, California, in August.
The new partnership with Crane will help the transition office identify suitable milestones and deadlines for these types of technologies, Bussey noted. The office hopes to have the division work on ARRW and any other hypersonic cruise missile program to develop a plan to integrate new technologies into platforms.
The intent is to have "an integrated, collaborative, enterprise-wide plan for putting capability via these new technologies into these systems," she said.
Manufacturing is one of the biggest challenges of transitioning hypersonic weapons from R&D to a program of record, she noted. Many of the systems in development have been one-off demonstrations that require participation from companies across the country, she said. This makes it more difficult to manufacture items at a large scale and at an affordable price.
"If we're going to have a program of record, we can't take nine months or several months to build a thermal protection system or to build an engine. We need to have that happen such that we're producing 20, 50, 100 of these things a year," Bussey said.
Crane is assisting the office to ensure that this is taken into account when funding projects and writing contracts, she noted.
"Figuring out what things we need to write into the contracts from the beginning to ensure a better transition and better manufacturability of these technologies is something that we're going to do," she said.
Topics: Emerging Technologies