Armaments Group Revamps to Aid Military Prototyping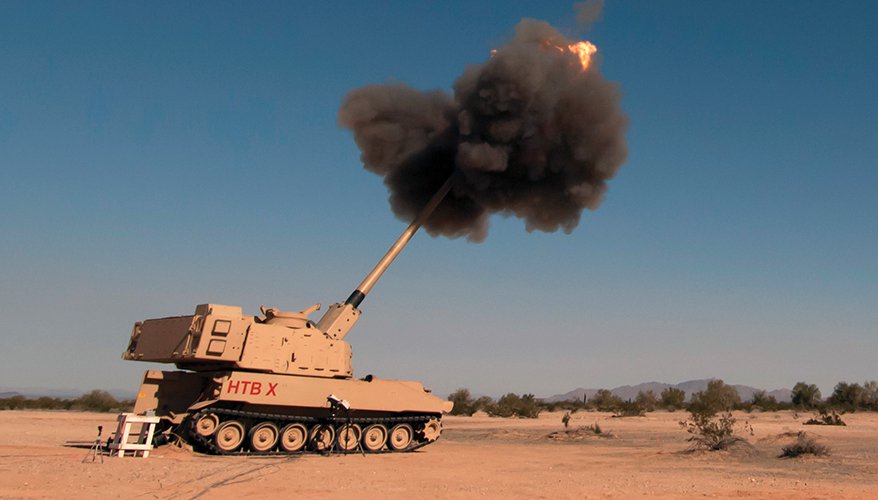 The Army conducts developmental testing of an Enhanced Range Cannon Artillery system.
Army photo by Lance Cpl. Katherine Cottingham
The National Armaments Consortium — with a portfolio that runs the gamut from small caliber ammunition to long-range missiles — is making changes to handle a growing caseload of Pentagon-sponsored prototyping efforts.
The organization, also known as the NAC, is one of the consortia that the Defense Department is increasingly leaning on to help speed the development of new capabilities for the military and bring nontraditional companies into the fold. It leverages other transaction authority agreements, a contracting mechanism that enables Pentagon agencies and industry to bypass some of the bureaucratic red tape associated with the traditional acquisition system.
Other transaction authority agreements, or OTAs, have become increasingly popular in recent years after Congress passed the 2016 National Defense Authorization Act which included provisions designed to encourage their use. When the military develops a requirement for a new capability, it can issue solicitations to consortia, which then disseminate it to their members. Companies and universities have an opportunity to respond with white papers, which can quickly lead to an OTA contract award.
The Summerville, South Carolina-based National Armaments Consortium, which was established in 2000, now boasts more than 900 members of industry and academia throughout the United States. It has seen a major uptick in activity in recent years. However, the growing caseload has been taxing its system.
"It became, quite frankly, a victim of its own success," NAC Executive Director Charlie Zisette said in an interview. "It started yielding as many as 345 requirements at a single collaboration event, which was generating about 1,500 proposals, and that just became a bow wave and it really wasn't tenable. And so we knew we had to work closely with the Department of Defense and do … a process reset and take a look at how can we streamline this" to meet the growing demand.
To get at the problem, NAC leaders teamed with other partners including Army Contracting Command, the DoD Ordnance Technology Consortium (DOTC), and consortium management firm ATI to make several major adjustments.
One change is to move away from an annual solicitation cycle because under that construct there "just wasn't enough battle rhythm," Zisette said.
"We're going to move to a monthly solicitation cycle," he said. "Our members know on the last Thursday of the month, we will publish whatever requirements [and solicitations] are ready to go and put those out to all of our members."
Going forward, the consortium will also host three collaboration events each year instead of one.
"All of the industry and the government requirements owners will get together and continue that dialogue and that interface," he said. The collaboration events will offer networking opportunities, not only between industry and government, but between NAC members, he noted. Small or large, traditional or nontraditional companies can meet, discuss challenges and potential solutions and share information about their technologies.
"That networking is really where a lot of partnerships are drawn," he said.
A new mechanism has also been set up to help the Pentagon gather information from the armaments community.
"A lot of times the government isn't quite ready to issue requirements, they need to do a little bit more digging on the art of the possible," Zisette said. "So we created a parallel process that allows the government to issue essentially a technology collaboration announcement to our members" as a precursor to a formal solicitation.
"Now, if I'm in the government and I've got a hard problem to solve, I can go out to this large network and say, 'OK, here's what I want to do. … Tell me about what is it that you might have that will shape the solution set,'" Zisette said. "With that information and that upfront collaboration, then they can formalize their requirement."
Stakeholders are also throwing more people at the problem. For example, Army Contracting Command is providing more contract specialists and agreements officers to handle the growing caseload.
"The other thing that the government did was to put in new leadership at the DOTC program office, and to organize that leadership in … a very efficient work cell with technology managers that are assigned both to the different services and also to the technology areas, so that we can really improve what I like to call customer care to the department," he said.
An executive committee that manages and governs the operations of the NAC is also meeting monthly to review data and make sure that challenges and issues are being addressed as they arise, he noted.
Business is booming for the consortium. Its members currently have about 650 active projects with the Pentagon, according to Zisette. In fiscal year 2020, they received about $2.4 billion in new contracts. The total value of all the work currently underway is approximately $14 billion, he said.
Armaments encompasses a wide range of weapon system technologies to include ammunition, warheads, energetics, small caliber and large caliber guns, rockets, missiles and bombs.
"It's a broad portfolio," Zisette said. "Armaments is pretty much everything in the kill chain."
The technologies can be used in multiple warfighting domains including air, land, space, sea and undersea. They can range from small subcomponents to a large "system of systems." They can prove offensive capabilities such as a hypersonic weapons, or defensive tools to counter enemy drones or other threats, he noted.
How mature are the technologies that NAC members are bringing to the table for these cutting edge prototyping efforts?
"What we see is kind of a wide range … in terms of both TRL and MRL," Zisette said, referring to technology readiness level and manufacturing readiness level.
High priorities for the Pentagon's research-and-development offices, such as hypersonic weapons and long-range precision fires, fall into the NAC's wheelhouse.
"Range and lethality, in a broad sense, is a big push," Zisette said. "We know that we've got to do better, whether it's a missile or it's an artillery gun-delivered system, we've got to improve our range. And so we're seeing a lot of interest in everything from new rocket propellants, to understanding how can we get higher pressures in our gun systems, and how those warheads and their guidance and their fuzing can withstand the environmental impact of pushing your weapons systems farther. So we're seeing a lot of work in advanced fuze technology and energetic materials."
Lighter weight ammunition is also on the department's wish list, he noted.
"We sometimes forget about the soldier on the ground who's got a rifle and they are being loaded with all kinds of gear," Zisette said. "What can we do to improve their lethality, but yet lighten their load? There's a real challenge there."
Armaments doesn't just cover weapons, but also supporting equipment.
"We're seeing a real uptick [in interest] in sensors and sensor systems, because we have so much more capability now in miniaturizing our computational" capabilities, Zisette said. "There's a big drive to figure out how to not just miniaturize, but harden our electronics."
The military is dealing with growing threats from adversary anti-GPS jamming as well as offensive cyber capabilities, he noted. "That's added a whole new dimension" to the challenge in recent years, he added.
Across the Defense Department there is a heavy push to expand the industrial base and attract nontraditional companies to work with the Pentagon. Leveraging OTAs and consortia like the NAC are one mechanism that officials are keying on to do just that.
"If you really need advanced technology and you really want to apply AI or machine learning to these kinds of armament technologies, then you've got to bring in folks that have not historically been in your supply chain," Zisette said. "You've got to find a method for reaching out. And that's something that we've been able to do very well."
Nontraditional companies and academic institutions make up 82 percent of NAC's membership. Additionally, 98 percent of OTAs that go to members that are traditional defense contractors include significant participation from nontraditional partners, according to Zisette.
"The vast majority of all of them are these startups and small, innovative companies that might have a niche technology, a single aspect of the solution set," he said. "They may not be able to do the integration and all of those things that the [primes do] … but they have what I like to call component technology that is going to become a discriminator.
Maybe it's a new sensor, a new seeker. It could be in software modeling and simulation. It could be in material science. Maybe it's a better material for a warhead — more ductility or strength — or maybe, in the case of hypersonics, something that can withstand those thermal shock loads that we see at such extreme conditions."
A key aim of the NAC is to help those vendors navigate the process of doing business with the Pentagon.
"That whole engagement and retention and training is something that the consortium really focuses on," Zisette said. That includes helping nontraditional players understand what is a white paper or statement of work, and how to price a proposal.
NAC membership is limited to U.S. companies and academic institutions, although they can be U.S.-based firms that are foreign owned. The annual membership fee is $500, an amount that hasn't changed in 20 years and isn't expected to change anytime soon, Zisette said.
Additional information about the consortium can be found on its website: www.nacconsortium.org.
Topics: Ballistics