EDITOR'S NOTES DEFENSE DEPARTMENT
A Hard Look at the Landmine Issue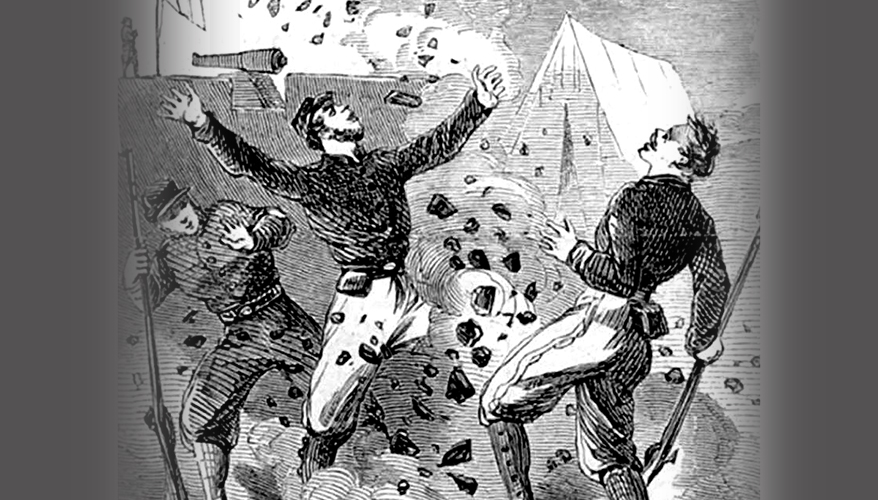 Illustration from America's Buried History book cover
GETTYSBURG, Penn. — The landmine issue for a number of years was little talked about. For lack of a better metaphor, it was not unlike a Chinese-made Type-69 anti-personnel mine: buried in Cambodia and forgotten until the Trump administration announced earlier this year that previous restrictions on their use by the U.S. military had been lifted.
For a day, anti-landmine campaigners expressed their disappointment, but the issue again quickly faded from public discourse.
Nevertheless, I assigned a reporter a story on the issue and suggested he call my friend, Kenneth Rutherford, for comment. Rutherford — a James Madison University professor of political science — has been a part of the International Campaign to Ban Landmines, which won a Nobel Peace Prize in 1997. He has a strong point of view, but provides measured commentary.
He is one of the world's foremost experts on the history of landmines, an occasional speaker at NDIA conferences, and the media's go-to source on the issue.
I have known Rutherford since 1987. Over the ensuing decades, we both had personal journeys with these types of weapons.
I first encountered the issue as a young man while teaching Afghan refugees in Peshawar, Pakistan, from 1990-1991, when I got to know two different Army Special Forces A-Teams, who were there to teach members of the Afghan resistance how to detect and dismantle mines. I invited one of these deminers to speak to my class, where he gave a presentation on all the dastardly tricks Soviet Union forces used to terrorize civilians with landmines.
If they are such awful weapons, why do we use them? I asked the deminer.
"Because they work," he answered bluntly. They are effective for perimeter defense, he said, noting when U.S. forces lay minefields around outposts, the location of each mine is carefully mapped out, and they are removed when no longer needed. That was opposed to the Soviets, who hid them in toys so children would get their arms blown off, and seeded them in fields, orchards and villages to render the areas useless. Evil empire indeed.
During my time in Pakistan, I got to know many other workers in the demining field, including the innovators who drove the first flails — the armored trucks that churned up soil to destroy mines.
In 1997, I was a journalist in Cambodia — another country plagued with unexploded mines — and I wrote on the topic extensively. I interviewed a pair of Lawrence Livermore researchers, there to see if their new mine detectors using ground-penetrating radar could help clear minefields.
Meanwhile, Rutherford was having a more intimate personal journey with landmines. It began while he was working with refugees in Somalia in 1993 when one exploded underneath his vehicle. He miraculously lived, but lost a leg immediately. After four surgeries, he lost his other leg.
Being a landmine victim led him to specialize in the topic academically as he pursued a PhD at Georgetown University. No one has published more scholarly articles on the history of landmines than Rutherford, and he has a new book, America's Buried History: Landmines in the Civil War.
I traveled to Gettysburg, Pennsylvania, recently to hear him give a talk about a topic that has not previously been examined in depth: the first widespread use of land and waterborne mines in warfare. The Confederacy employed victim-activated and wire-activated mines for perimeter defense and to cover retreats in several famous battles. They were controversial from the get-go, with several Confederate generals declining to employ them believing they were inhumane weapons.
Others embraced them with President of the Confederate States Jefferson Davis settling the matter and declaring them legitimate weapons of war.
Union generals, of course, hated what were then known as "torpedoes," calling them "infernal machines" and threatened to execute any rebel caught burying them.
I asked Rutherford after the talk about what my deminer friend said back in 1990 — that mines were effective, especially for perimeter defense.
"I have a son who is a second lieutenant in the Marine Corps and I want him to have every tool at his disposal to protect himself," Rutherford said. But there are plenty of new technologies that can do perimeter defense more effectively than victim-activated landmines such as unmanned aerial vehicles.
Landmines are still in use on the Korean Peninsula, but U.S. forces haven't planted them since 1991. Exports have ceased, and the current stock now dates back to 1997.
Abandoning an outpost and leaving a minefield behind causes instability in civilian populations and U.S. forces want stability, Rutherford asserted. Meanwhile, he noted, no country in the world contributes more to humanitarian demining campaigns than the United States at some $180 million per year.
And my final point: when senior U.S. military officials address the issue of autonomous armed robots, they always state that a warfighter must make the decision to pull the trigger. So how do they square that policy with planting a victim-activated landmine?
Policy and practicality may consign U.S.-made victim-activated landmines to museums and history books.
However, China and other bad actors still manufacture them. And the Iraq and Afghanistan insurgencies' use of roadside bombs showed they can be effective strategic and tactical weapons.
The "infernal machines" will unfortunately be around a long time.
Topics: Defense Department