Pentagon Examining Lessons Learned from Pandemic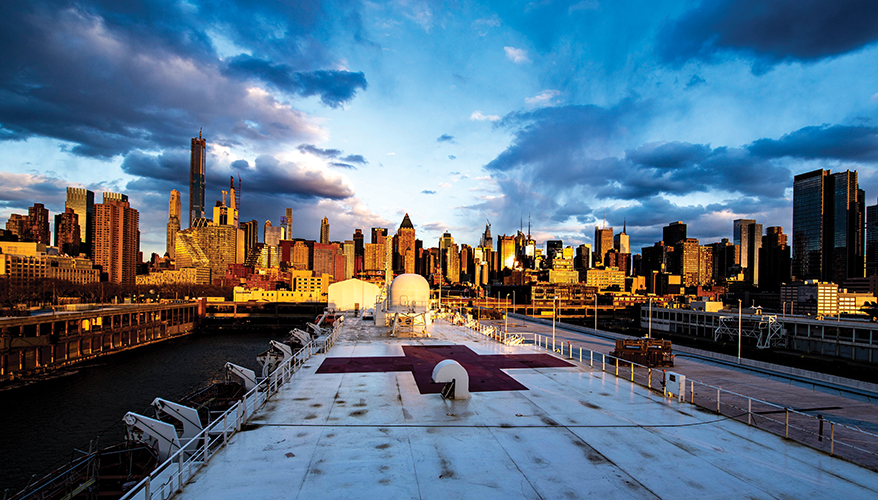 USNS Comfort provides medical relief to New York City.
Navy photo by Mass Communication Specialist 1st Class Scott Bigley
When the COVID-19 pandemic struck in March, Pentagon officials scrambled to maintain readiness, protect the troops and keep the industrial base healthy.
While still continuing to mitigate the effects of the virus, officials are taking stock of measures that worked and didn't work in the early days of the pandemic and looking to ensure that it won't be caught flat footed in a future crisis.
For the Army, the pandemic has put a spotlight on troop health, and the service has had to quickly put in place special testing protocols and methodologies, said Assistant Secretary for Acquisition, Logistics and Technology Bruce Jette.
The service had to consider how to bring in and train new recruits all while being mindful that they could be infected with the contagion, he told National Defense in an interview.
"What we're learning from COVID is applicable to other things from the cold to the flu, etc., and we want to keep a very healthy Army," he said. "We've re-looked at how we think about safety and health, which has operational implications."
Lessons learned from the pandemic can be applied to how the Army approaches biological threats on the battlefield, he noted.
"It's a heinous thought, but it's one we can't ignore," he said. "If you go back and look at warfare, disease has caused more casualties than has any bullet out there. ... If we can take this, leverage it from a standpoint of being able to reduce our exposure to disease in general, whether natural or manmade, then we've made a significant advancement."
The service is also considering how it can better strengthen its supply chain should another pandemic occur. In the early months of the crisis, the defense industrial base was rattled as new infections caused production lines across the country to shutter, straining the service's supply chain.
In the past, the Army has leveraged small suppliers because they're often agile and innovative. However, they are also more vulnerable to disruptions caused by unforeseen events such as pandemics, he said.
"If one person in a 12-person company gets COVID, all of a sudden the entire company is isolated and can't come to work," he said. "All of a sudden, they become non-suppliers for at least two weeks; and depending on what they're doing, it can be longer than that because you have shut down and start up times."
The Army is now looking at ways it can ensure it has a more resilient supply base, Jette said. One possible solution may be having alternative vendors.
"Normally it takes work, time, money and effort to qualify a second vendor for a given part," he said. However, "that is a challenging problem because you don't want to split the quantity between two vendors necessarily, because now all of a sudden you make neither vendor very economically stable. So you've got to find a good way to make these balances work."
Another solution may be advanced manufacturing.
"Advanced manufacturing produces parts normally in a slower fashion and usually each part is more expensive, but you don't have the [higher] capital investment of a secondary supply source," he explained.
For the Navy, the pandemic has shown the sea service that it must do things differently in the future, said James Geurts, assistant secretary for research, development and acquisition.
Like the rest of the Pentagon, the Navy had relied on a workforce that conducted business in offices across the country and had few opportunities to work remotely.
"Going from 95 percent-plus [of workers] in the office to 95 percent-plus out of the office, we had a lot of friction in systems and processes and people and comfort," he said during a briefing with reporters in August. "That was not working well for the first couple of weeks."
The service has alleviated some of those initial issues and is now considering what its future infrastructure may look like in a post-COVID world, Geurts said.
"This is helping us get sets and reps in on where … we need to be more adaptable [and] what are the approaches we can use," he said. "One of those is really looking at our infrastructure, and do we have new opportunities now to adjust that infrastructure to be more useful and resilient and cost effective than where we were previously?"
The Navy in the future may spread out where work is performed. Before the pandemic struck, the service in support service contracts would often stipulate that a certain percentage of personnel had to be locally based, he noted.
"That may not be the right model," Geurts said. Changes spurred by the pandemic "may enable us actually to access a greater level of ... talent in areas where we haven't before."
Now is the time to experiment with what a program office of the future looks like, he said. Geurts has directed his team to begin experimenting with new concepts so the workforce will be more adaptable in the future.
The Navy has already changed the way it approaches technical support. Before COVID, any time a ship needed service completed the Navy flew in a technician. That does not work well in a pandemic, he said.
"My strategic goal is to ensure we come out of this in a better place," he said. "Reverting back to the way we were pre-COVID in my mind would be failure."
Will Roper, the Air Force's assistant secretary for acquisition, technology and logistics, said the pandemic has proven that the service can configure its workforce in a different way than it has traditionally done.
"It has been amazing to see the level of proficiency that we've built with 93 percent of our workforce teleworking, with very little loss in productivity because collaboration tools … we're using now lets you get the job done," he told reporters.
Roper said he doubted the military would go back to the way it operated before the pandemic with personnel working in large conference rooms together.
"I'm really excited about what the other side of this crisis could bring," he said.
The office of the secretary of defense is also thinking about future crises and how it can better respond to them.
In March, Undersecretary of Defense for Acquisition and Sustainment Ellen Lord established the COVID-19 Joint Acquisition Task Force which includes procurement and medical experts from across the military and Defense Department agencies. The JATF has served as the single-entry point to the Pentagon's acquisition enterprise for interagency requests for assistance, including from the Federal Emergency Management Agency and the Department of Health and Human Services.
Lord now wants to make the task force a permanent organization within the Defense Department.
Officials are "working to transition current JATF operations into an enduring policy and oversight office within the A&S Joint Rapid Acquisition Cell," she said during a briefing at the Pentagon in August. The task force "will facilitate current and future DoD acquisition support to interagency partners."
Mark Cancian, a senior adviser at the Center for Strategic and International Studies, a Washington, D.C.-based think tank, said overall the Pentagon has handled the pandemic well and the military was able to continue to project power around the world.
"They instituted procedures to keep global engagement going," he said. "There were no gaps or vulnerabilities in our international commitments. No adversary saw an opening to take advantage of U.S. weakness during the pandemic.
"We sometimes don't appreciate that nothing happens, but that was quite important because this could have been a time of great vulnerability," he added.
Additionally, the deployment of the USNS Mercy and USNS Comfort to Los Angeles and New York City, respectively, earlier in the year to support civilian hospitals was important, Cancian noted.
Another positive aspect of the Pentagon's response was how it approached the defense industry, said Andrew Hunter, director of the defense-industrial initiatives group at CSIS.
"They've been very open to understanding what's happening in industry and adopting policy responses … and working with the primes to accelerate payments to subcontractors," he said.
There hasn't been a major outbreak of COVID-19 in the defense industrial base on the scale seen in other U.S. industries, he noted.
It's "a real success story that … the department and its contractors working together have been able to find ways to adjust workflow to continue operations during a pretty significant crisis," he said.
However, there were aspects of the pandemic that the Pentagon did not handle well, Cancian said. He pointed to the virus outbreak on board the USS Theodore Roosevelt aircraft carrier earlier this year — which eventually saw more than 1,200 sailors contract COVID-19, the removal of the vessel's commanding officer and the resignation of the former acting secretary of the Navy.
"The Roosevelt was a disaster," he said. But "the Navy learned from that experience."
Since then, carriers have been able to successfully deploy for extended periods of time because of lessons learned from that debacle, he added.
While pandemics are primarily handled by civilians, there are places where the military can help and could do so more effectively in a future crisis, Cancian said.
"I think that there will be a discussion about what the military might be able to do more next time," he said. "There is an opportunity for them to provide a … faster and better tailored response."
For example, there has been some discussion within Congress about funding new hospital ships, he noted. Additionally, reconfiguring existing vessels for infectious diseases could also be helpful in a future crisis.
"They were designed for military casualties … [who are brought] aboard the ship and are operated on and they go into recovery wards," he said. However, those types of patients are generally not carrying infectious diseases.
"There isn't good isolation for infectious patients," he said. "You can improve that."
Procuring new, smaller hospital ships could also be a better choice, he said.
As the Pentagon begins to take stock of lessons learned, officials will need to move fast to ensure change is implemented, Cancian said.
"If the military is going to ... stockpile equipment, for example, or even reconfigure a hospital ship, that needs to be done quite quickly because five years from now the military is going to be focusing on China and the pandemic will probably be a fading memory," he said.
Topics: Defense Department