BREAKING: Esper Calls for 500-Ship Navy to Counter China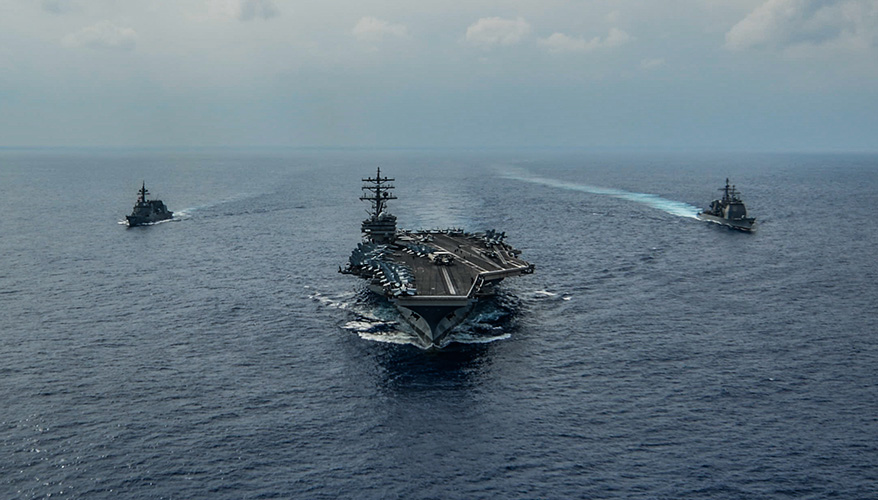 Ronald Reagan Carrier Strike Group
Navy photo by Mass Communication Specialist 3rd Class Codie L. Soule
The U.S. Navy will need more than 500 ships in its fleet to ensure maritime superiority over China in coming decades, Secretary of Defense Mark Esper said Oct. 6.

That conclusion is based on the long-awaited Future Naval Force Study led by Deputy Defense Secretary David Norquist, which was recently delivered to Esper.

"The Chinese Communist Party … intends to complete the modernization of its armed forces by 2035 and to field a world-class military by 2049," Esper said during remarks at the Center for Strategic and Budgetary Assessments in Washington, D.C. "At that time, Beijing wants to achieve parity with the United States Navy, if not exceed our capabilities in certain areas and to offset our overmatch in several others."

The recently completed Pentagon naval force study assessed a range of future fleet options designed to maintain U.S. overmatch in an era of great power competition long into the future, he said. The Navy, Marine Corps, Joint Staff, the office of the secretary of defense, as well as outside advisors helped conduct a "comprehensive, cost constrained and threat-informed assessment" aligned with the National Defense Strategy, he said. Esper dubbed his vision for the future fleet "Battle Force 2045."

The study group examined several force options using modeling and wargaming to analyze the strengths and weaknesses of each combination of ships against different future mission scenarios.

"Battle Force 2045 calls for a more balanced Navy of over 500 manned and unmanned ships," Esper said. "Further, we will reach 355 traditional battle force ships prior to 2035 — the time at which the [People's Republic of China] aims to fully modernize its military. And most importantly, we now have a credible path to reaching 355-plus [manned] ships in an era of fiscal constraint."

The submarine fleet is the top priority, Esper said. That includes buying Columbia-class ballistic missile submarines to modernize the sea-based leg of the nation's nuclear deterrent, as well as more Virginia-class attack submarines. The Navy needs 70 to 80 attack submarines, he added, calling them the most survivable strike platform in a future great power conflict.

"If we do nothing else, the Navy must begin building three Virginia-class submarines a year as soon as possible," he said.

Aircraft carriers are currently the crown jewels of the Navy, although some observers have suggested they are becoming increasingly vulnerable to precision-guided, long-range missiles.

"Nuclear-powered carriers will remain our most visible deterrent with the ability to project power and execute sea control missions across the globe," Esper said. "To continue enhancing their survivability and lethality, we're developing the air wing of the future capable of engaging at extended ranges." Air wings should include a variety of unmanned platforms including fighters, tankers, early warning and electronic attack aircraft, he added.

The Pentagon will continue to examine options for light carriers that support short takeoff/vertical landing aircraft such as the F-35B joint strike fighter, he noted. The USS America large-deck amphibious warship is an example of the kind of platform being looked at for light carrier duties.

"Light carriers provide additional presence and capacity to carry out day-to-day missions and free up super carriers for more critical high-end fights," Esper said. "While we anticipate that additional study will be required to assess the proper high/low mix of carriers, eight to 11 nuclear-powered carriers will be necessary to execute a high-end conflict and maintain our global presence with up to six light carriers joining them."

The future naval force should also have 140 to 240 unmanned and optionally manned surface and subsurface vessels of all types with a potential to perform a wide range of missions and enable distributed maritime operations in a cost-effective manner, he noted.

"They will add significant offensive and defensive capabilities to the fleet at an affordable cost in terms of both sailors and dollars," he said.

The Navy also needs and additional 60 to 70 smaller surface combatants to increase capacity to conduct distributed maritime operations and free up larger assets to perform other missions, he noted.

Additionally, initial estimates call for 70 to 90 combat logistics ships, and 50 to 60 amphibious warfare ships.

The future force would include a network of sensors, artificial intelligence-enabled systems and long-range weapons, he noted.

"The team's findings are insightful and serve as an enduring framework that will drive a major shift in how we design, build and sustain our fleet and conduct naval operations in the years and decades to come," Esper said. "The results will enable the department to achieve our objectives in a timely and cost-effective manner, balancing tomorrow's threats with today's readiness."

The Pentagon will soon deliver to Congress the study and the new 30-year shipbuilding plan, which will provide more specific details about the planned buildup, Esper said.

The sea service currently has just shy of 300 battle force ships in its inventory. President Donald Trump has called for a Navy of 350 manned vessels, and other defense officials have previously called for 355-plus manned ships.

Esper noted that the envisioned buildup would provide a shot in the arm for industry.

"We understand the challenges of building a robust and healthy industrial base with modern shipyards, quality infrastructure and highly skilled workers," Esper said. "We believe our proposal provides predictability for the supply chain top to bottom, along with the sustainable demand you need" to make investments in the workforce and other assets.

To achieve a larger fleet, the Navy will need more money for shipbuilding, Esper noted.

The new path charted to reach 355 manned vessels includes "real-world budget constraints," he said. "The Navy did good work these past several months bringing up funds in the coming years for the building of new ships," Esper said. The Navy must continue these initiatives to ensuring an adequate shipbuilding account for the proposed buildup, he noted. Esper did not identify what programs or accounts the Navy might take funding from to pay for more ships.

Money freed up from ongoing reform efforts such as combatant command reviews, trimming the "Fourth Estate" and other initiatives will also help increase the shipbuilding account to 13 percent of the Navy's topline — up from about 11 percent today— which would be on par with the average percentage spent for new ships during the Reagan era buildup of the 1980s, Esper noted.

For fiscal year 2021, the Trump administration requested $207 billion for the Navy, $19.9 billion of which would go toward shipbuilding. A 2 percent increase in that account would represent about a $4.1 billion bump over the most recent fiscal blueprint. Congress allocated about $24 billion for shipbuilding in fiscal year 2020.

Esper called on Congress to help the Pentagon make the Battle Force 2045 vision a reality by providing sustained, predictable, adequate and timely budgets; permission to divest from legacy systems and lower priority activities, and redirect those savings to higher priorities; and statutory authority to put unused end-of-year Navy funding directly into the shipbuilding account.
Topics: Navy News, International