BATTLEFIELD COMMUNICATIONS
JADC2 NEWS: Air Force Chief Touts Criticality of Data Management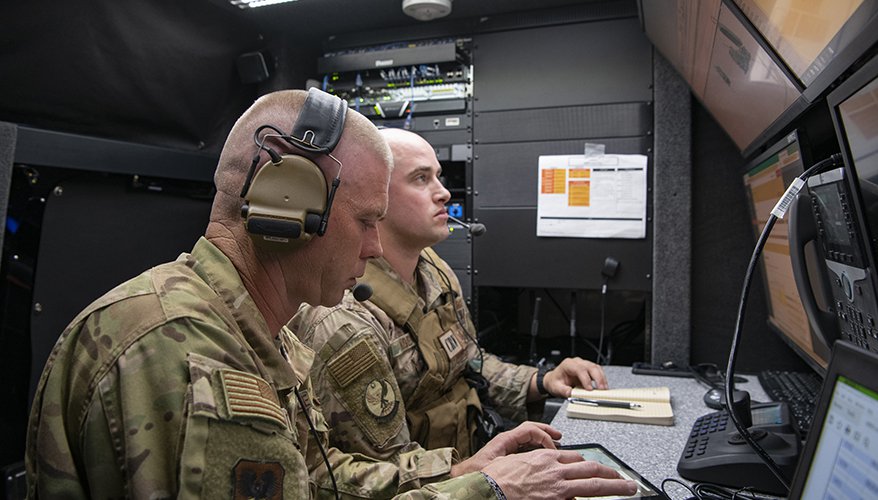 Airmen take part in an Air Force Advanced Battle Management System exercise at Nellis Air Force Base, Nevada, Sept. 3.
Properly managing data will be critical as the military works to develop a network of interconnected platforms that can rapidly transmit information to warfighters, said the chief of staff of the Air Force Oct. 27.
This network — an "internet of things" for the military — will connect sensors and shooters through a concept called joint all-domain command and control, or JADC2. The Air Force is leading the way through the development of its Advanced Battle Management System, or ABMS. It has already held high-profile "on-ramp" exercises this year where it has worked alongside industry to test out numerous technologies.
The success of ABMS and JADC2 will be dependent on efficient data management, said Gen. Charles "CQ" Brown Jr.
"I may — as an Air Force or a unit or a platform — have data, but if I don't publish it, then it's only good for me" and can't be utilized by others, he said. A key part of JADC2 will be "the structure of the data, publishing it so it's available and then making it so that you can subscribe to it and you can pull that data and … build your own common operational picture any way you want."
The services must make information available via resilient networks and then control who can have access to it, Brown said during the National Defense Industrial Association's virtual JADC2 & All Domain Warfare Symposium, which was held in partnership with Texas A&M University.

That kind of rapid information sharing and connectivity is already happening in the commercial world every day, he said.

"One of my own means of accessing data is via my phone," Brown said. "I have the ESPN app so I can stay ... in tune on what's happening with my top teams, my favorite [sports] teams. I can swipe the options to track my favorite team, like the Cowboys. The app will send me alerts about injury updates, changes in the roster or even scores in real time — even if the Cowboys are not the one that's doing the scoring."

ESPN publishes information about all the NFL teams and many other sports via the company's apps, he noted. But Brown only signs up to receive the updates that matter most to him.

"We have to do the same thing with all the data we leverage as a military," he said. "The services and partners [should] publish data to the central network so the joint force and our allies can subscribe to the data and they can use it."

That will require the different branches of the armed forces to trust one another's validation of an application, program or tool, he noted.

Once a program is authorized to operate on one service's network, it should be authorized to operate on all of the services' networks, Brown said. To bring that to fruition, the military needs to develop a set of common minimum standards.

"This will speed up acquisition, cut down some of the bureaucracy and cut down some of their redundancy," he said. "At the end of the day, information sharing is a currency of trust."

The Air Force is working alongside the Army as it pursues the JADC2 vision, he noted. Brown and Chief of Staff of the Army Gen. James McConville recently entered into a memorandum of understanding to "build the interconnected digital infrastructure needed to allow our services to bring each of our capabilities to the flight and still connect to one another" through combined joint all-domain command and control, he said.

In an Oct. 15 interview with National Defense, McConville said combined JADC2 pivots the services toward transformational change. The military recently began using a modified acronym, CJADC2.

"We've added a "C" … because we recognize the importance of working with our allies and partners, whether it's in a competition phase [with potential adversaries] or it's in the conflict phase," he said. "We want to make sure they're included, and they want to be included.

"This is going to set the stage for how we're going to compete, deter and — if required — fight for maybe the next 40 years," he added. "This is extremely important and I'm very appreciative of the Air Force working closely with us."

The Defense Department also recently released a new data strategy — a key piece of the Pentagon's digital modernization program — which laid out numerous guiding principles, goals and objectives as the military works to become what it calls a data-centric organization.

In a foreword to the strategy, Deputy Secretary of Defense David Norquist said improved data management will enhance the Pentagon's ability to fight and win wars in an era of great power competition with China and Russia.

The success of the modernization program — which includes everything from artificial intelligence to 5G communications — depends on a secure and robust digital infrastructure, he said.

"The DoD Data Strategy supports digital modernization by providing the overarching vision, guiding principles, essential capabilities, goals and objectives necessary to navigate this transition and transform the department into a data-centric enterprise," he said. "Success cannot be taken for granted. The responsibility of all DoD leaders is to treat data as a weapon system and manage, secure and use data for operational effect."

— Additional reporting by Connie Lee


Topics: Air Force News, Cyber-augmented Operations, Cybersecurity, Battlefield Communications