COMMENTARY ROBOTICS AND AUTONOMOUS SYSTEMS
How to Build a Well-Rounded AI Workforce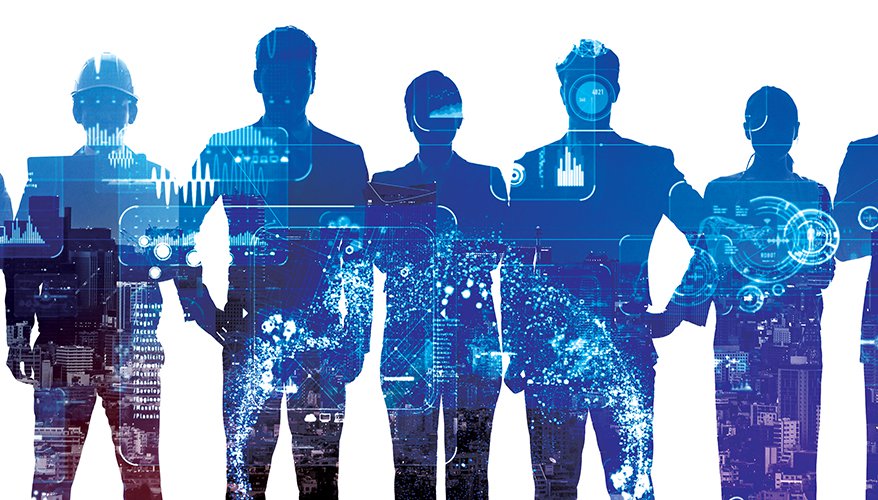 iStock illustration
Most conversations about artificial intelligence talent in the government focus almost exclusively on top engineering talent.
The National Security Commission on Artificial Intelligence believes that recruiting highly skilled engineers is important, but it is only a small part of the AI workforce the government needs to integrate AI in national defense.
The commission, in partnership with the Defense Innovation Board and the Joint Artificial Intelligence Center, has re-envisioned a workforce model that includes individuals across the spectrum of technical and leadership skills. This model will help the government identify more of the workforce questions it needs to answer, and to develop a more holistic approach.
Almost all problems are, at their foundation, people problems. Struggling organizations don't have the right people, don't have enough of the right people, or are not providing the right people the resources and training they need. Regardless of its other efforts, the government will fail to adopt AI solutions if it does not build a competent, adequately resourced AI workforce.
Some of the "people problems" are already emerging. Most federal departments and agencies struggle to effectively collect, store and use data. Few have sufficient computing power available, and very few can create the interdisciplinary teams needed to apply AI solutions to complicated problems.
As a result, government organizations that attempt to use AI encounter obstacles that increase expenses, add bureaucratic friction and delay adoption timelines.
These obstacles are the product of many issues, but first among them is not having the right workforce. The government will be able to collect, store and use data more effectively when it has more data scientists and software engineers. It will have more computing power available when it has computer scientists who can identify what the government needs and acquisition specialists who understand what to purchase and how to purchase it.
Equally important, a well-trained workforce will better understand when to purchase commercial solutions for immediate implementation and when to develop custom software.
Building a workforce to integrate an emerging technology into a massive bureaucracy is not a simple task. An overhaul of this scale and complexity requires the government to reinterpret how it views its workforce.
Three principles below from the commission's workforce model will help it do so.
First, not all AI practitioners in the government need to be top-tier technical experts.
Today, the government is recruiting only a small part of the AI workforce it needs. Most conversations and literature about technical talent focus on recruiting top-tier experts, the AI version of 10X coders. True AI experts are limited in number, leading to fierce industry competition and astronomical compensation levels. While the government can and should recruit these experts, a myopic focus on them comes at the expense of attention to other promising groups that are just as necessary to the government's success in artificial intelligence.
The commission has divided the technical workforce into three groups: experts, developers and deployment specialists.
Experts are what many people think of when we describe AI practitioners: people who lead the responsible design, development and deployment of AI-driven technologies; have the ability to oversee testing and evaluation; teach domain-knowledge experts; and have significant education, work or research experience.
Developers are data focused, can train and tune a model, and partner with domain knowledge experts. Deployment specialists install and maintain hardware, collect and process data, and manage end user inputs and outputs. They are strongly analogous to today's mechanics and IT specialists.
The underlying idea is that there are different technical roles for an AI workforce, most of which require less training and education than top-tier experts. Because they require less training than experts, the government can more easily internally train or hire developers and deployment specialists, then deploy them across the workforce.
Another consideration: non-technical leaders are just as important as technical talent, and their decisions will determine if their organizations successfully integrate AI.
The commission refers to people who lead organizations that use AI, but do not themselves participate in the development process, as "non-technical leaders."
There are three broad groups of non-technical leaders. Strategic leaders create strategic and enterprise objectives, make resource decisions, oversee the deployment and scaling of new systems, and mentor their subordinates, including the technical workforce.
Tactical leaders manage programs, partner with AI practitioners in the field and supervise the use of AI systems.
Policy experts inform organizational, national and international policies, and include civilians in organizations like the Departments of State and Commerce.
Even though non-technical leaders may not need a deep understanding of the math or computer science behind AI, they need to know enough to make important decisions ranging from articulation of goals for AI systems, to determining resource requirements for AI-enabled systems, how to effectively and responsibly use systems with AI components, and how to best serve U.S. interests in international negotiations. All three groups need some literacy in AI concepts and understanding of best practices if they want their organizations to successfully adopt the technology.
The importance of non-technical leaders cannot be overstated. Organizations that focus only on hiring technical experts and neglect their non-technical leaders' education will make poorly informed choices at enterprise levels, leading to wasted resources, unsuccessful programs and the misuse of AI-enabled systems in the field.
Finally, it is important to note that support roles are critical yet receive little attention.
The government needs acquisition personnel that understand the type of software and hardware needed, the intricacies of software intellectual property concerns and are comfortable using the full range of acquisition processes to purchase them. Contracting officers need to be able to navigate the complexities of service and development contracts, including traditionally troubled issues like data rights. Human resource personnel need to understand and be able to hire the technical workforce, a group that often has very different resumes than traditional civil servants. Lawyers and ethicists need to understand the entire AI development and deployment process.
Unfortunately, these groups are an often underappreciated part of the AI workforce. While some initiatives exist, the commission has seen relatively little attention paid to most support roles.
If this continues, no matter how much effort the government expands on its technical workforce and non-technical leaders, it will not be able to purchase commercial solutions and services, fit AI solutions into existing legal and ethical frameworks, or hire the technical workforce the government so desperately needs.
The government needs to take several major steps to build its AI workforce. It's critically important that the hiring process for the technical workforce improves. Developers that have turned down better paying jobs in the private sector to serve in government should not also deal with a several-months-long hiring process, or have to wait more than six months for their security clearance. Similarly, qualification policies that limit pay based on years of experience and level of education and show little regard for expertise only damage the government's ability to hire promising young engineers.
While these are important steps for the government to take, on their own, marginal changes are insufficient. To build a technical workforce, the commission recommends the government increase its access to experts by establishing a National Reserve Digital Corps that allows civilians to work for the government 38 days a year as advisors, instructors and developers.
It also recommends the government create a digital service academy. Students would receive technical education during the school year, participate in government and private sector internships during the summer, and graduate with a five-year service commitment as civil servants.
There should also be a way for technically focused workers to spend a career in government focused on their subject matter. Digital expertise — like any honed and sought-after trade — must be practiced consistently to maintain proficiency. Digital subject matter experts' frequent struggle to spend a career serving in digital roles in government is arguably the single most important obstacle to government modernization. If there isn't an AI career field for civilian and uniformed personnel, the defense sector will struggle to recruit and retain experts.
Building the non-technical workforce requires a deliberate and thorough focus on leader training and education. Senior leaders — such as members of the senior executive service and general and flag officers — should semi-regularly take short courses that address managing organizational transformation, how emerging technologies will affect their organizations, and the resources they need to apply if they want to integrate new technologies.
Agencies should also prioritize selecting and developing leaders with experience in emerging technology focused fellowships, talent exchanges, positions within government and executive education courses.
While it's important to educate today's senior leaders, there are also core topics all civil servants and military leaders need to know to be able to build and responsibly use AI-enabled systems. These include problem curation; a conceptual understanding of the AI lifecycle; data collection and management; understanding probabilistic reasoning and data visualization; and data-informed decision-making.
Developing the AI workforce's support roles will require a diverse set of initiatives. Human resource personnel should receive training that better explains their organization's goals regarding AI, how to best use hiring practices outside of the competitive service, and the differences between the AI technical workforce and more typical civil servants.
The acquisition and contracting workforces need better software-oriented training, but they also need policies and processes better suited to purchasing software and AI-solutions.
AI is an opportunity that cannot be seized without the right workforce there to seize it. Right now, many national security departments and agencies — despite their best intentions — are unprepared.
The first step in solving this challenge is to understand the way ahead. The National Security Commission on Artificial Intelligence's workforce model lays out the challenges in an accessible way, identifies hidden obstacles and reveals promising opportunities to build the human capital the government needs.

Dr. José-Marie Griffiths is a commissioner and Justin Lynch is the director for research and analysis at the National Security Commission on Artificial Intelligence.
Topics: Robotics and Autonomous Systems