JUST IN: U.S., U.K. Navies Launch New Initiatives for Integrated Warfighting (UPDATED)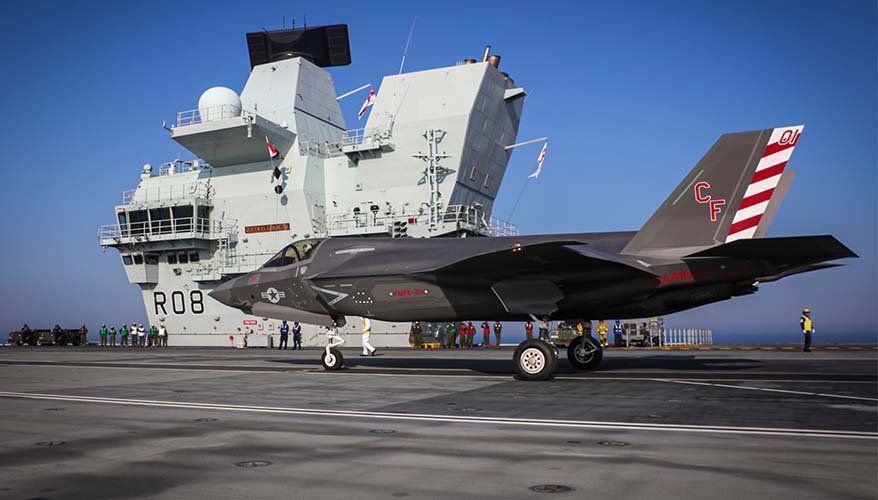 An F-35B Lightning II Joint Strike Fighter
Royal Navy photo
Navy leaders from the United States and United Kingdom are set to sign a new agreement aimed at enhancing their ability to fight together, while also creating a new joint technology innovation hub, officials announced Oct. 20.

The new agreement will outline a cooperative vision for "interchangeablity," U.S. Chief of Naval Operations Adm. Michael Gilday said during remarks at the Atlantic Future Forum, which is being held onboard the HMS Queen Elizabeth aircraft carrier docked in Portsmouth, England. The event includes remote participation due to the COVID-19 pandemic.

"After months of hard work on both sides of the Atlantic, I am proud to announce that the First Sea Lord [Adm. Tony Radakin] and I will sign a future integrated warfighting statement of intent that will set a cooperative vision for interchangeability," Gilday said. "We will synchronize pioneering capabilities, strengthen operating concepts and focus our collective efforts to deliver combined sea power together."

The bilateral vision includes joint forces operating in multiple warfighting domains while using emerging technologies, he noted.

"By organizing our cooperation on carrier strike, underwater superiority, navy-marine integration and doubling down on future warfighting [capabilities] like unmanned and artificial intelligence, we will remain on the leading edge of great power competition," he said.

The Pentagon has identified China and Russia as great power competitors, and hopes to leverage international allies such as the United Kingdom to stay ahead of the pack.

"The stakes could not be higher," Gilday said. "Competitors are challenging us in every domain."

In a historic move that symbolized efforts to promote closer military cooperation, 10 U.S. F-35B joint strike fighters from Marine Fighter Attack Squadron 211 recently embarked with the U.K.'s 617 Squadron aboard the HMS Queen Elizabeth for NATO exercises off the coast of Scotland. It was the first deployment of the American fifth-generation aircraft onboard a foreign vessel. The 617 Squadron is also equipped with the F-35B.

The B variant of the joint strike fighter has a short take-off/vertical landing capability. The F-35 was co-developed by the United States and United Kingdom along with a number of other international partners.

Royal Navy Capt. Angus Essenhigh, commanding officer of the 65,000-ton Queen Elizabeth, the crown jewel of the British fleet, said the exercises that wrapped up in recent days involved the most fifth-generation aircraft ever deployed at sea. A total of 16 F-35Bs operated from the vessel.

"That's taken the very concept of interoperability to a whole new level where we now aspire to not only achieve interoperability but interchangeability, in which the U.K. and the U.S. jets fly in mixed formations against common target sets," Essenhigh said. "British sailors and U.S. Marines worked hand-in-glove together on the flight deck … united in a common goal to deliver carrier strike operations."

While there has long been a push for interoperability among NATO allies, Radakin said the transatlantic partners need to raise the bar with additional initiatives like the recent F-35B deployment.

"We're trying to drive a new standard," he said. "Interchangeability is going to be a stronger feature in the future."

The concept of interchangeability doesn't just apply to platforms and operators, noted Assistant Secretary of the U.S. Navy for Research, Development and Acquisition James "Hondo" Geurts. There also needs to be closer ties among the nations' innovation "ecosystems."

Geurts has been spearheading efforts to create Navy "tech bridges" across the United States to better connect industry, academia, government research laboratories and other innovators. The aim is to help the service tap into new sources of technology and ideas, and accelerate the acquisition of new capabilities, some of which also have commercial uses. There are now 12 such locations throughout the country.

Now, that initiative is going international with the establishment of a new tech bridge in London, Geurts announced at the conference, calling the new outpost a "super tech bridge."

"It's going to bridge in a whole new set" of overseas partners to work with each other, he said. Geurts did not say when the new center will be fully operational.
Initial focus areas will include artificial intelligence, autonomy and unmanned systems, biotechnology, space and directed energy.

Radakin hopes it will help the U.K. defense establishment be more agile in onboarding new technologies.

"The tech bridge is an example of where we go to other people in order to open the doors so that we can have access to a much larger community" of innovators, he said.

Both nations stand to benefit from the new arrangement, he added, noting that the United Kingdom has been working on capabilities such as underwater drones that would be of interest to the Pentagon.

"The fact that we can draw on [innovation] in both directions is really significant," Radakin said.

Radakin and Geurts noted that it will be critical to move beyond experiments and prototypes, and scale new technologies across the force.

"We have to have the right vision, which I think we have, and then we've got to back that up with the ability to acquire and field quickly the technology to our Marines and sailors on both sides of the pond," Geurts said. "This, amongst the other things we're doing, is going to allow us to create that machine, that pipeline that will continue to ensure that we remain at the top of our game and leverage our enduring competitive advantage, which is our [bilateral] relationship."
Update: This story has been updated to include new information about the initial focus areas of the London tech bridge.
Topics: International, Navy News