ROBOTICS AND AUTONOMOUS SYSTEMS
Army Puts Robotic Combat Vehicles Through Paces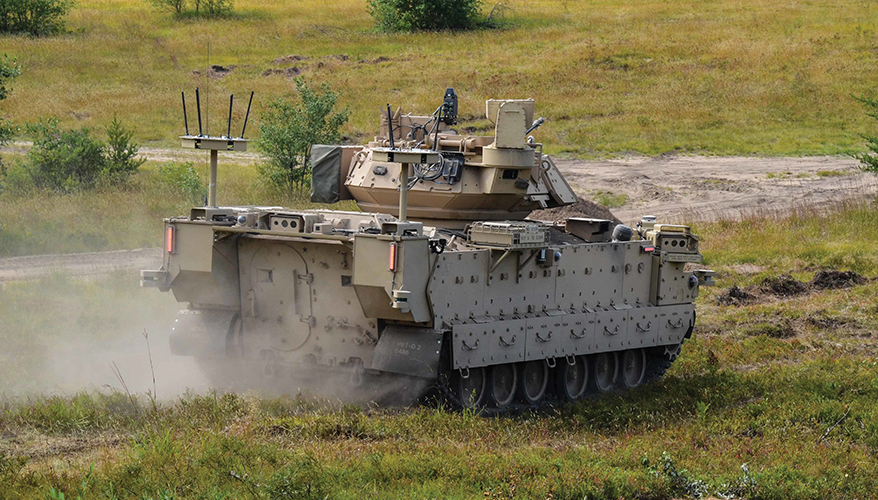 Modified Bradley Fighting Vehicles and modified M113 tracked armored personnel carriers participate in a soldier operation experimentation at Fort Carson, Colorado.
Army photo by Kimberly Derryberry
The Army deemed its first experiment incorporating heavy robotic combat vehicles into its units a success despite not all of the technology functioning as planned.
The five-week training event, which began in July and wrapped up in August, was part of the Army's multi-year plan to experiment with unmanned combat vehicles as it moves toward establishing a program of record. The service views robotic systems as tools to keep soldiers out of harm's way and free up manpower for other tasks. Next-generation combat vehicles are the Army's No. 2 modernization priority, second only to long-range precision fires.
It is planning to create a family of robotic vehicles that will include heavy, medium and light variants. Prototypes are already being developed for the medium and light versions, and the Army's experiment with heavy platforms will inform its decision on how to move forward with that type of system.
The recent experiment — which took place in Fort Carson, Colorado — was a success, said Brig. Gen. Richard "Ross" Coffman, director of Army Futures Command's next-generation combat vehicle cross-functional team, which is spearheading the modernization effort.
"The whole purpose was to learn where the technology is now and how we think we want to fight with it in the future," he said.
Coffman noted that although he viewed the experiment as a success, not all of the technology tested performed perfectly.
"It's a sliding scale," he told reporters after the event wrapped up. "Some knocked our socks off, and some we've got a little bit of work to do. But that's why we do these things— we do it at a small scale so we can learn, save money and then make decisions on how we want to fight in the future."
During the experiment, small units scouted ahead of other soldiers using both modified M113 armored personnel carriers as surrogate robotic combat vehicles and modified Bradley Fighting Vehicles known as Mission Enabling Technologies Demonstrators, or MET-Ds. Throughout the exercise, soldiers tested the performance of the platforms in a number of different categories for viability on the battlefield. During the evaluation it was determined that the service should increase the distance between the vehicles and the soldiers to better keep warfighters out of harm's way.
The current operating range for the tele-operated systems is between 1,500 and 2,000 meters away from the soldiers. However, dense forested terrain, buildings and other obstacles can disrupt the transmissions between the operator and the robots.
The U.S. Army isn't the only organization that has to deal with that challenge, Coffman noted.
"That's not an American problem, that's a physics problem," he said. "Each of our potential adversaries has the same deal."
The service is currently working with multiple companies that have created waveforms that can transmit the required megabytes per second to extend that range. The soldiers tested these new waveforms during the experiment in which they also demonstrated resilience to electronic warfare attacks, he added.
"We went after them with EW. We saw they were self-correcting," he said. "We have a really good idea of what is in the realm of the possible today and we've got a couple companies that are really pushing it out past two kilometers."
Meanwhile, Coffman was also pleased with the short amount of time it took troops to become adept at using the new technology during the exercise.
"The soldiers said they needed about ... 30 minutes to learn how to operate the robots," Coffman said. "I thought it was going to take them days, but our soldiers were so amazing. … They grew up in this environment of gaming."
Coffman said users were satisfied with the robot's software and map interfaces.
"There were some challenges that we had like getting exact granularity at distance, but the ability that we could identify hot spots and enemy positions, I thought was absolutely exceptional because that reduces the risk on our soldiers and allows us just to remain in a covered and concealed position and make decisions," he said.
The map interface allowed users to locate platforms and communicate effectively while delivering graphics that "absolutely blew us away," Coffman said.
Overall, the software performance exceeded expectations.
"I thought it would be good, but ... we are far ahead of where I thought we would be," he said.
However, one issue the service discovered involved the platforms' software that controlled targeting. While that element worked when the vehicles were stationary, soldiers struggled to use it while the platforms were in motion causing the weapons' sights to bounce as they encountered rough terrain. According to Coffman, the stability problems were caused by the repurposed robotic combat vehicle-heavy surrogates and are already being addressed as the RCV-light and RCV-medium variants are being purpose built.
While one of the hallmarks of the RCV-heavy will be its artificial intelligence capabilities, the service doesn't expect the platform will have full autonomy, Coffman noted.
"We don't want the machine deciding" everything, he said. "We want very specific rules of what that machine will and will not do."
To reduce the cognitive burden on soldiers, the service is looking for a level of autonomy that gives the vehicles the ability to perform routine tasks.
However, the current limitations of AI have presented a new set of hurdles to overcome, such as their inability to recognize depth, said Army Maj. Cory Wallace, robotic combat vehicle lead for the next-generation combat vehicle cross-functional team.
When a robot "looks at a puddle, it doesn't know if it's the Mariana Trench or if it's two inches deep," Wallace said. "It's something that we as human beings can contextualize but a robot has a hard time doing it."
While sensors can detect solid obstacles, they have a long way to go before they're able to determine depth of "negative obstacles," such as pools of water and ditches, said Jeffrey Langhout, director for Army Combat Capabilities Development Command's Ground Vehicle Systems Center.
While the commercial vehicle industry has been making headway in developing autonomous cars, it's much more complicated for the military, he noted.
"We see so much positive press about the auto industry and what they're doing," he said. "All of those cars that we see up and down the road are operating in generous GPS environments [with] big white lines on the roads and everything is really good. We're [operating] off the road and things get dramatically difficult quite quickly."
Although the technology has challenges to overcome, robots will eventually have a strong presence on the battlefield, Coffman predicted.
"In the future, I guarantee you that we're going to have robots sensing, we're going to have robots shooting," he said. The platforms will eventually be able to perform other functions such as chemical detection, smoke cover, obstacle breaching and route reconnaissance, he added.
These new technologies will also give soldiers and commanders on the battlefield more decision space and reduce the risk to warfighters, Coffman noted.
"If you could extend the battlefield up to two kilometers with a robot, then that means that you can make decisions before your enemy comes," he said.
Meanwhile, the Army is making progress with the light and medium robotic combat vehicle variants. In January, it announced its intention to award other transaction authority agreements to a Textron Systems and Howe & Howe team to build four RCV-medium prototypes, and a QinetiQ North America and Pratt & Miller team to build four RCV-light prototypes.
The next experiment, also known as phase 2, will operate at a company level and is slated to take place in fiscal year 2022 at Fort Hood, Texas. Phase 2 will include four medium- and light-variant RCVs which are currently being built, Coffman said.
The recently completed experiment focused on the potential reconnaissance and route security roles the platforms could play on the battlefield. However, the service is now aiming to have robots move forward in "attack and defend" roles in future experiments.
During the phase 2 experiment vehicles will be enabled with new radios to increase the range between the operators and the robots, a new aided target recognition software that is currently being developed to increase soldiers' line of sight, and an unmanned aerial vehicle that will be tethered to the platform, Coffman said.
The Marine Corps is also working with the QinetiQ North America and Pratt & Miller team to develop its own iteration of the RCV-light.
"The Marines and the Army are sharing resources, sharing technology and developing this robotic combat vehicle together," Coffman noted.
Although the Marine Corps was present during the recent exercise, the service did not take part in it.
Coffman said at the conclusion of each experiment, the Army will determine if the technology properly addressed the service's needs and evaluate whether or not to move forward. Coffman said that although a firm decision on the RCV-heavy variant had yet to be made, all indications were that the technology was "in most cases'' where officials thought it would be.
"We have enough information, tactically and technically, that I believe we can move forward to the second experiment," Coffman said. The Army will decide in fiscal year 2023 after the phase 2 experiment whether to move forward with the robotic combat vehicle effort as an official program of record.
Topics: Robotics and Autonomous Systems