EXCLUSIVE: Q&A with Army Chief of Staff Gen. James McConville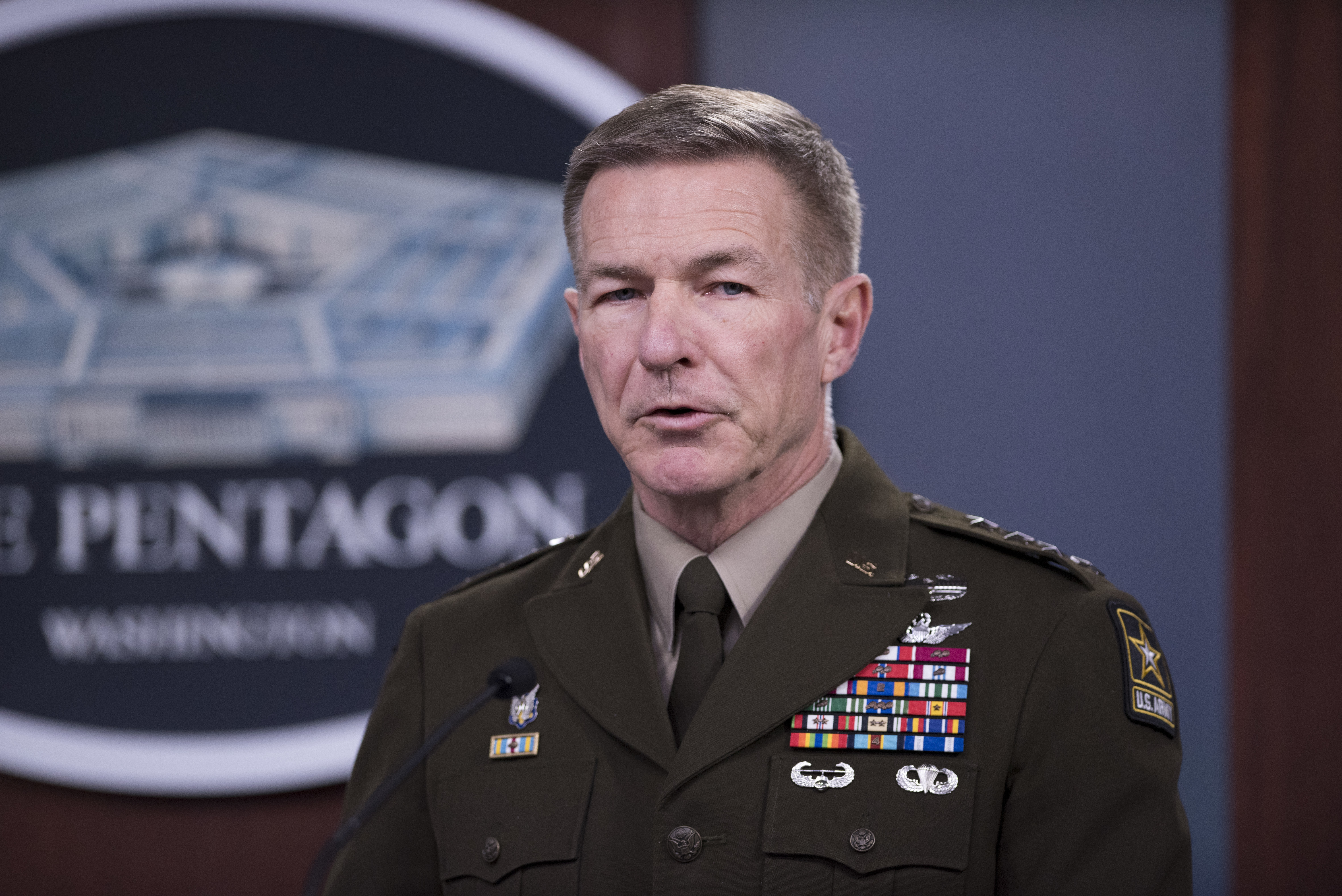 Chief of Staff of the Army Gen. James C. McConville
Defense Department
Gen. James McConville is the 40th chief of staff of the U.S. Army. On Oct. 15, he spoke with National Defense Magazine staff writer Connie Lee about a variety of key issues affecting the service. The following Q&A has been lightly edited for length and clarity.

What will the Army's budget request for fiscal year 2022 look like? The service has been reworking its numbers to make room for its modernization priorities in recent years, which include long-range precision fires, next-generation combat vehicles, future vertical lift, the network, air-and-missile defense, and soldier lethality. Will this still be the pattern in fiscal year 2022, or will the Army approach the request with a different strategy based on this year's events?

The budgets over the last couple years have been fairly flat. And so we've been very, very focused on the modernization priorities. We're not going to have all the money that we need, so we have been laser focused on broadcasting and maintaining our priorities. The enterprise understands that the priorities are not changing.

I've talked to many of our industry partners. Cost, performance and schedule are really important as we look at the programs. Every dollar matters, especially in some of the budgets that we could see. We haven't received any guidance yet. But everyone tries to read tea leaves on the fiscal environments that are coming up, and we must transform the Army — we must modernize it.

What kind of cuts can we expect to see in the fiscal year 2022 budget request?

I'm not sure that you can expect to see really anything, at least from us. We're waiting to see how it plays out. But we know what our priorities are. We have our 31-plus-three major programs under our six modernization priorities, and we are working forward to delivering them.

Army Secretary Ryan McCarthy has mentioned that the Army has accrued some debt due to COVID-19. What adjustments is the Army making to account for this?

The money that was spent on COVID-19, we're taking a look at where that's going to come from. There has been some discussion of stimulus packages. We have received some money to pay off the money that we did spend on COVID-19, and we are still working out those details.

In recent years, the Army has focused on leveraging other transaction authority agreements, or OTAs, to bring capabilities forward. However, two high-profile efforts — the Squad Multipurpose Equipment Transport and the Optionally Manned Fighting Vehicle — have needed a restart. How have these efforts affected the Army's views on the efficiency of OTAs, and will the service continue to increase its use of this contracting authority?

We think that the other transaction authorities are pretty efficient for us. They're a quick mechanism to get the systems in place that we need. The restart was really less about the OTA process itself and really more about the aggressive schedule and the capabilities that we're looking at.

What we did is, we took a pause early. This is very different. One of the things I like about the OTAs is that before we invested a lot of money with industry, we went down a road where we found out what we don't want. So we were able to pause, reset, and we think we're in a good place right now.

The Government Accountability Office has said that the Army increased its investments in OTAs from $1.6 billion in 2017 to $4.8 billion in 2019. Should we expect that number to continue to go up?

I'd be speculating on the exact numbers. But we're going to use them when they are best suited for what we're trying to do.

This year, the Army has had to make major changes due to COVID-19 by implementing new training and safety procedures. How have these changes affected the service's readiness, if at all?

Right now we're in good shape. In March, we took immediate steps to protect the force initially. We slowed down initial military training for a couple weeks. We cancelled a couple of our combat training center rotations. We sent the cadets from West Point home or out into the civilian sector, where they did online-type schooling. But we realized we're able to start this back up as we put procedures in place, with screening, with testing, with social distancing. Our initial military training is going, our combat training centers are full. Our troops are deploying. Certainly COVID-19 makes it more difficult. We treat it almost like a hazardous environment, so we have to compensate for that. We do quarantine and we test, we screen. We require them to wear masks, require them to social distance, wash your hands and all those types of things so we can protect the force. So far, it's been pretty good. And on the readiness side, we stand in very good shape.

Undersecretary of Defense for Acquisition and Sustainment Ellen Lord said earlier this year that the Defense Department was experiencing three-month delays for its weapons programs. Has the Army gotten back on track?

It pretty much has remained on track, based on the first unit equipped. Some of the milestones and intermediate steps may have shifted a little bit. There are some supply chains that are having challenges. But what I have seen with most of the major and principal suppliers is that they are very focused on getting us the weapons that we need. They're on track. They're putting procedures in place. Everyone is getting better at working with this environment. And you can do it, it's just a lot more difficult if you put the right procedures and protocols in place. We've seen many of our major suppliers do that. And so far, we haven't seen any major issues.

The Army recently considered putting its own design into the running for the Optionally Manned Fighting Vehicle program, but later withdrew the idea. Is the Army planning on pitching its own designs for other high-profile programs? What is the service's strategy for pursuing new weapons systems over the next few years?

We don't want to say we're not going to ever do it. I always like to keep my options open. We're going to take a look at what industry can do. We certainly want to see competition. And if we can't get the type of competition that we think we need to develop the program we need, we always have the options available.

We want to drive and fly before we buy. And that's really the strategy. The way we're doing it right now is, we're going out to industry with a list of characteristics of something that we might want. And then based on what they bring us, we can refine the characteristics, then get to a downselect where you actually have them building what they designed into a prototype. And then use the prototypes to get the requirements right, so we know what they can do and we know what's in the realm of the possible. This really speeds up the acquisition process and, at the same time, saves money.

The Army is manufacturing the common hypersonic glide body, which will also be used by the other military services for their hypersonic weapons. Based on the Army's work so far, do you believe that the defense industrial base is robust enough to develop these weapons on a large scale?

I believe so. I'm very pleased with the hypersonics program because we're going to deliver that in fiscal year 2023. And that is fairly significant to have a system of that capability being delivered in about three years.

The Army has been putting a larger focus on artificial intelligence/machine learning technologies. What are some of the major goals the service is trying to accomplish in this area?

We really have two things going on. One is we're building our own software factory. One of the things we've learned during Project Convergences is we need soldiers on the battlefield that can quickly code and update our systems because the speed of combat is so fast. And when you start using artificial intelligence, machine learning and autonomous systems, you need that capability on the battlefield. So we're actually standing up a software factory.

And then how do we go and purchase software? You can't use the normal process. We must purchase in the most efficient way. We have what we call an IT box, which allows us to do certain things in the information technology area to rapidly invest in information technology in a different way than we have to do with some of the other [acquisition] processes.

We're using artificial intelligence and some of our aircraft to help us predict when parts need to be changed and when they need to be ordered. When you look at the amount of money that can save, that is fairly significant.
We're also certainly using artificial intelligence in our targeting-type systems. A lot of this is experimental right now. The service is looking at using AI to look over large areas and take advantage of the intelligence systems we have, and develop our targets for us. And then we have a lot of autonomous systems we're developing with robotics, both unmanned aerial systems and unmanned ground systems. All these are starting to come into play, and we'll be testing them in things like Project Convergence.

Are there any major AI/ML research-and-development efforts that will soon transition to programs of record?

You're going to see a lot of stuff happening in fiscal year 2023. We're going to have programs of record after two more years after this campaign of learning. Some of these things happen very, very quickly. I don't want to make promises, but the areas that we are looking at include predictive maintenance, targeting and autonomous systems.

If you really think about what convergence is all about, it's bringing a whole bunch of systems together. We want all different types of sensors on the battlefield.

You can imagine a whole bunch of sensors feeding back into some type of integrated battle command system that's using artificial intelligence to help make decisions — I always like to have a person in the loop — and then sending that data to the right weapon system that's optimized to deal with that target.

Secretary McCarthy said during the recent AUSA annual conference that the service plans on lowering the training requirements for larger echelons, choosing instead to focus on individual, squad, platoon and company-level training. How will this affect the service's modernization priorities over the next few years?

I don't really see this affecting modernization. It's really more about affecting where we spend our time. I think one of the most or most important resources is our time. We want to make sure that we give our junior leaders time with their soldiers at the lowest levels, so they can be highly trained, disciplined and fit at the individual level, the squad level, the platoon level and the company level.

They didn't have as much time as we believe they needed to train at the lower level because they had to get to the higher level of training. And now, we're willing to accept risk on a higher level of training. But we want to make sure that they get the blocking and tackling down.

How important is joint all-domain command-and-control for the Army? How will your recent partnership with the Air Force on Combined JADC2 help not only the service, but also the rest of the military?

I think it's really important. We have come together as a joint team. It's time for transformational change. We've been incrementally improving the Army. And so part of this is a new joint all-domain operations concept. Part of this is a new command-and-control system, or joint all-domain command and control. We tie all the sensors and shooters together.

We've added a "C," which is for "combined," because we recognize the importance of working with our allies and partners, whether it's in a competition phase [with potential adversaries] or it's in the conflict phase. We want to make sure they're included and they want to be included. And so this is going to set the stage for how we're going to compete, deter and — if required — fight for maybe the next 40 years. I think this is extremely important and I'm very appreciative of the Air Force working closely with us.
Topics: Army News