Navy, Coast Guard Onboarding Artificial Intelligence Tech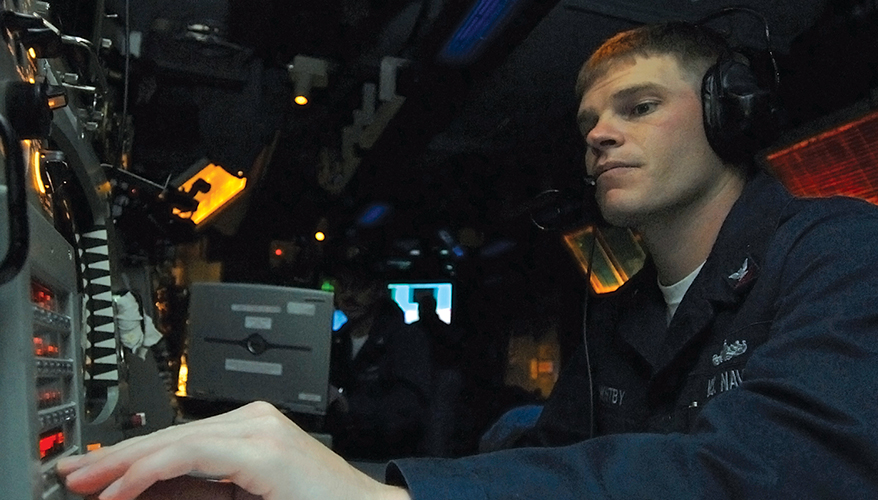 A sailor operates the radar system control in a combat information center.
Navy photo by Petty Officer 2nd Class Michael Hight
The U.S. maritime services are looking at ways to better incorporate artificial intelligence technologies into their fleets to enhance their effectiveness.
"The one thing that I think is really going to be transformative here is ... artificial intelligence," said Rear Adm. Lorin Selby, chief of naval research. "I really, truly believe that if we can master this, if we can bring this to all of our capabilities whether it's your iPhone, or your combat system on your ship, this is going to take us to the next level."
The Navy is looking to automate repetitive processes to allow operators time to complete more complex tasks or pay attention to other matters, he said during the Defense Department's Joint Artificial Intelligence Symposium and Exposition, which was held online due to COVID-19 restrictions.
Doing so "frees up your brain," he said. "When you can automate all that stuff and not even think about it and the machine is now helping you, you now go to the next level.
You've got more time to think and ponder and put things together."
To develop these technologies, the Navy is holding what it calls the AVENGER Naval AI Grand Challenge between the service, naval laboratories and the Joint Artificial Intelligence Center. The effort is intended to develop new technologies and capabilities within 18 months, according to the service.
"Changing the way we work together [and the way] we team is critical," said Brett Vaughan, the Navy's chief AI officer. "We need efforts like this."
Participants are working in small teams to be more agile, he noted. Typically, work on testing, evaluation and requirements are completed separately. However, the service is testing the idea of doing these jobs simultaneously, he noted.
"For AI, they need to be done in parallel and simultaneously and as much in the same virtual space — if not physical — as possible," he said. Those "small teams … are really the heart of how we start to change this big ship of culture that is the Navy to a more digital, nimble and effective creature on a playing field."
Additionally, the Navy is looking at how it can automate system maintenance, Selby said. Artificial intelligence can be used to detect potential areas of failure in systems such as aircraft, surface vessels and submarines before they become problems, he noted.
"It's the oil-based, lube oil systems, the reduction gears, the propulsion systems, the turbines, the electrical plan — all of those things can be properly monitored" with AI, he said. Artificial intelligence will help the military prevent failures and predict when maintenance has to be done.
The service is also examining how artificial intelligence and machine learning can be used to identify ship corrosion. At the end of August, Simple Technologies Solutions announced that it is working with Google Cloud and the Navy on the initiative under a phase 1 Small Business Innovation Research project.
"This is about automation, saving time and money, and keeping inspectors out of harm's way," said Aaron Kilinski, chief technology officer at STS.
The company will deploy drones that will gather images in the first phase of the effort, Kilinski said in a statement. In partnership with the Navy, STS will train Google Cloud AutoML — a suite of machine learning products — to recognize signs of corrosion.
"We selected Google Cloud AutoML because it allows our engineers to train and test high-quality models quickly," he said.
Over time, the artificial intelligence/machine learning model would consistently update and improve itself based on additional data, according to STS.
"The ultimate goal, however, is to move from detection to prediction by expanding the subjects and sensors, and eventually integrating with Navy systems," Kilinski said.
Meanwhile, the Coast Guard is making investments in integrating artificial intelligence technology into unmanned surface vehicles. This summer, the service kicked off a demonstration to determine if these capabilities could be used to improve maritime situational awareness.
Contracts for the demo were awarded earlier this year to Saildrone Inc. of Alameda, California, and Spatial Integrated Systems Inc. of Virginia Beach, Virginia, according to the service. The awards were valued at $1.1 million and $660,000, respectively.
Saildrone is examining how artificial intelligence and machine learning can be used for threat detection at sea, according to Sebastien de Halleux, the company's chief operating officer. The organization is providing both the ships and the software for its portion of the event.
The demonstration "is part of a broader mission of intelligence, surveillance and reconnaissance," he said in an interview.
During the event, sensors onboard the vessels will collect data to be processed by artificial intelligence, he explained. The AI will determine if there are potential threats and will subsequently alert the onshore command center, where a human can then determine if further action needs to be taken.
"It is that kind of very complex decision-making that the AI is trying to facilitate onboard the vehicle before relaying the detection back to a shore-based command center," he said.
Tracking items on land is easier than doing so at sea because the maritime environment creates constant movement, he noted. This means the service continually needs to process and collect large amounts of information.
In "the ocean, every frame, every pixel is moving all the time," he explained. "It requires not only robust AI, but it requires huge ... datasets."
Spatial Integrated Systems Inc. did not respond to a request for comment.
The Coast Guard is reviewing its regulations and policies and how they relate to the rise in autonomous capabilities and artificial intelligence. The service released a request for information in the Federal Register in August, detailing its concern with potential issues that could arise with the introduction of autonomous technologies on commercial vessels.
"The transportation industry is currently undergoing a major transformation related to automated and autonomous technologies," the service said. "All modes of transportation have begun introducing and testing automated transportation systems."
The Coast Guard is seeking input on current regulations that may hinder these activities, what functions could be replaced by autonomous systems, and the associated economic risk.
About 75 percent of maritime accidents are caused by human error, a problem that could be alleviated with autonomous systems, according to the service. However, "the introduction of automation and autonomous technology into commercial vessel operations brings a new set of challenges that need to be addressed, affecting design, operations, safety, security, training and the workforce," the notice said.
The Coast Guard did not respond to a request for comment.
Meanwhile, software company PMAT is developing an AI software platform for both the Navy and Coast Guard.
The product, dubbed "X-CAP," is intended to help analyze data to enable warfighters to make decisions faster, according to the company. The software can work in tandem with the Minotaur mission system architecture, which is already integrated into some of the services' aircraft such as the HC-130 Super Hercules and MQ-8C Fire Scout.
"What we're doing is using AI and ML to do that heavy lifting, get things down to actionable intelligence or real-world facts that we can put together in intelligent ways so that our warfighters can actually orient themselves to make their decisions sooner," said Jim Tootell, PMAT's chief software architect.
The product's capabilities include anomaly detection and pattern of life analysis, Tootell said. For example, if another vessel appears to be diverging from its path, the AI technology may be able to determine why. It would also be able to detect if another vessel begins diverging, he noted.
"If this vessel is diverted because there's a tropical storm brewing ahead of it somewhere, now that seemingly nefarious act also becomes perfectly explainable, rather than having human beings spend their time making these determinations," he said. "These are low-level decisions that we can automate through AI and ML."
Users must be able to see the data that artificial intelligence uses to make its decision, said Dan Salyan, the company's chief operations officer. In PMAT's products, the systems are able to identify an individual's clearance level and determine how much data they can see. This will help the military build trust in the technology while ensuring the information stays secure, he noted.
"You can log in and they can say, 'Oh, you're a tactical action officer in this position and you have this clearance — you're authorized to see up to this amount of data or all of the data,'" Salyan explained. "We do our best so that the user can … understand the sources we're using for our information … so we can build that trust."
Topics: Navy News