AUSA NEWS: Pentagon Has Big Plans for 'Project Convergence' in 2021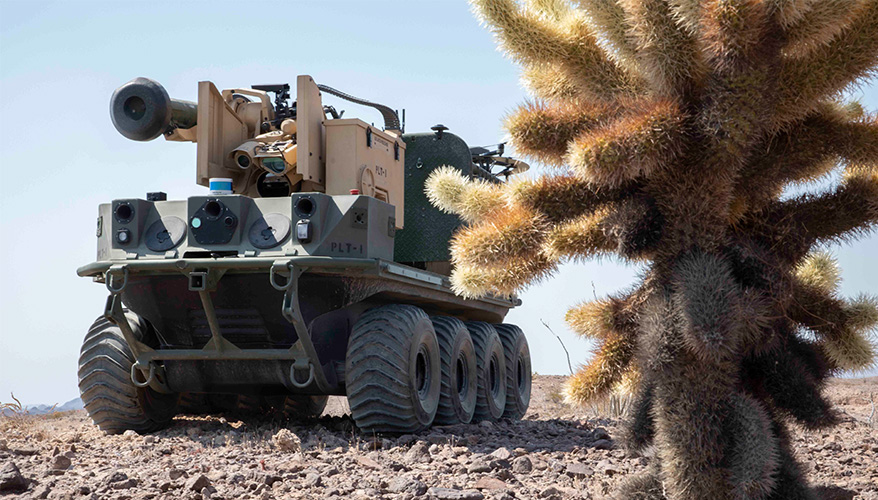 The autonomous system Origin prepares for a practice run during the Project Convergence capstone event.
Army photo by Pfc. Carlos Cuebas Fantauzzi
The Defense Department is expanding an Army initiative known as "Project Convergence," with plans to bring in other services and international allies for the next iteration of the effort, the Pentagon's top official said Oct 15.

The Army recently wrapped up the initial round of the project, a new series of exercises meant to help the service prepare to operate in a multi-domain battlefield and test new technologies such as artificial intelligence. The event, which was led by Army Futures Command, ran from Aug. 11 to Sept. 18 and ended with demonstrations on Sept. 21 and Sept. 23 at Yuma Proving Ground, Arizona.

"The command recently conducted a live-fire simulation with unmanned-to-unmanned teaming, and with drones and satellites relaying target coordinates to ground artillery and other AI-enabled weapons systems," Secretary of Defense Mark Esper said during a speech at the Association of the United States Army's annual conference, which was held virtually this year due to the COVID-19 pandemic.

Plans are already underway for another Project Convergence exercise in 2021, Esper said. In the next iteration of the effort, the Army "intends to incorporate joint partners and even international allies to integrate additional air and ground weapons, including the F-35 and Precision Strike Missile," he said.

The Lockheed Martin-built F-35 joint strike fighter is a multi-service platform used by the Air Force, Navy, Marine Corps and international allies.

Project Convergence will also play an integral role in the department's development of joint all-domain command-and-control, "which will truly modernize how we fight and enable the development of a joint warfighting concept and ultimately doctrine for the 21st century," Esper said.

Joint all-domain command-and-control, or JADC2, is the Defense Department's effort to connect sensors, weapons and communications capabilities from all of the military services into a single network.

Army Secretary Ryan McCarthy touted Project Convergence on the first day of the conference, saying "the results were remarkable."
Using advanced computing to better link sensors and shooters "has enabled us to reduce the cycle time of five minutes from long-range precision fires and assets to targets in less than a minute," he told reporters during a roundtable after his speech.
-- Additional reporting by Jon Harper
Topics: Army News, International