Pass-Through Programs Mask Air Force Budget Shortfalls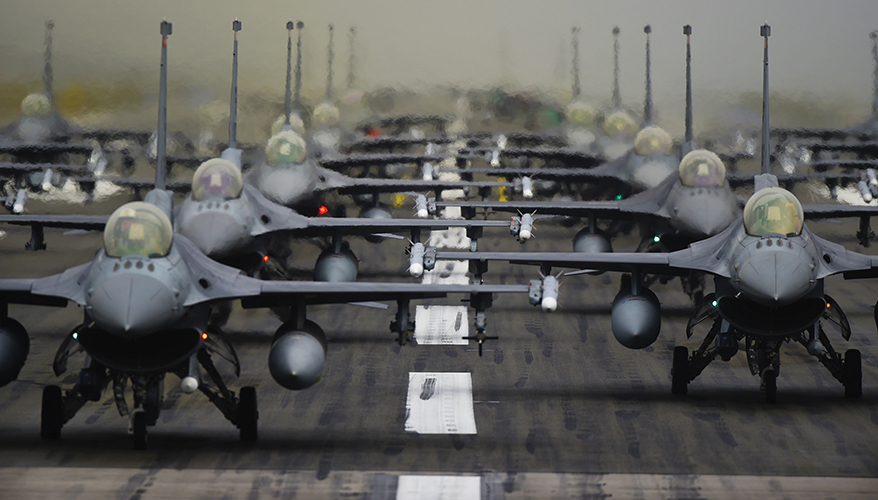 Photo: Air Force
The inclusion of "pass-through" programs in the Air Force's budget obscures the insufficient level of funding the service is receiving for modernization, analysts caution.
The requested fiscal year 2020 topline for the Air Force was $204.8 billion. However, that number includes $39.2 billion in funding for programs that the service doesn't control, such as national intelligence projects, according to a recently released Mitchell Institute for Aerospace Studies policy paper titled, "Moving Toward the Air Force We Need? Assessing Air Force Budget Trends."
The so-called "blue budget," which excludes pass-through programs and is more reflective of the Air Force's resources, was only $165.6 billion, the study said.
Reports and fiscal documents "that fail to distinguish between the Air Force's blue and non-blue budgets can create a skewed picture of resources it actually has to develop and build next-generation aircraft and other major weapon systems," wrote co-authors Mark Gunzinger, director of future aerospace concepts and capability assessments at the Mitchell Institute, and Carl Rehberg, a non-resident senior fellow at the Center for Strategic and Budgetary Assessments.
Non-blue programs in the Air Force's 2020 budget request accounted for a whopping $22.4 billion in procurement and $10.6 billion for research development, test and evaluation, according to the report. In comparison, the blue budget for procurement and RDT&E came to $27.7 billion and $35.4 billion, respectively.
The Air Force's $30.5 billion procurement budget in 2019 was about half the annual average during the Reagan buildup of the 1980s, according to the study.
Although the RDT&E request for 2020 was historically high, history suggests that it might not lead to a significant increase in the procurement of new systems anytime soon, Gunzinger said.
The Air Force also isn't getting an even share of the budget pie, he said. The service's $165.5 billion blue budget in the 2020 budget request was significantly less than the Navy's $191.4 billion or the Army's $205.6 billion, according to the report.
Looking at toplines that include non-blue programs "creates a false impression of how Air Force acquisition funding … compares to the acquisition budgets of the other services," the study said.
Gunzinger said the Air Force is currently too small, too old and not survivable enough to meet the demands of the National Defense Strategy, and more funding is needed.
"The blue budget is not at the level that will allow it to modernize and achieve the objectives" that service leaders have laid out, he said.
Topics: Air Force News