Military Facing Tight Deadlines to Modernize Nuclear Triad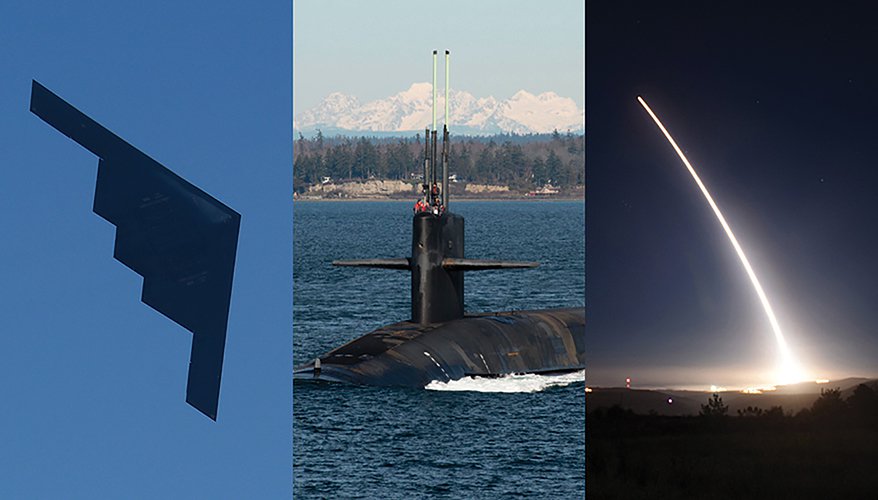 Photos: Defense Dept.
All three legs of the United States' nuclear triad are rapidly approaching the end of their planned service lives. Officials from both the Air Force and Navy are racing against tight schedules to bring new platforms online to replace them.
The triad is made up of land-based intercontinental ballistic missiles, long-range bombers and ballistic missile submarines. Legacy systems are reaching retirement age at the same time over the next decade or so. That has officials scrambling to ensure there is no lapse in coverage, particularly as the United States faces threats abroad.
"We go to great lengths to ensure that every one of those weapons systems, regardless of how old they may be or how long they've been in service, will always, always get the job done if ever called upon to do so," said Vice Adm. Dave Kriete, deputy commander of U.S. Strategic Command. "But we can't maintain those standards with the current weapon systems forever." Strategic Command, located at Offutt Air Force Base near Omaha, Nebraska, is in charge of the nation's nuclear forces.
Kriete noted that because of previous decisions, the Defense Department currently finds itself trying to replace several components of its aging nuclear deterrent at the same time.
"We haven't staggered them," he said during a panel discussion at a nuclear modernization seminar hosted by MITRE Corp. and George Washington University. That has presented a challenge to the military.
"We have an accumulated level of risk and we acknowledge that," he said in December.
The Navy is working to replace its Ohio-class submarines with new Columbia-class boomers. The Ohio originally had a service life of 30 years, but the sea service extended that to 42 years, which it will soon reach, said Vice Adm. Johnny Wolfe, director of strategic systems programs for the Navy.
The Columbia is the service's No. 1 acquisition priority and it plans to get the lead boat on patrol by 2031, he said. The Navy plans to buy 12 submarines.
While the program is funded and going well, it is also "line-on-line," he said.
"Every Ohio that we have to pull up, we will get a Columbia just in time," he said. "We pushed that modernization program as far as we can push it."
Wolfe declined to specify exactly how much slack the program has remaining but said there is still margin to get to first delivery on time.
In the meantime, the service must ensure that the Ohio-class is an effective nuclear deterrent.
"We continue to prove for Stratcom the reliability and the accuracy of that system," he said. It does so by conducting periodic missile launches at least four times a year to prove that the system works. In 2019, the Navy launched five missiles to test its capability.
"All five of those flew exactly like we wanted them to fly," Wolfe said. However, at least two of the missiles were the oldest the Ohio-class program has ever flown. "As these systems go to sea, we've got to start modernizing because we all know just from a materiel perspective, things will eventually age out."
The Air Force has responsibility for two legs of the nuclear triad: long-range bombers and land-based intercontinental ballistic missiles. The service is currently working on a program called the ground-based strategic deterrent, or GBSD, to replace its Minuteman III systems.
The ICBM leg of the triad is the most prompt and responsive, said Lt. Gen. Richard Clark, the service's deputy chief of staff for strategic deterrence and nuclear integration. The military has about 400 ICBMs that an adversary would have to take into account if it considered striking the United States.
"If you didn't have those 400 ICBMs that are ready to go at a moment's notice, you could actually cripple our nuclear enterprise with about 10 targets," he said. "You could take out our two sub bases, our three bomber bases, Stratcom, the Pentagon and our three labs ... at Los Alamos, at Sandia and at [Lawrence] Livermore."
However, the weapons are aging. The Minuteman III system is 39 years past its planned service life, he said.
"We've been able to sustain it and we're going to be able to sustain it until we bring GBSD" online, but the margin is very slim, Clark added. "That acquisition is going very well right now … but we have a long way to go and we have to stay consistent. We have to continue to be committed to this. And given the current budgetary situation that we're in, there's always going to be risks to it."
Both Boeing and Northrop Grumman were expected to compete for GBSD, but Boeing dropped out of the competition last year after indicating that it felt Northrop had an unfair advantage due to its better access to the solid rocket motor market through its acquisition of Orbital ATK, which could give it a cost advantage.
In December, the Air Force announced it had only received one bid for the program and would pursue a sole-source contract.
The Air Force is also working to refurbish its fleet of B-52 bombers that can carry nukes with new engines, radars and other systems, he added.
That will bring the platform into the 21st century and for some decades to come, he said. The bombers will also be coupled with the long-range standoff weapon, or LRSO, which will take the place of the air-launched cruise missile, or ALCM.
"ALCM is 25 years past its service life and we have issues with that from an availability [standpoint] as our stockpile drives down," Clark said. "From a reliability standpoint, it's very old and that reliability continues to go down, and from a survivability standpoint, the ALCM is losing some of that because our adversaries have developed air defenses that challenge" it.
The LRSO can also be coupled with a new bomber the Air Force is pursuing known as the B-21 Raider, which will replace the B-2, he said. The Air Force plans to buy more than 100 of the Northrop Grumman-built nuclear-capable platforms.
The first test flight of the B-21 is slated for the end of next year. The Air Force plans to bring the platform online in the mid-2020s.
The Raider will be a "delivery platform that not only will give us some standoff capability, but will also give us the ability to penetrate," he said.
Meanwhile, plans to acquire sea-launched cruise missiles and submarine-launched ballistic missiles armed with low-yield nuclear weapons are moving forward, said John Rood, the undersecretary of defense for policy.
The controversial weapons — which many Democrats oppose — were called for in the Trump administration's Nuclear Posture Review that was released in February 2018.
As part of the review, the administration said there needs to be an increased focus on refurbishing the nation's nuclear triad and adding additional capabilities to the arsenal.
The ballistic missile effort — which utilizes an existing submarine-launched ballistic missile, the D5, and would feature an existing warhead that is modified to be low-yield — is "going well," Rood noted during a meeting with reporters in December.
As for "the submarine-launched cruise missile, we are not as advanced in the development of that," he said. "That's still going through an analysis of alternatives and other work."
The United States has had low-yield nuclear weapons in its arsenal for decades, but those systems were designed to be air delivered, he noted.
However, based on threats from great power competitors Russia and China, there is a need for more delivery options, Rood said.
Washington, Moscow and Beijing have been moving in opposite directions, he said. The United States has been reducing its reliance on nuclear weapons as well as the size of its nuclear stockpile.
At the same time, both Russia and China have been increasing their strategic reliance on nuclear weapons and modernizing their systems.
"The whole point of having a robust, capable nuclear arsenal is to deter behavior by others and aggressive action," Rood said. "In order to restore deterrence where we thought it might be becoming weaker than we like, we have asked for these supplementary capabilities in order to send a signal that we have a variety of means that are more survivable than the existing low-yield nuclear weapons aboard aircraft."
Strategic Command is also working on bolstering nuclear command, control and communications, or NC3.
Kriete said NC3 is so critical to the effectiveness of the nation's nuclear deterrence it may be better to call the triad a quadriad.
Former Defense Secretary Jim Mattis "recognized that if we don't apply a similar level of effort for recapitalizing our nuclear command, control and communication systems in the future, they will age out, they will become vulnerable, they will become ineffective at connecting our senior leadership with our operational forces, rendering our triad less effective than we need it to be," Kriete said.
Stratcom has formed an NC3 enterprise center and brought on a skilled workforce for the effort, he said.
"They're bringing the best talent and the best minds together to start to envision what NC3 should look like in the future," he added.
The fielding of an upgraded nuclear command, control and communication system is a historic opportunity, he said.
"We have for the first time ever to ... envision and then design and ultimately field a system that will get the NC3 part of our nuclear mission done as one cohesive capability, vice what we have today which is essentially a patchwork of … over 150 different individual systems that have been fielded individually and put together over time to get the job done," he said.
Kriete noted that while the current system is safe, secure and effective, it needs to be upgraded.
"We've worked hard on understanding and then maintaining and improving the readiness where we can, but … we can't do that forever," he said.
These efforts come as the United States faces a number of threats globally, Kriete said. Stratcom primarily focuses on Russia, China, North Korea and Iran.
"Looking at the threat is the first thing we do in the morning and it's the last thing we do before we go home at night," he said. "We watch everything from the most tactical movements, the long-term strategic maneuvers and plans [and] doctrine changes — the things that we can observe to best understand what threats we have to face so that we can then tailor our deterrent activities starting with modernization all the way through how we posture and train our forces to make sure that we stay ahead of those threats."
Despite being part of the New START Treaty, Russia has continued to develop a whole range of nuclear weapon capabilities that fall outside the boundaries of the agreement, Kriete said.
"Our goal is not to keep up with Russia. It is not to engage in an arms race. It's really just to field the right deterrent in terms of capabilities and numbers," he said.
China, on the other hand, is not on the same level as Russia and the United States in terms of nuclear weapons capabilities or numbers. However, it is aggressively fielding a new triad, Kriete said.
"In fact, China has in many ways moved much faster than even the United States or Russia has in this area in recent years," he said.
Meanwhile, North Korea has made headlines over the past several years as it builds up its nuclear capability and the United States works to forge a diplomatic path toward denuclearization.
In 2017, there was a steady drum beat of short-range, medium-range and long-range ballistic missile tests by Pyongyang, Kriete said.
"That was a very busy time for Stratcom," he said. "The last year or so, not quite so much. And that's actually a good thing because … we've kind of turned the tables on our relationship with North Korea, with an overarching goal of denuclearization. Our diplomats really have been in the lead and U.S. Stratcom still underpins all the work that they do in support of the denuclearization objective."
Stratcom is also watching Iran closely, he said. The country does not currently have a nuclear weapon capability and the command is aware of indicators that would signal Tehran is planning to go down that path.
Tensions between the United States and Iran have been high in recent weeks following the death of Iranian Maj. Gen. Qassem Soleimani, head of the country's elite Quds Force, in January. The killing was the result of a U.S. drone strike in Iraq. Iran has since stated that it plans to restart its nuclear program.
Topics: Strategic Weapons