Bumps in the Road May Lie Ahead for JLTV Procurement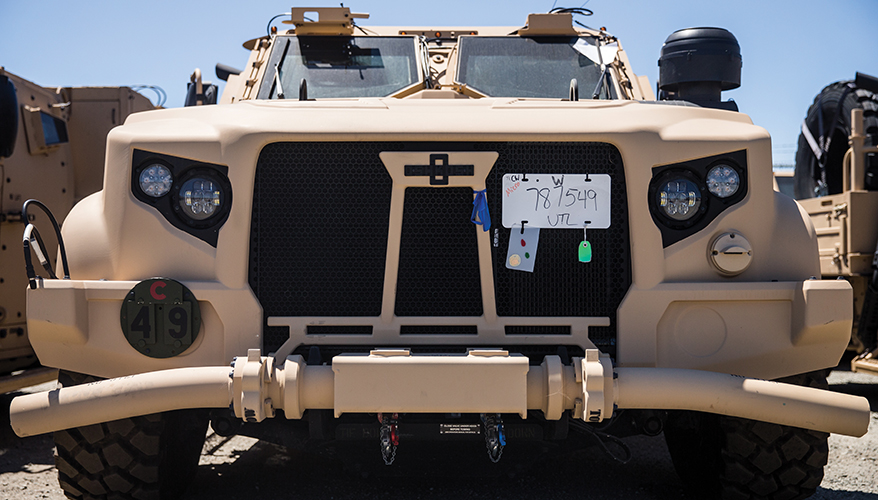 Photo: Defense Dept.
The joint light tactical vehicle is one of the military's largest vehicle acquisition initiatives, but budget uncertainty may affect how many platforms the Defense Department ultimately chooses to purchase.
When the Army and Marine Corps originally selected Oshkosh Defense as the winner of the lucrative JLTV program, the Army indicated it would purchase nearly 50,000 platforms and the Marine Corps would pick up about 5,500.
The contract was a boon for Oshkosh and was hotly contested among industry as vehicle procurement slumped following the U.S. military drawdown in Iraq and Afghanistan.
But with the Army focusing on its top six modernization priorities, and the Marine Corps intending to become more expeditionary, questions have arisen about what the future holds for the joint light tactical vehicle.
Last year, Army leadership said it planned to cut funding for a number of programs, including the JLTV, as it pursues its top modernization priorities.
George Mansfield, vice president and general manager of joint programs at Oshkosh, said while the Defense Department has slowed down its procurement of the vehicle, it has not altered its approved acquisition objective of 49,099 vehicles.
"I think things will be OK. They have not changed their AAO," he said in an interview. "They did slow us down slightly in the budget this year ... but we're not scared of anything there."
Oshkosh utilizes a flexible production line that allows different products and variants to be built off it, so the company is not worried about the slowdown negatively affecting its workflow, he said.
Mark Cancian, a senior adviser at the Center for Strategic and International Studies, a Washington, D.C.-based think tank, said despite the Army slowing its purchase of JLTVs, the program is safe from termination.
"As a program it's very solid," he said. "It's not going to get canceled. We're going to buy a lot of them. The question is just how many and how quickly."
For now, it appears that the program will be continuing at a "fair clip," he said, and the vehicle will still be important to the service's overall mission.
"The Army is focused on sustained ground land combat and JLTV fits with that," he said. "It was squeezed as part of Night Court to free up money for new initiatives, but I don't get the sense that that the Army ... [finds anything about] the concept that is a problem."
Army leadership coined the term "Night Court" to refer to its process of examining programs across the board to realign funding toward the service's top modernization priorities.
How the JLTV program will be affected in the upcoming budget cycle remains to be seen. During an event at the Brookings Institution, Secretary of the Army Ryan McCarthy declined to comment on how the effort would fare in President Donald Trump's fiscal year 2021 budget request, which is expected to be released in early February.
Retired Army Lt. Gen. Tom Spoehr, director of the Heritage Foundation's Center for National Defense, said the service is under great financial pressure to free up funding for its modernization priorities.
"They're having to go to places where the money is … [and the] JLTV is a program that has and had a lot of money in it," he said.
However, it is unlikely that any platforms will be cut in the 2021 budget, he said.
"I would be surprised if when we get the fiscal year '21 budget, if they have reduced the acquisition objective," he said. "I think that number is sound."
While the total procurement may be stretched out, the JLTV still has a bright future, he said.
Improvised explosive devices — which have maimed and killed thousands of servicemembers and civilians in the wars in Iraq and Afghanistan — are going to continue to be a part of any future battlefield the Army fights in, he said. "We're going to need more protection than we had with the Humvee," he added.
However, anytime a program slows down its production rate, that can increase costs, Spoehr said.
"I would like to see the Army buy what they need and then stop the program," he said. "That would be cheaper in the long run."
For the Marine Corps, recent comments by Commandant Gen. David Berger may signal that the service intends to curtail its JLTV purchase.
Speaking to reporters at the Reagan National Defense Forum in Simi Valley, California, Berger said the service is looking to divest itself of legacy systems as it works to become more expeditionary following years of land warfare in Iraq and Afghanistan.
"We have to get rid of legacy things in the Marine Corps," he said. "We've got to go on a diet. We've got to get back on ship. We've got to become expeditionary again."
The service plans to shuck off large, heavy systems that cannot fit aboard ships and that are expensive. The service also wants to invest more in unmanned platforms. Cancian noted that could be problematic for the joint light tactical vehicle.
There is "a high probability that JLTV would not fit his vision and therefore would be reduced," he said. "I don't see the Marine Corps canceling the program, but I could see them reducing the procurement quantity."
It is possible that the public will get a first look at how Berger's vision will play out with the vehicles in the upcoming proposed 2021 budget. However, it may not be until the spring that the plan is fully fleshed out.
Spoehr agreed that Berger's vision for the Marine Corps may spell bad news for the JLTV within the service.
"They're not going to drop out of the program," he said. "They still have a need for that type of vehicle. But given the need to operate from ships, … I think that's fair to say that they might look to that program and ... either stretch it out or reduce their annual projected buys."
However, Mansfield said the company isn't concerned. "I think the JLTV actually fits into what Gen. Berger's … vision is very, very well," he said.
Mansfield also noted that the Marine Corps has consistently increased how many vehicles it plans to purchase.
"The Marine Corps is signaling to us that they want actually more trucks than we initially thought," he said.
Oshkosh is working on autonomy packages that could make the joint light tactical vehicle unmanned and increase its utility, he noted.
The company is currently developing and testing technology that could give the platforms such capability, but there isn't a specific timeline for when those would be ready, he said.
Autonomy does have its challenges, he added. "When you ruggedize it for military use it's different than Teslas running down a highway in the sun. We're running in an environment that's got a lot of dust and mud."
However, despite what happens with the Army and Marine Corps, Oshkosh is expanding its gaze to the other armed services as well as to allied foreign militaries.
In December, Army Contracting Command in Warren, Michigan, placed an $803.9 million order for 2,721 joint light tactical vehicles. That included vehicles for the Navy and Air Force, as well as 30 systems to the country of Montenegro via a foreign military sale.
Mansfield believes there is a great opportunity to continue to sell JLTVs to the Air Force and Navy.
"We're looking at different modules to put on the vehicles" that could appeal to those services, he said.
Last year, the company debuted two new variants of the platform, a command-and-control unit and an ambulance, which it thinks will be attractive options, Mansfield said.
The company is also looking to expand its presence abroad. It currently has potential foreign military sales on the horizon with Slovenia, Lithuania and the United Kingdom. The deal for 30 platforms to Montenegro has been approved.
"There are quite a few … allied nations that are now looking to buy JLTV and they're in the process of the FMS system," he said. "Once we got the full-rate production decision this summer that sort of opened up the gates for foreign military sales, and so we're seeing a lot of interest there."
Speaking to National Defense in September during the Defence and Security Equipment International conference in London, Mike Ivy, senior vice president and general manager of international programs at Oshkosh, said the company was eyeing European customers.
"We are working several opportunities, both FMS and direct commercial possibilities here on the continent," Ivy said.
Oshkosh has demonstrated the JLTV in Sweden and is seeking business with Northern European nations, he noted. "We think that there's a good deal more interest there."
However, with a glut of indigenous truck and vehicle manufacturers in the region, there is stiff competition.
"The European market is a very difficult market to crack because there are excellent truck makers and vehicle makers in Europe," he said.
But Oshkosh is confident that no other manufacturer can match the JLTV's mobility over complex terrain, the protection offered in the platform's weight class and its overall reliability, Ivy said.
Spoehr noted that while there has been interest from allied nations in the platform, the JLTV is not an inexpensive system. It is likely that interested parties would purchase dozens, or perhaps hundreds of the vehicles at the most, but that would not be significant enough to drastically lower the price of the system.

— Additional reporting by Jon Harper
Topics: Tactical Wheeled Vehicles, Land Forces