United Kingdom Teaming With United States in Space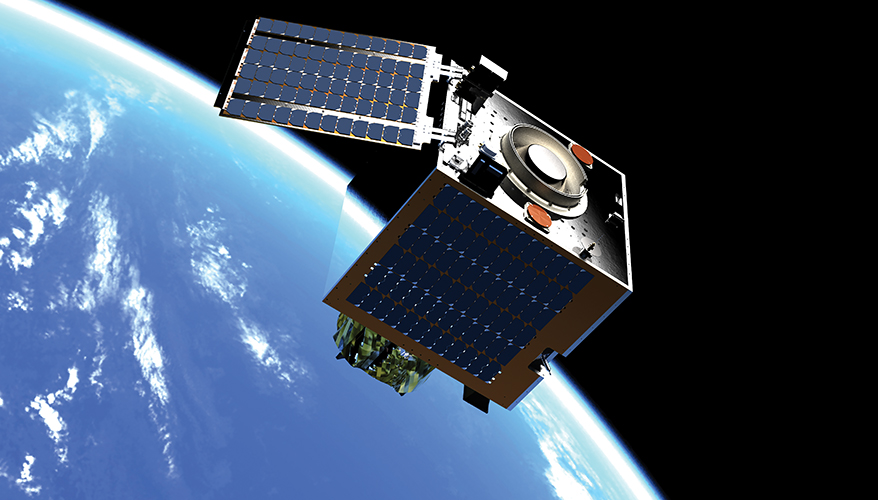 Image: Surrey Satellite Technology Ltd
ABOARD THE HMS QUEEN ELIZABETH — The United Kingdom is pursuing ambitious plans for new satellite launch capabilities while increasing collaboration with its U.S. ally in space.
The desire for closer ties was made clear on a chilly day in November when the Royal Navy hosted its second annual Atlantic Future Forum onboard the HMS Queen Elizabeth, which was anchored off the U.S. Naval Academy in Annapolis, Maryland.
The forum brings together government leaders, members of the military, industry and the media to discuss the growing challenges of warfighting and partnerships between allied nations.
The HMS Queen Elizabeth aircraft carrier is the United Kingdom's first 5th-generation warship and the largest one ever built for the Royal Navy. It was designed to accommodate the F-35 Lightning II fighter jet. Britain is purchasing the short takeoff/vertical landing B variant.
The ship recently completed trials with the aircraft. Trials were also conducted with joint strike fighters from the U.S. Marine Corps — which will deploy as a detachment with the ship in 2021.
U.K. officials would like to see similar cooperation in space.
"If the U.K. and U.S. can foster even deeper cooperations, our world-class armed and security forces can work together to withstand the threats of today and tomorrow," Mark Sedwill, cabinet secretary and national security adviser for the United Kingdom, said in a Ministry of Defence document that was handed out at the event.
Air Vice-Marshal Johnny Stringer, chief of staff for the U.K. Joint Forces Command, during a panel discussion onboard the vessel noted the increasing challenges Britain is facing in space.
When asked about the implications of not engaging in space as a warfighting domain, he replied: "It's really tempting to say, 'we lose,' and then ... just walk away."
The "ability to innovate, to imagine, to get ahead of problems, to conduct research and look at how we are actually going to fight in the future is as important as recognizing how vital space is to us," he added.
Some of the issues the United Kingdom and its allies face include increased congestion in space and threats of anti-satellite weapons from adversaries.
Meanwhile, the nation is boosting its space capabilities. The Royal Air Force is investing more than $33 million over the next year to launch a constellation of small satellites into low-Earth orbit. The systems will relay high resolution video and data to fighter jets to increase pilot awareness.
The initiative — dubbed Team Artemis — is comprised of a transatlantic group of U.S. and U.K. defense personnel brought together by Britain's space program, said Air Vice-Marshal "Rocky" Rochelle, chief of staff capability for the Royal Air Force.
The effort is a follow-on to the Carbonite-2 spacecraft, which is a small satellite that was made by Airbus-owned company Surrey Satellite Technology. The space system was put on contract and launched within the span of 10 months, Rochelle said. It was designed to provide commercial Earth observation capabilities, according to the company.
The next two satellites — which are from the family of the Carbonite series — will be put on orbit in the next 12 months, Rochelle said.
The satellites will use a launch system manufactured by Virgin Orbit. The company is partnering with the Royal Air Force to support the initiative, Richard Branson, owner of Virgin Orbit, said in a video message recorded for the forum.
"Security will be vital if we are to have a stable and growing space economy," Branson said.
Dan Hart, president and CEO of Virgin Orbit, said the small satellite launch system — known formally as the LauncherOne — will utilize a modified Boeing 747-400 aircraft as an airborne launch pad. A two-stage liquid-propellant rocket will be fired from the wing of the aircraft.
Utilizing the upgraded 747, which is known as Cosmic Girl, puts the satellite about two-thirds of the way to the edge of the atmosphere before launch, Hart said. The system is expected to place around 300 kilograms of payload into low-Earth orbit.
Virgin Orbit's approach offers a unique advantage that allows users to fly and launch from anywhere to any orbit at any time.
As discussions have progressed about the various tensions in space and what kind of architectures are needed to support activities on Earth, the capability to launch from anywhere in the world to any orbit is becoming more important, Hart said.
LauncherOne technology could deter adversaries from investing in counter-space capabilities because it would make it easier to replace damaged satellites, he said.
"If you can make getting to space inexpensive, then the cost of counter-space becomes a burden that you don't want to spend money on because there is no upside," he noted.
In his conversations with military officials, Hart said he has seen thoughtful discussion and a strong desire to cooperate across the U.K.-U.S. alliance.
A key discussion is what a global launch capability looks like and how to arrive at a point where at a moment's notice, from a location that adversaries are not necessarily expecting, satellites can be launched into any orbit, he said.
Virgin Orbit plans to use Launcher­One to send a satellite into space by the end of 2020, according to a company press release.
Pending approval by the United States government, the company will support Team Artemis as a member of the partnership between a coalition of allied nations and commercial companies, the press release said.
Meanwhile, the United Kingdom recently became the first international partner to join Operation Olympic Defender, a coalition that was started to strengthen deterrence against potential hostile actors and reduce the spread of debris in space.
"This is about a ... collective response to the congested and contested operational environment," Rochelle said. So far, five nations have agreed to join the coalition.
The decision to join comes as U.S. Space Command is working to increase its collaboration for military space operations. The Pentagon is also concerned about adversaries such as Russia and China continuing to develop anti-satellite capabilities. President Donald Trump officially reestablished U.S. Space Command in August and designated it a combatant command.
"We are making a deliberate effort to widen our support to international, interagency and commercial partners," said Maj. Gen. Stephen Whiting, deputy commander of Air Force Space Command.
The military's joint space operations center — which was stood up in 2007 at Vandenberg Air Force Base, California — served as a location for the Air Force to work with allies such as Australia, Canada and the United Kingdom, Whiting said. Last year, the service transitioned the Joint Space Operations Center into the Combined Space Operations Center, or CSpOC, to improve integration of assets with foreign partners who now hold leadership positions there, Whiting said during a breakfast event held in Washington, D.C., in November.
The United Kingdom, for example, will increase the size of its presence at the CSpOC to support its decision to formally join Operation Olympic Defender, he said.
Space Command also has a multinational collaboration office to host liaison officers from allied nations at Vandenberg. France and Germany were the first two countries to embed officers, he noted.
Gil Klinger, vice president of space and intelligence programs at Raytheon, said the United Kingdom is readily taking on the challenges associated with warfighting in space.
"The U.K. made a conscious decision that it needs to engage in a renaissance of its national space capabilities and it has aggressively moved in that direction in a way that really is sort of stunning in a positive sense," Klinger said. "It's 360 degrees of activity and every space sector is based on collaboration."
Topics: Space