'Eye-Popping' Budget Plus-Ups for Hypersonics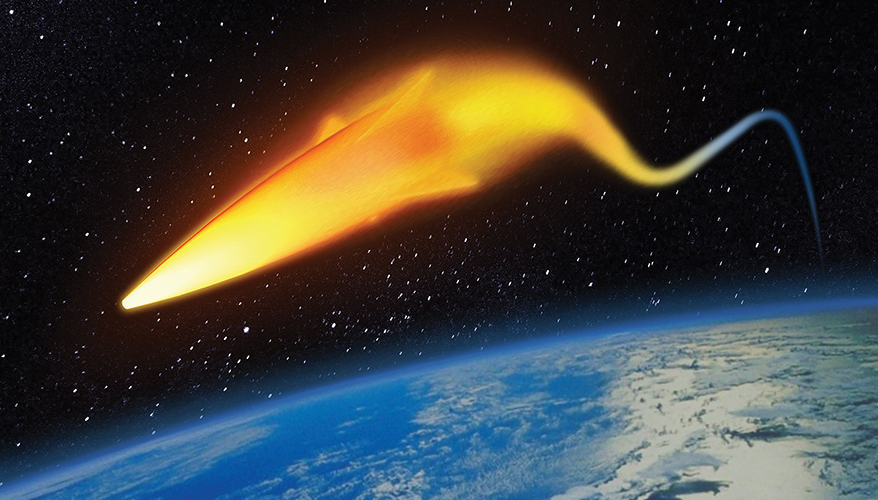 Concept: Lockheed Martin
The fiscal year 2020 defense budget, passed by Congress in late December, included extra funding for a variety of hypersonic weapon projects that the Pentagon is pursuing to keep pace with great power competitors.
The systems — which will travel at speeds greater than Mach 5 and be highly maneuverable to thwart enemy missile defenses — are the Defense Department's No. 1 research-and-development priority and have received strong backing from lawmakers. The United States is in a race with China and Russia, which are pursuing their own programs.
In a newsletter, Jim McAleese, founder of McAleese & Associates, said there was a "micro-flurry of hypersonic plus-ups" in the 2020 omnibus appropriations bill, which President Donald Trump signed into law just before Christmas. That includes an "eye-popping" $100 million to support the Joint Hypersonics Transition Office and the stand-up of a consortium of universities to facilitate research-and-development work.
The Army's long-range hypersonic weapon program received $404 million, a "beefy" plus-up of $130 million, McAleese noted.
About $390 million was appropriated for test-and-evaluation infrastructure for high-tech weapons including an additional $20 million for hypersonic test facilities and $45 million for ground testing in support of the National Defense Strategy, according to McAleese.
The budget also fully funds and provides an additional $145 million to develop a common hypersonic glide body, according to a congressional summary of the legislation.
All of the services are pursuing hypersonics capabilities. The Air Force's air-launched rapid response weapon, or ARRW, and hypersonic conventional strike weapon, or HCSW, were fully funded to the tune of $576 million. Its aerospace vehicle technologies R&D program received an additional $10 million for "hypersonic vehicle structures," while the manufacturing technology program received $28 million in plus-ups for hypersonics, McAleese said.
The Navy's conventional prompt strike missile program received $637 million, which McAleese described as a "modest" $87 million cut.
The technology has strong support from the White House. During a nationally televised address in January about tensions with Iran, Trump bragged about the nation's missile arsenal, saying "many hypersonic missiles" are under construction. The systems are currently in the R&D phase.
The U.S. military plans to begin fielding the new capabilities in the early- to mid-2020s.
"We're going to make a lot of them very quickly" once production is ready to be scaled, Secretary of the Army Ryan McCarthy told reporters at the Reagan National Defense Forum. "It's going to take time and effort, but we have a very aggressive investment profile for the next five years."
The fiscal year 2021 defense budget request, which is expected to be released in February, will include a funding boost for the technology, he noted.
While Trump, Defense Secretary Mark Esper and other administration officials are gung-ho on pursuing the new systems, McCarthy said he anticipates hypersonic weapons development in the United States will move ahead regardless of who wins the 2020 presidential election because it has bipartisan support.
"It's going to be a place that will have a tremendous amount of attention no matter what administration is here a year from now," he said. "This is a national-level priority."
Topics: Emerging Technologies