Vital Signs 2020: Industrial Base Could Struggle to Surge Production in Wartime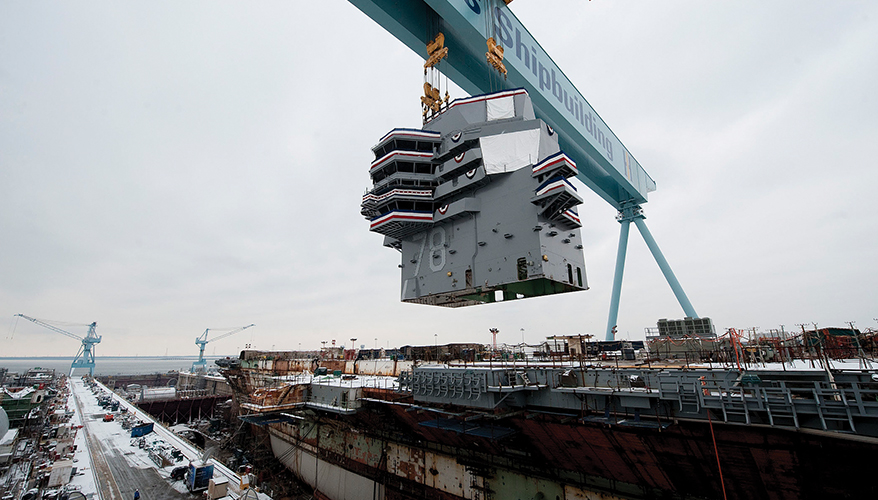 The aircraft carrier USS Gerald R. Ford (CVN 78) under construction.
Photo: Huntington Ingalls
This is part-four of a four-part series based on "Vital Signs: The Health and Readiness of the Defense Industrial Base," to be released by the National Defense Industrial Association on Feb. 5.
The U.S. industrial base would be challenged to ramp up production to meet wartime requirements in the event of a protracted great power conflict, analysts and Pentagon officials say.
The National Defense Industrial Association's new report, "Vital Signs: The Health and Readiness of the Defense Industrial Base," said 27 percent of critical defense supplier industries would likely experience shortages in the event of a surge in demand for combat-essential products. (See story)
That finding is of particular concern in the new strategic environment.
In the decades following the Cold War, the United States was focused on regional wars such as Iraq and Afghanistan, noted Mark Cancian, senior adviser at the Center for Strategic and International Studies.
"For the most part, losses [of equipment] have been low and your existing industrial base could handle it," he said. But in recent years "the focus changed to great power conflict with China and Russia, and in such a conflict attrition might be very high and the industrial base is not designed to handle that kind of demand" for more systems.
Susannna Blume, director of defense programs at the Center for a New American Security, noted that China has been investing heavily in its missile forces.
"Those forces are designed to cripple the U.S. military," she said. "That's a huge concern. The ability to reconstitute quickly could be critical in prevailing in that kind of conflict."
Cancian said that, based on historical analysis of attrition rates in large conventional wars, the U.S. Army could be reduced to just two armored brigades in the first nine months of a fight against another great power. Similar rates of attrition would be expected to be sustained by aircraft and other major systems, he added.
The Defense Department would struggle to replace losses or expand its force structure in such a scenario, analysts say.
"The industrial base has been designed to produce equipment in peace time as efficiently as possible, so much of the spare capacity has been squeezed out in order to reduce costs," Cancian said. "It is not a worthwhile business strategy to have a lot of unused capacity, and DoD has not been willing to pay for it."
Maiya Clark, a research assistant at the Heritage Foundation's Center for National Defense, said the capacity problem is widespread.
"Generally speaking, I would say that the U.S. defense industrial base really is poorly positioned for a production surge at this time," she said. "We're barely meeting the needs of our military in peace time. So it's definitely a great concern in pretty much every sector, although depending on the sector, the particular issues are different."
Cancian said replacing destroyed or damaged ships would be especially challenging because it takes years to construct major battle force vessels such as destroyers or aircraft carriers.
Clark said another issue is the shortage of skilled technical labor for people who have the training to do specialized tasks such as welding and electrical work.
The limited number of vendors is another problem, noted the Defense Department's 2018 report titled, "Assessing and Strengthening the Manufacturing and Defense Industrial Base and Supply Chain Resiliency." The document is often referred to as the 13806 Report after the executive order that led to it.
Today, the U.S. shipbuilding industrial base consists primarily of seven shipyards owned by four companies, plus their suppliers, the report noted. The number of vendors supplying specific types of platforms is even fewer. For example, only one firm — Huntington Ingalls Industries — currently builds aircraft carriers.
"In the case of a surge, we would be really poorly placed to increase our production capacity," Clark said.
The aircraft manufacturing sector faces similar workforce and supplier base issues.
Six companies provide the majority of platforms and possess the full range of capabilities to bring a new weapon system from the research, design and development phases into full production, according to the 13806 Report.
The big three — Boeing, Lockheed Martin and Northrop Grumman— have a virtual monopoly in many areas, Clark noted.
For example, Northrop Grumman is the only firm currently building bombers.
Industry consolidation across a number of sectors is already an issue that would only be exacerbated during a great power war, Clark noted. "These are all problems that we can see now … but if there were to be a surge required, all those problems would become massively obvious."
Vehicle manufacturing is one sector where the industrial base has recently demonstrated an ability to ramp up production to meet urgent wartime requirements. During the Iraq and Afghanistan wars, improvised explosive devices wreaked havoc on U.S. forces. In response, the Pentagon contracted for thousands of mine resistant, ambush-protected vehicles to transport troops around the battlefield.
Production increased from 82 trucks per month in June 2007, to 1,300 a month in December of that year, Clark said.
"That was a pretty massive surge that we managed successfully," she said. "We had multiple manufacturers involved with that effort and ended up producing around 24,000 vehicles."
However, other platforms wouldn't be as easy to churn out, Cancian noted.
"If we were in a great power conflict with heavy attrition, we would surge all of the tank production that we could, but of course that's not going to be able to replace most" of the losses, he said.
Technologies that are also produced in the civilian sector will be less of a problem to replace such as small arms, trucks and some types of communication systems, he said. "It's those areas that are uniquely military where there's no civilian analogue that will be most vulnerable."
Munitions production is another area for concern. Advanced air-, ground- and sea-launched weapons are a key component of the military's operating concepts.
In the Trump administration's fiscal year 2020 budget request, the Defense Department proposed buying several critical munitions at maximum production rates, Blume noted.
"If we are maxing our production capacity in peace time for critical munitions, what does that say for our ability to produce those munitions in a moment where we could be expending many, many, many of them very, very rapidly?" Blume asked.
Cancian said the United States can't count on replicating the production successes it accomplished during the last great power conflict when civilian industry was converted to military manufacturing.
"In World War II we had several years to get ready before we actually got involved in the fighting. And even once we got involved in the fighting, we had several years before we went toe-to-toe with the main forces of our opponents," he said. "During that time it was our allies for the most part who were holding the line, and we won't have that luxury in a future conflict."
The U.S. economy has also changed significantly since the 1930s and 1940s, and is now much more oriented toward services than manufacturing, he noted.
Blume said defense equipment is also more specialized in the 21st century.
"In World War II you had major industrial conglomerates like Ford producing war materiel. They were making tanks and there was a lot of … industrial capacity in the United States that could be thrown towards the war effort," she said. "The composition of the defense industrial base is not the same today. You tend to have more highly specialized defense companies … and there just aren't that many of them."
Cancian said China and Russia would also face challenges replacing equipment and growing their forces during a war with the United States. But they might not be in as tough a spot.
"The Chinese have, I think, a much larger military industrial base and they're producing more weapons than the United States," he said. "So they might have an advantage there."
Russia, meanwhile, might have larger quantities of older equipment in storage that it could draw from, he added.
However, there are a number of steps that the U.S. government can take now to ameliorate the surge problem, analysts say.
One is to ensure that the Defense Department has sustained and consistent funding. Budget instability, including a series of continuing resolutions and threats of government shutdowns in recent years, have hurt the industrial base and driven away suppliers, Clark noted.
Multi-year contracts would also help to establish predictable funding, she said.
"Without that reliability, these companies end up shutting their doors, they end up consolidating and our capacity to meet current and potentially larger future needs is compromised," Clark said.
While sole-source risk can occur at the prime level, it more often manifests itself at the sub-tier, the 13806 Report noted.
Clark said: "There's just a lot of different examples where these little companies are very adversely affected by the unpredictability of DoD funding. It may look like a little company, but it can have drastic results for U.S. national security."
Cancian said it would be prudent to identify and address the most severe bottlenecks in industry so that production in wartime could be increased as much as possible. Targeted investments could have an outsized impact on the ability to surge.
Clark noted that the government could provide funding to selected industries that are in jeopardy under authorities provided in the Defense Production Act. (See story)
For planning purposes, the Pentagon should determine what surge production capabilities would be needed in a global war with China or Russia, and where the shortfalls are, Clark said.
"You need to know … which holes need to be plugged first," she said. "The information that we have that would lead us to draw conclusions about our surge capacity would lead us to say we're not all that prepared, but actually the degree to which we are prepared or unprepared is hard to know without more information."
Tom Spoehr, director of Heritage's Center for National Defense, said more government visibility into industry's resourcing needs would also be helpful. Using contracting to elicit that information would be one option.
"If we're contracting for a hundred planes a year, the contractor … [could be required to] advise the government what resources are required to get to 200 a year or something like that," he said. "Right now that's not part of it, and so everybody's kind of flying blind on this topic."
The Pentagon will need to give companies financial incentives if it wants them to boost their production capacity, he noted. Firms are focused on maximizing shareholder value and profit, and maintaining extra facilities is generally looked upon as wasteful in that context.
"Companies will not typically maintain one iota of additional capacity more than what they've been contracted or can foreseeably need in the next couple of years," he said.
Blume said new manufacturing techniques could enhance industry's capabilities.
Assistant Secretary of the Air Force for Acquisition, Technology and Logistics Will Roper is pushing a new Digital Century Series concept that calls for using digital design and engineering to improve the way aircraft are produced, she noted.
"If he's right and there is a way to build airplanes, for example, without a lot of heavy, highly specialized tooling or skilled labor, that has significant implications for … the ability to restart or expand production capacity faster," Blume said.
The Defense Department can invest and push for industry to embrace the kinds of technologies that will make it easier to surge, she added.
"It's not as though the only solution to this problem is just building more factories and letting them sit unproductive," Blume said. "You can design weapons systems in a way such that they can be built more quickly and more easily using technologies like digital [engineering], etc."
Cancian said if the balloon goes up and the U.S. military finds itself in a shooting war with China or Russia, it might have to buy foreign systems or take older, less capable systems out of storage to help replace equipment losses. It would also need to improvise with whatever industry could put together quickly.
Meanwhile, Pentagon officials are well aware of many challenges the nation would face trying to execute a wartime surge.
"I have a lot of concerns," Assistant Secretary of Defense for Acquisition Kevin Fahey told reporters recently. "But the other thing I'd tell you is industry never ceases to amaze … when you end up with a requirement that is funded, how quickly they can ramp up."
Fahey noted that he played a role in the effort to surge mine resistant, ambush-protected vehicle production. However, the MRAP was basically just "a really big truck," he said.
Other types of equipment surges would be more difficult.
For example, "we already have bottlenecks given what we've got at the shipyards," he said. "If you wanted to ramp our production [that] would be harder to do." It wouldn't be impossible, but it would "probably take a little bit of time," he added.
The Trump administration is trying to tackle the issues that were highlighted in the 13806 Report, including surge capacity and supply chain vulnerabilities, he said.
"We did a great job of actually for the first time … not only identifying what we believe our problems were in the industrial base, but what were we going to do about it," he said. "We have a lot of executive orders to actually work on some of these major problems."
Part 1: Defense Industrial Base's Report Card Reveals 'C' Grade

Part 2: Defense Sector Straining to Attract STEM Talent
Part 3: Small Businesses Concerned About New Cybersecurity Certification
Topics: Defense Contracting, Defense Department