ROBOTICS AND AUTONOMOUS SYSTEMS
WEB EXCLUSIVE: Navy Debates: Is a Robotic Ship a Ship?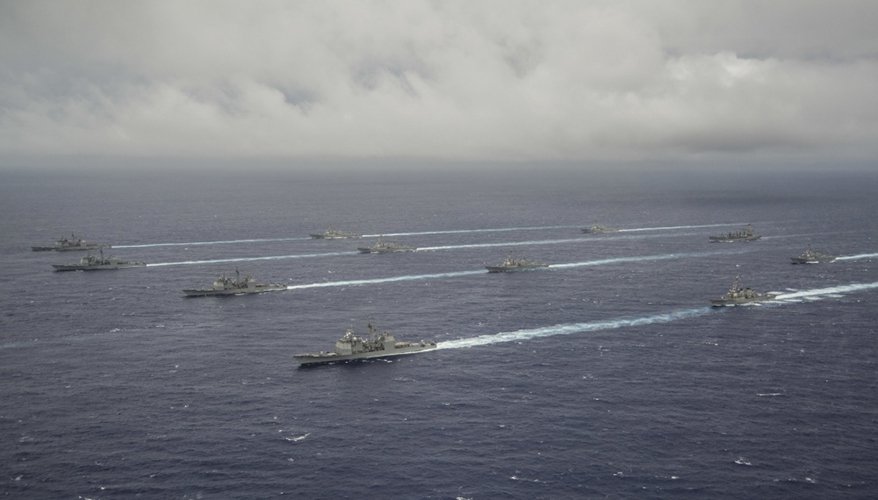 Photo: Defense Dept.
Navy leadership's insistence on not including unmanned platforms in their ship counts could make their goal of a 355-ship fleet unreachable at projected budget levels, analysts say.

Robotic platforms will be a key warfighting tool in the future, even though the systems won't be included in the battle force tally, service officials said during the Surface Navy Association's annual symposium in Arlington, Virginia, last week.

The controversy about adding unmanned vessels to ship count numbers has been playing out in Washington in recent months, with some officials and analysts supporting their inclusion and others opposing it.

The Navy is expected to release a new force structure assessment in the coming weeks. The previous FSA, unveiled in 2016, called for a 355-ship fleet, which President Donald Trump has supported.

During keynote remarks at the SNA conference, Chief of Naval Operations Adm. Michael Gilday said the Navy needs to have "355-plus" manned ships.

"There's broad agreement across the government that our Navy needs to grow, we need to pursue unmanned technologies, and we need to solve tough technology and policy issues associated with unmanned" systems, he said.

However, in the new FSA, robotic platforms will supplement manned vessels but not add to the ship count, he said.

"There are a lot of assumptions that go along with unmanned because they're pretty much conceptual [capabilities right now]. And so the final numbers that will come out in a couple of weeks when we release the assessment … will not include unmanned," Gilday said.

Jim McAleese, founder of McAleese & Associates, said the Navy will likely continue to receive about $24 billion per year for shipbuilding for the remainder of the Trump administration.

"The Navy's position officially is that … with the current level of funding they can afford 305 ships. So the question is where do you come up with this 16 percent higher number for the 355?" he said during a panel.

Funding might also decline during future administrations, he noted. "This Trump era buildup is probably only going to come once and we won't see [these levels of spending] for another 15, 20 years."

Eric Labs, a senior analyst for Naval forces and weapons at the Congressional Budget Office, said $24 billion per year won't be enough for the service to achieve its goal.

"You're not going to get to the 355-ship Navy under those budget levels," he said. "You're going to need substantially more funding both on the procurement side as well as on the [operations and maintenance] and personnel side."

Gilday admitted as much, arguing that the service should receive a larger share of the Pentagon's budget pie in the coming years.

"We need more money," he said. "If you believe that we require overmatch in the maritime [domain], if you believe that in order to execute distributed maritime operations and to operate forward in great numbers, that we need more iron, then yes, we need more topline," he said.

Although the current aim is to achieve 355-plus manned vessels, at some point in the future optionally manned systems could be considered part of the battle fleet, suggested Vice Adm. Richard Brown, commander of naval surface forces for the Pacific Fleet.

"I don't really care" how the vessels are tallied, he said. "What I really care about is what the capabilities and unmanned [technology] brings to the fight."

Not all robotic platforms are created equal, Brown noted.

"It also depends upon what that unmanned vessels looks like. For example, if it is just an adjunct weapons magazine, is that really a ship?" he asked. "On the other hand, if it is an … optionally manned surface vessel [that is] somewhat large and has command and control, combat systems and weapons on board, perhaps then it could be counted. But right now I don't think that we're going down that path."

Robotic surface vessels and underwater vessels are nevertheless expected to be a key part of the Navy's arsenal as it prepares for great power competition.

Marine Corps leaders are also keen on the technology. The service must get ready for a potential conflict in a maritime environment against advanced adversaries such as China, Commandant Gen. David Berger said.

The Corps needs more lethal platforms with sensors and munitions that are expeditionary, he said.
"It's entirely in the realm of the possible [that] in not very many years in the future there is an unmanned surface vessel that has unmanned aerial vehicles on it, and there's a bunch of them," he said. "It doesn't mean there are no humans involved, but I believe … we have got to press hard into the unmanned realm."
- Additional reporting by Connie Lee, Mandy Mayfield and Yasmin Tadjdeh.
Topics: Navy News, Robotics and Autonomous Systems