Vital Signs 2020: Defense Sector Straining to Attract STEM Talent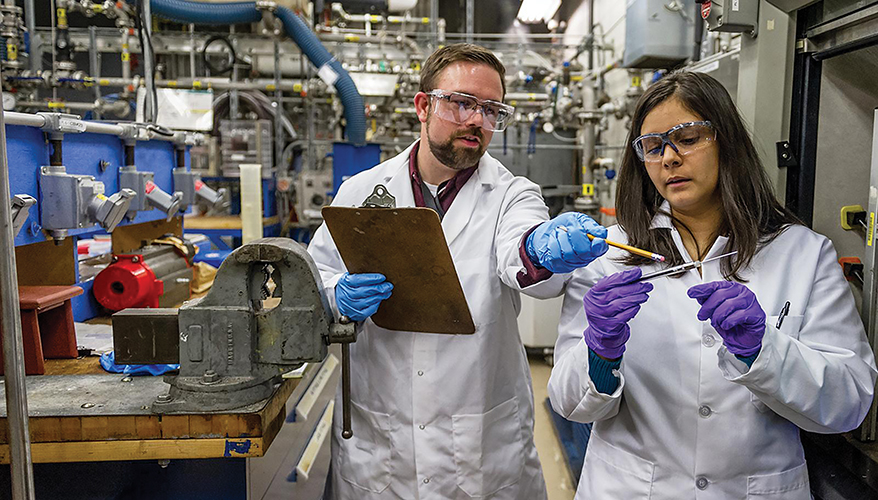 Photo: Defense Dept.
This is part-two of a four-part series based on "Vital Signs: The Health and Readiness of the Defense Industrial Base," to be released by the National Defense Industrial Association on Feb. 5.
For years, experts and military officials have been sounding the alarm across the defense industry: More STEM — or science, technology, engineering and mathematics — talent is needed to meet the challenges of a volatile and uncertain future.
But despite these cautions, industry and government are still struggling to attract STEM students, particularly as they face steep competition from deep-pocketed commercial companies in places such as Silicon Valley. That could have dire consequences in a potential future fight with great power competitors.
In the National Defense Industrial Association's new report, "Vital Signs 2020:The Health and Readiness of the Defense Industrial Base," defense industry production "inputs" did poorly, scoring 67, or a D grade. That category includes skilled labor, intermediate goods and services, and raw materials used to manufacture or develop end-products and services for Defense Department consumption.
Relatively low 2019 index scores for defense industry workforce size helped drive the low score for this dimension. The estimate of the size of the workforce, currently about 1.1 million, falls substantially below its mid-1980s peak size of 3.2 million, resulting in an index score of 34.
Another recently released report, "The Contest for Innovation: Strengthening America's National Security Innovation Base in an Era of Strategic Competition," by the Ronald Reagan Institute's Task Force on 21st Century National Security Technology and Workforce, found that the U.S. government is straining to hire enough people with the proper STEM skills.
In one category, engineering, it found that the government is failing to attract and retain computer engineers and skilled software developers, as well as cultivating such talent internally. "The effect is a brain drain that is working against our national interest — the opposite of the one we benefited from in the 20th century," the report said.
U.S. universities are also having problems building and maintaining the talent pipeline needed for what the report calls the "national security industrial base." Schools rely on foreign students — many of whom are Chinese — to fill its graduate-level engineering programs, the report said. Around 80 percent of graduate students in technical fields are foreign nationals.
"This talent gap is partially due to the fact that private-sector companies attract American students graduating from bachelor's programs with lucrative salaries and immediate offers of employment following graduation, causing them to forgo graduate degrees," the report said.
Compounding the "war for talent" are U.S. immigration policies that often require foreign students graduating with technical degrees to return home instead of contributing to the U.S. national security industrial base, the study noted.
Far more Chinese students, in particular, are pursuing technical degrees than American students, at home and abroad, the report said.
Michael Brown, director of the Defense Innovation Unit — an organization stood up by former Secretary of Defense Ash Carter to connect Silicon Valley tech companies with the Defense Department — noted that many Chinese students are taking that knowledge back to Beijing.
"Living in Silicon Valley or any of the innovation hubs, you see how important talent from around the world is," he said during a discussion at the Center for Strategic and International Studies. "It adds to our economic prosperity and therefore is pretty important for national security. We need to be developing the leading edge of those game changing technologies here in the U.S. And to the extent that involves foreign talent [and] foreign capital to do that, we want to be encouraging that, but we don't want to be stupid."
While there should be an effort to retain as many of those students as possible, it is important to recognize that there is also a risk, he said. "Some of those folks are not interested just in economics but also interested in transferring the technology."
As recently as a few years ago, the FBI's Palo Alto office had only 10 agents.
"We're woefully short relative to the scale of the problem," he said. "In fact, you could argue that we don't have enough resources on this problem to even know what the scale is."
Right now, the United States has taken a "worst of both worlds" approach to foreign students, he said.
"We take a world-class resource of the United States — our educational system — and we allocate a big percentage of that for foreign students," he said. "We've allocated a huge percentage and then we send that educated talent home. So [we] probably need to rationalize one side or the other so we don't live with the worst case."
Brown said there have been numerous cases where Chinese students have taken research funded by the Defense Department, gone back home and then used that research to form the basis of a supplier to China's military.
"We, unfortunately, have to be more mindful of vetting some of the students and then putting in some basic protections," he said. "We have to do more to raise the costs there."
Meanwhile, China's investment in STEM talent is giving them an edge, said Gen. Stephen "Seve" Wilson, vice chief of staff of the Air Force.
"China is all-in to win," he said during remarks at the Interservice/Industry Training, Simulation and Education Conference in Orlando, Florida. "Last year, they produced eight times the STEM graduates [as the United States] and they're predicting that in the next five years that the number of STEM graduates will be 15:1."
Because of China's civil-military fusion concept — which requires its industrial and academic sectors to share information with the military — it would be a mistake to underestimate them, Wilson noted.
"Not only can they compete, I contend they have an advantage," he said.
Former Secretary of the Navy Richard Spencer said cultivating STEM talent will be a key differentiator in future conflicts.
The technology race is "going to be a horse race — one year we'll be ahead, the next year China will be ahead," he told reporters on the sidelines of the Halifax International Security Forum in Nova Scotia, Canada, a day before his resignation. "We're going to be fighting with similar weapons. What's going to be the gapping difference that we have?
It's how we fight the ship, how we fight the weapon, how we use the Marine. It's going to be the gray matter that's going to be the gapping difference."
To counter the government "brain drain," the Reagan Institute recommended Congress authorize the creation of a new national civilian "STEM Corps." (See related story)
"Modeled after the Reserve Officers' Training Corps and the National Guard, students would be selected through a competitive process to receive full tuition to attend public universities and study specified disciplines related to national security technology," the report said. "In return for accepting the scholarship, graduates would commit to spending several years serving in either the 'active' or 'reserve' STEM Corps, working within a component of the [national security innovation base] ecosystem."
Additionally, the report recommended the creation of a national security innovation base visa that would encourage vetted, highly skilled workers to come to the United States for employment and also allow foreign national students with relevant degrees to stay in the country. The visa should target fields such as AI, automation, cybersecurity and various dual-use technologies.
"This approach would incentivize them to contribute their education and talents to the long-term benefit" of the national security industrial base, the study said.
Meanwhile, organizations such as the Joint Artificial Intelligence Center — which was stood up last year to coalesce the Defense Department's many disparate AI projects — are working to better reach out to STEM talent.
"Like our counterparts in private industry, the JAIC and the larger DoD national security enterprise is engaged in a war for talent," said Lt. Cmdr. Arlo Abrahamson, a spokesman for the center. "As the U.S. military moves forward with its digital modernization efforts, attracting the requisite talent for organizations like the JAIC will be critical for the DoD to achieve its AI strategy and lead in AI innovation."
The center is executing a targeted outreach strategy aimed at recruiting talented artificial intelligence experts from across commercial industry and academia, he said in an email.
Working alongside organizations such as the Defense Innovation Unit and the National Security Innovation Network, or NSIN, the center has facilitated a series of hackathons and technology challenges to solicit ideas from academia and industry on artificial intelligence technologies.
For example, in September the Joint AI Center and NSIN held a hackathon at the University of Michigan's School of Aerospace Engineering where experienced military aircraft maintenance personnel worked with students and industry to develop new solutions using AI for aircraft preventive maintenance, he said.
"These outreach activities provide valuable professional connections between STEM students and military organizations dedicated to technology innovation that these students might not otherwise experience," Abrahamson said. "While students may not implicitly choose careers in the DoD, technology challenges and hackathons provide an alternative venue for STEM students to contribute intellectual capital to contemporary national security problems while generating awareness about STEM careers in DoD and other U.S. agencies should they wish to seek government employment in the future."
The center is also working closely with the Defense Department's human resources team to offer appropriate incentives and opportunities for STEM graduates, Abrahamson noted. While the Defense Department cannot completely match the monetary compensation of private industry, it is working to improve the competitiveness of the compensation packages for individuals with advanced and rare technical skills.
Emma Moore, a research associate at the Center for a New American Security's Military, Veterans and Society Program, said one way to entice STEM talent to work for the military is by putting more emphasis on the entire benefits package it can offer servicemembers.
"When it comes to salaries, often leaders say we can't compete with private sector salaries, but they're failing then to convey the benefits of the total compensation package, which is very generous," she said. These packages include base pay, housing allowance, health care and discounted rates at base stores.
"The messaging is slightly off and could be flavored differently to actually attract people in that kind of gray area who might not be really considering the military but could be courted to actually join because of the value proposition," she said. "We pay really well, and we give you all these other perks, plus we are on the front lines."
A bigger issue is the way the military recruits potential STEM talent, Moore said. The process is too burdensome and makes it more likely interested students will pursue work with commercial industry.
"Every single commercial and recruiting effort ... is to try to get someone to talk to a recruiter. [But] that doesn't acknowledge all of the hurdles that the military then puts in front of individuals when it comes to the medical examinations, having to take time off from whatever you're doing to go talk to a recruiter," she said. "If somebody is not incredibly motivated ... to put in all of the effort that it takes, then you're going to lose them to begin with."
On the other hand, commercial companies send recruiters to go out and find talent and streamline the hiring process, she said.
"It's a much more, 'We want you because you are the talent' [approach], where the military does this thing where … you still have to get yourself through the process," Moore said.
Another obstacle is that the Defense Department is facing a "tech lash," said Peter W. Singer, a strategist and senior fellow at New America, a Washington, D.C.-based think tank.
There is a movement within the tech community and the broader cultural and political arena that is pushing back against big technology companies and the roles they play in warfare and security, he said. It's everything from "the Project Maven controversy at Google to larger discussions about, 'What's the future of AI and weaponization' to, 'Is Facebook too big and should it be broken up?'" he said.
The Pentagon is countering that narrative with two arguments, Singer said.
"One is: That's fine — that's your right [to not work for us] — but for those of you that want to work on programs and make a difference, we're where it's at," he said. The Pentagon is saying, "you could work on some app that's basically about optimizing click rate, or here you can work on a project that might help in a humanitarian disaster relief or it might defend the nation."
The Defense Department is also trying to entice talent by explaining that certain employees with unique STEM skills would be a rare commodity and especially valued in the Pentagon, he said.
Part 1: Defense Industrial Base's Report Card Reveals 'C' Grade
Part 3: Small Businesses Concerned About New Cybersecurity Certification
Part 4: Industrial Base Could Struggle to Surge Production in Wartime
Topics: Defense Department, Defense Contracting