U.S.-Japan Defense Tech Cooperation Stymied by Cultural Hurdles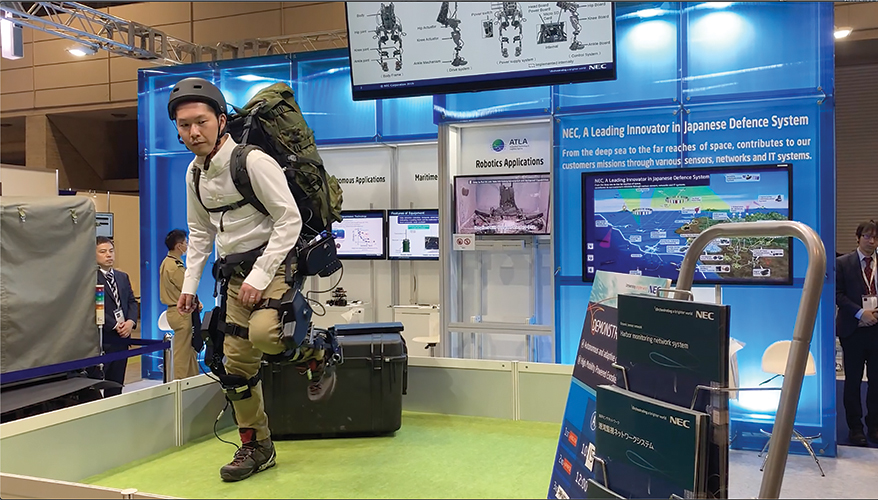 Japanese contractor NEC demonstrates an exoskeleton at the DSEI Japan tradeshow.
Photo: Stew Magnuson
MAKUHARI, Japan — Five years after the Japanese government lifted restrictions on arms exports, the nation's military contractors have yet to make major breakthroughs in overseas markets, experts and officials noted at a conference, billed as the first fully integrated defense trade show held in the country.
That is despite having a variety of high-technology expertise and goods that could greatly benefit its allies, and in turn, help partner nations compete with China's rapid weapon systems advancements.
Hirokazu Hokazono, deputy commissioner and chief defense scientist at the Japanese Ministry of Defense's Acquisition, Technology and Logistics Agency, said, "The security environment is changing at extremely high speed." More powerful regional rivals such as China are introducing technology for cross-domain operations and Japan must keep pace, he said at the DSEI Japan conference held near Tokyo. Like the Pentagon, the MoD has identified cyber, the electromagnetic spectrum and space as potential areas of conflict along with sea, air and land.
The ATLA has identified six top R&D priorities in which the ministry must invest, he said. They are: cyber; underwater technologies; electronic warfare; hypersonics; persistent wide-area intelligence, surveillance and reconnaissance; and network operations.
The goal is for the Japan Self-Defense Force to transform itself into a "multi-domain defense force," and strengthen the ability for the Japan-U.S. alliance to deter and counter threats, he added. To do that, its military research and development must shift focus from platform-centric to a "capability oriented" approach, he said.
Most of the advanced technologies Japan is known for — such as material sciences and robotics — originate in the commercial sector. The military needs to harness these new products and integrate them into its defense systems, Hokazono said.
Meanwhile, China is advancing its military capabilities rapidly. If Japan can't keep up, it may lose its edge over potential rivals, he said. "What is most important is that we sweep those technologies up and integrate them into our defense technology systems," he said.
There is a need for better cooperation between the military, industry, academia and allied countries, he added.
As for partner nations and industry, the trade show demonstrated that there were many U.S., European, Middle Eastern and Australian companies willing to make the trip to the Far East to do business.
Lockheed Martin, Northrop Grumman, Collins Aerospace, Leonardo DRS, General Atomics Aeronautical and Raytheon were among the U.S. contractors with a presence at the show.
However, cultural barriers are factors when Japanese companies attempt to market their wares in the United States, and conversely when U.S. companies want to do business with the self-defense forces outside of foreign military sales, which are currently robust.
"Japan has a great aerospace business with small quantity, high-tech items that are applicable to defense but they don't seem to be used," Robert Morrissey, president of Raytheon Japan, said during a panel discussion. Raytheon recently held an industry day and invited some 60 prime, second- and third-tier Japanese vendors to see if they had useful technologies.
"We don't like sole-source suppliers. I think the more suppliers we have, the better. So we're actively engaging the entire broad spectrum of the Japanese defense industry," he said.
Japan has a plethora of dual-use items developed for commercial purposes that could make the transition to military systems, experts at the show noted. Along with its well-known prowess in robotics, it has expertise in technologies such as machine learning, machine vision, artificial intelligence, material sciences and batteries. It may have material useful for developing hypersonic vehicles, and know-how helping to build out 5G networks, they noted.
What it doesn't have is a long history for exporting military goods. Its pacifist policies prevented arms exports until 2014 when the government of Prime Minister Shinzo Abe lifted many restrictions.
Gregg Rubinstein, director of GAR Associates, has worked on Japan military technology issues in the U.S. government, the defense industry and as a consultant since 1974.
He pointed to the recent cooperative development program between the United States and Japan developing the Standard-Missile 3 Interceptor — a partnership between the two governments, Raytheon and Mitsubishi Heavy Industries — as a positive sign.
"This wasn't the first U.S.-Japan program," Rubinstein said. "It was the first program that was actually based on mutual requirements that came about through careful study and proceeded through the entire steps of research leading into joint development. And now into production. In other words, the entire span of the acquisition cycle."
The program created important precedents and it was a big step toward cooperative acquisition, he said.
Raytheon's Morrissey said there were hiccups in the program. "It continuously encountered a problem in communications between government and industry, [and] ensuring the funding. But ultimately, yes it was successful. I think the next joint program is going to have to see a much closer relationship between the two sides," he said.
One aspect that could be changed was that Raytheon had a contract with the U.S. government, and Mitsubishi with its government, but there was no contract between the two companies. It worked out because the two tech giants had worked together before and knew each other's strengths. "I'm not sure that structure will work in all cases," he said.
There needs to be company-to-company contracts in the future, he added.
One common complaint about Japanese technology is its price, he noted. Because the Japanese military is its main customer, low quantity and low volumes are a factor leading to higher costs, he said. But another is a lack of competition. "Sole-source, cost-plus contracts seem to be the norm here," he said.
"I have personally witnessed inspectors measuring the weight, length and thickness of nuts, bolts and washers," Morrissey said.
They inspect cosmetic issues, and perform tasks beyond the requirements. "These all cost money."
There is little internal research-and-development investments. Most companies wait for the Ministry of Defense to fund them, he said. The ministry should issue more firm, fixed-price contracts. "But give the Japanese defense industry a chance to make money. Six or 7 percent margins on defense programs is just not enough, especially if you want them to invest in more technology."
Jim Daniels, vice president for international business for Syracuse, New York-based SRC, has 35 years of experience in the Japanese market. The company — known for its radar and electronic warfare technology — has done most of its business in the United States, but about four years ago decided to expand its international reach. The Asia-Pacific region is one of its targets.
"Asia-Pacific is a huge area. You can't come in and say, 'I'm going to do Asia-Pacific.' You have to be a little more focused, especially for a mid-sized company like we are," he said in an interview.
SRC divided the region into north and south and identified two entry points. Singapore in the south because it is known in Southeast Asia as a technology hub and for buying the best products, and Japan, which is looked at the same way by its neighbors.
"At this point Japan really doesn't know who SRC is. That's our goal [at the trade show] — to introduce ourselves," he said. The company is looking for partners on Japanese programs and for tech that could transfer to the United States, he said.
Because of cultural and language differences, companies need a Japanese partner to guide them through the market. They may need multiple partners. Japan's defense vendors are stove-piped, meaning one company might do a lot of business with the Ground Self-Defense Force, but almost nothing with its air force or navy, Daniels said.
"I see new [Japanese] companies that I have never seen before talking about the defense industry. And it's purely economic. The market is opening up. The Japanese government is allowing for a broader market and other companies are moving into it," he said.
Japan is one of the United States' longest and most stalwart allies, he noted. Its manufacturing prowess is "formidable" although they have some challenges building items affordably, he said. "The ability to take a design, produce it and get it out the door is very attractive," he said.
The Japanese military, as is the case with United States, prefers to do business with its domestic industry, "but the market is now more open to foreign products," Daniels said.
"We need allies to have a commonality in both mission focus and technology," Daniels said, noting the dangerous neighborhood that surrounds Japan that includes rivals such as Russia, China and North Korea.
"The more we can cooperate in terms of design, development, manufacturing, support, operations — the whole con-ops chain — the better off we will be," he said.
As for Japanese companies breaking into the U.S. market to help the Defense Department overcome its technological hurdles, Rubinstein said the first step is to be seen and have a presence. Many large Japanese companies have a Washington, D.C., office, which are normally staffed with a couple of executives who follow policy, and so on, but that's not sufficient, he said.
"Japanese industry has to be seen as a player in the U.S.," he said.
They need to boost these offices with American insiders, who know how to market and put their products in front of program executives officers and the research-and-development agencies.
One success story is the Japanese maker of a dual-use lithium-ion battery that was superior to what the U.S. military was using.
It opened a U.S. office, hired consultants and did a marketing campaign. It took years, but eventually it got the attention of the Army and then the Navy.
"It was not easy at first. It took several years of sustained effort to get the U.S. procurement program officers and the bureaucracies even interested in this product, but the superiority of this particular battery has now become understood and is becoming competitive in terms of a U.S. defense acquisition," Rubinstein said.
He recommended companies wishing to penetrate the U.S. market start small with joint research projects with U.S. counterparts on weapon system components.
The Japanese government must also do its part and bolster its overseas presence by establishing defense procurement missions. They can be a mix of military personnel or civilians, but they need to hire local experts to do problem solving, Rubinstein said.
Such experts "know the rules, they know who to identify when there are problems and they're very efficient in problem solving and in facilitating communications," he added.




Topics: Global Defense Market, International