SNA NEWS: Tighter Navy, Marine Corps Integration Aimed at Countering China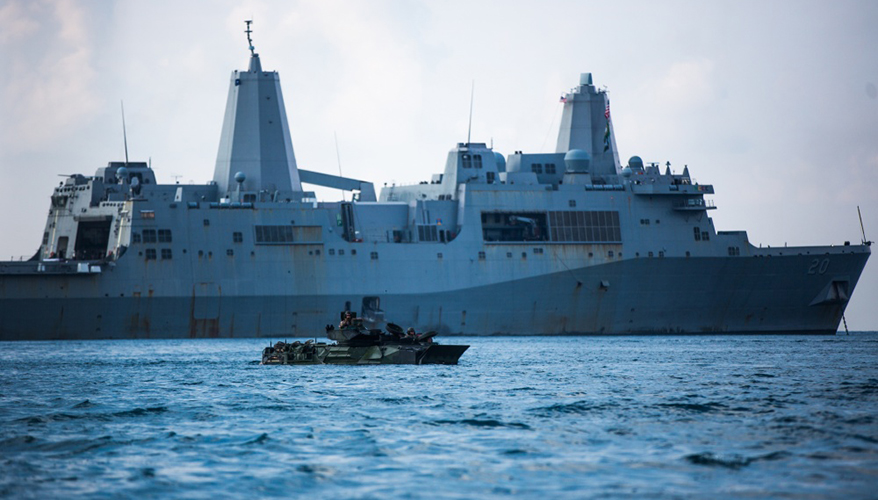 Photo: Navy
With great power competitor China upping its game, the U.S. Navy and Marine Corps plan to better integrate their forces, said Commandant Gen. David Berger Jan. 15.
The "significant thing that's driven us to where we are right now is a paradigm shift by China in moving to the sea," he said. "We have watched them … build [and] expand a conventional defensive force and [we] kind of yawned for a long time until they went to sea."
Chain's emergence as a major naval power was a gamechanger that now requires the Navy and Marine Corps team to reevaluate how it will fight in the future, he said during remarks at the Surface Navy Association's annual conference in Arlington, Virginia.
The National Defense Strategy, which was released in 2018, lists China as one of two peer competitors along with Russia. Beijing has been beefing up its military as it engages in aggressive behavior around the world, including in the South China Sea, where it has made territorial claims that other nations — including the United States — do not recognize.
Over the last 20 years the Navy and Marine Corps did not intentionally walk away from each other as they focused on conflicts in Iraq and Afghanistan, Berger said.
"We had different tasks to do and we did them very, very well," he said. However, "for the next 20, 30, 40 years, we must do a different task, and it has to be integrating [our forces] — not out of sentiment but out of reality."
The Marine Corps still has a portfolio of programs geared toward counterinsurgency missions, rather than great power warfare, he said. Large-scale teaming with the Navy wasn't viewed as a necessity in recent years before the services' attention turned to China.
"Why? Because nobody challenged us. Our competition was ourselves," Berger said. There was "no real peer competition that ... caused us to integrate outside an amphibious ready group and a Marine expeditionary unit."
However, the nation can no longer afford to have a Navy and Marine Corps that aren't closely intertwined, he said.
"It is not a 'nice to have' [coupling] fiscally, operationally, strategically," Berger said. "It's a must do."
The current Naval force is unbalanced and is largely built for standoff capabilities such as long-range fires, he said. However, there is also a need for "stand-in" forces.
"This is the balanced force that the [chief of naval operations] and I are striving towards — a structure in the Navy and Marine Corps that provides depth all the way forward, all the way back," Berger said. "Neither one of us believes that in great power competition you're going to win that [fight] or successfully deter by standoff only."
Berger noted that behavior from China over the past several years indicates that long-range fires are not enough.
"That doesn't work against this adversary," he said. "The farther you back away from China, [the more] they will move towards you."
Deploying forces closer in gives the U.S. military "eyes and ears forward," Berger noted. "They sense, they move information. They can also be lethal. They can engage, they can kill things."
Topics: Navy News