Marines Forging Ahead with Amphibious Combat Vehicles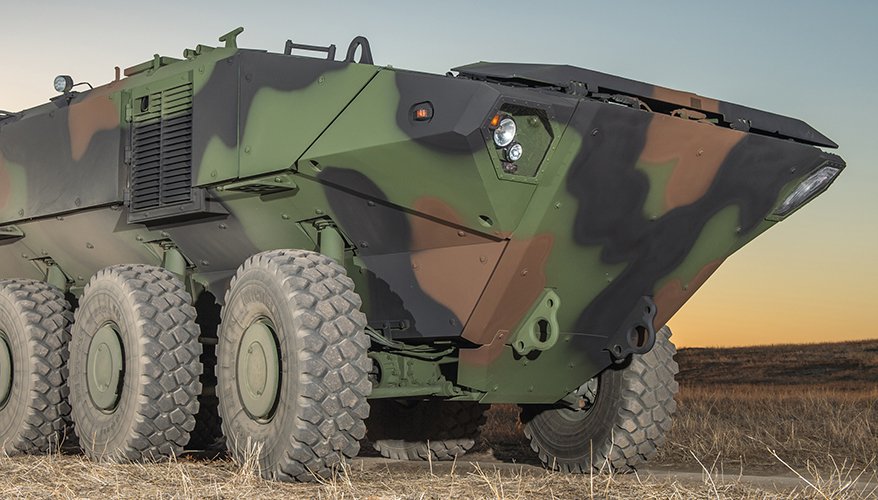 ACV 1.1
Photo: BAE Systems
The Marine Corps is pursuing a new family of amphibious combat vehicles with multiple variants that can carry troops from sea to shore.
The ACV program is intended to replace the 40-year-old amphibious assault vehicle. The previous $3 billion replacement effort, deemed the expeditionary fighting vehicle, was canceled in 2011 because of the system's poor reliability and cost growth, according to the Congressional Research Service.
In 2015, BAE Systems and SAIC were awarded contracts to build 16 prototypes each for two-year testing. Engineering and manufacturing assessments kicked off in 2017. BAE and its partner Iveco Defence Vehicles — an Italian military vehicle manufacturer — won a downselect in June 2018 and was awarded a $198 million contract for a personnel variant. The contract included producing 30 systems for low-rate initial production.
BAE's vehicle is an 8x8 platform with a 690-horsepower engine that can traverse 325 miles on land before refueling, according to the company. The system can reach ground speeds of more than 65 miles per hour and carry 13 Marines and a crew of three.
The ACV is based on Iveco's Superav 8x8 amphibious armored vehicle, which was unveiled in 2009 and can be transported by a C-17, according to Iveco. The vehicle has two propellers and can mount up to a 40 mm cannon.
One of the main concerns regarding the amphibious assault vehicle was its lack of survivability, said John Swift, director of amphibious programs at BAE. The ACV's level of protection is equal to or greater than that of a mine-resistant, ambush protected vehicle, making it three times more survivable than the amphibious assault vehicle, he said. A 2011 request for information stated that the vehicle should be able to protect against threats such as direct and indirect fire, mines and improvised explosive devices.
"Ultimately, the balance between what was best value between survivability, performance and reliability and cost ultimately earned BAE the selection," Swift said.
Col. Kirk Mullins, the Marine Corps ACV product manager, said the platform is in the early stages of low-rate initial production. BAE is continuing to build the first 30 vehicles of LRIP Lot 1 and the service has taken delivery of the first system at Aberdeen Proving Ground, Maryland, he said in an interview. Initial operational test and evaluation is slated for April and a full-rate production decision is scheduled for the third quarter of fiscal year 2020.
An operational assessment was conducted from January through March of 2018, which helped inform a Milestone C decision in June that year, he noted.
"Once we completed the operational assessment, we wanted to get as much feedback from the Marines as possible," he said. Users provided "a very detailed assessment of their experiences operating the vehicles in areas where improvements could be made."
Swift said the assessment led to "very minor changes" in the system's design.
"When it was all said and done, there really were no improvements made to the vehicle," he said. There were only minor engineering change proposals.
One modification the Marine Corps wanted was an increase in situational awareness, Swift noted. To meet this requirement, BAE upgraded the design with a 360-degree camera suite, he said. Previously the vehicles had 180-degree cameras.
"There is no greater requirement than that," Swift said. BAE's platform has the size, weight and power to accommodate future capabilities, he noted.
The service's original plan was to pursue the vehicle in different increments, where ACV Increment 1.1 would rely on ship-to-shore connectors. Increment 1.2 would be tracked and fully amphibious.
However, the service decided to combine the programs into one ACV family of vehicles after determining that the systems were able to fulfill the requirements for both variants, Mullins noted. Assistant Secretary of the Navy for Research, Development and Acquisition James Geurts signed an acquisition decision memorandum in June to combine them into one.
Increment 1.1 performed and exceeded the performance requirements in key areas that were the desired performance of the 1.2, Mullins said. "In essence, 1.1 gave us the 1.2 performance requirements, and so there was really no need to continue on with using the vernacular of 1.1, 1.2."
Combining the increments into one program is expected to save money, Geurts said in April.
"That brings gear to the fleet faster," he said in testimony to the Senate Armed Services subcommittee on seapower. "It is much more cost effective, and now we can focus some of that [research-and-development funding] on what is past 1.2, not just redoing the R&D just for the sake of redoing it."
In President Donald Trump's fiscal year 2020 budget request, the Marine Corps asked for $318 million in base funding to procure 56 ACVs for the first increment.
As part of the family of vehicles, the service is seeking multiple variants. These include personnel; command-and-control; and recovery vehicles. Additionally, the Marine Corps decided to pursue a gunned variant that will have a 30 mm cannon to increase lethality.
The current acquisition objective is to obtain 1,122 total vehicles, Mullins said.
"So far, the feedback we've gotten from the Marines that operate this vehicle has been extremely positive," he noted.
However, the decision to have a single family of vehicles will likely have ramifications on Capitol Hill, the Congressional Research Service said in a June 2019 report titled, "Marine Corps Amphibious Combat Vehicle: Background and Issues for Congress."
With the consolidation of the program, "there will likely be a number of programmatic changes and potential ramifications for the ACV and ACV 2.0 programs," the report stated. CRS encouraged the service to explore questions such as: "What is the revised timeline for the replacement of AAVs and will this result in cost savings from not having to upgrade and maintain AAVs longer than previously intended?"
But Mullins said consolidating the increments into one has been a positive step.
It likely accelerated the timeline of multiple variants and "allowed us to pursue those solutions faster than doing it in a ... 1.1, 1.2 approach," he said. "It hasn't had a negative impact on the schedule. It hasn't had a negative impact on the program. … In many ways it makes it a more efficient program to execute."
BAE is currently delivering the personnel variant, Mullins said. A critical design review was recently conducted for the command-and-control vehicle and three production representative platforms will be taken into testing in 2021.
In June, BAE was awarded a $67 million contract modification to develop the command-and-control and 30 mm medium caliber cannon variants, according to a news release.
BAE is developing the systems in Stafford, Virginia; San Jose, California; Sterling Heights, Michigan; Aiken, South Carolina; and York, Pennsylvania, according to the company.
Swift said BAE had already invested internal funding into a command-and-control variant about three years ago.
"We completed that just before the contract award," he said. "So it's very mature. And then we actually went through and … validated our preliminary design review with the Marine Corps."
For the gun variant, the 30 mm cannon will be chosen by BAE, Mullins said. The Marine Corps is in the process of finalizing performance specifications and an industry day was slated for August to reach out to interested companies. BAE has already made headway on the system by integrating a turret on one of its own prototypes to get early feedback, he noted.
"There's a high degree of confidence both on BAE's side and the government side that integrating a 30 mm system is very manageable," Mullins said.
Swift said when the vehicle was conceived eight years ago, it was specifically designed for turret integration. The platform can carry over 6,000 pounds of payload without affecting its mobility on land or in the water, he said.
The service hopes to conduct a critical design review for that variant around the fourth quarter of fiscal year 2020. If the review is successful, the Marine Corps will look to procure production representative test vehicles, Mullins noted.
Swift said BAE wants to ensure that it picks a turret that is not too heavy for the vehicle because that will affect performance.
Mullins said he is confident Marines will have a weapon system that isn't overweight.
"When BAE designed this vehicle to begin with, they built gross margin into the platform in order to accommodate additional capabilities," he said.
The company also demonstrated an ACV equipped with a 40 mm cannon "in an effort to start fully vetting out the integration aspects of their vehicle" using its own internal research-and-development dollars, Mullins noted. The test occurred at an event held by Northrop Grumman in Arizona.
However, the government is not planning on pursuing a 40 mm cannon at this time, he added.
For the recovery variant, the service plans to begin creating the design "in earnest" in fiscal year 2022, he said.
Topics: Marine Corps News