WEB EXCLUSIVE: Details of the Pentagon's New Space Architecture Revealed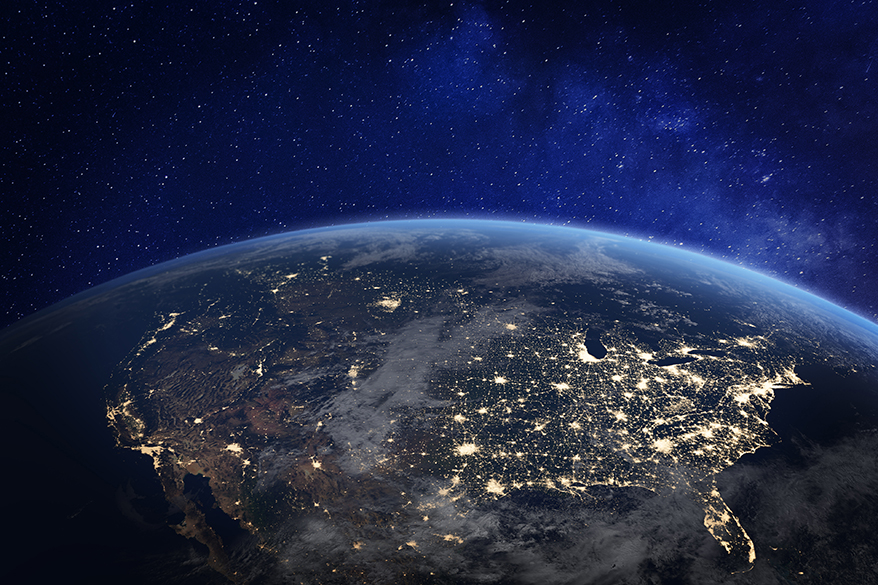 Photo: iStock
NATIONAL HARBOR, Md.
— After years of studies, the Pentagon is poised to proceed with building out a new military space architecture designed to defend what is called "the ultimate high ground."
Derek Tournear, acting director of the new Space Development Agency, came to the Air Force Association's largest conference of the year to both clear up the confusion surrounding the role of the new organization, and to lay out the Defense Department's vision of how it will prevent adversaries from shutting down U.S. military space assets.
While the Air Force and the new U.S. Space Command will still develop and control large, exquisite satellites such as GPS and protected communications, the new architecture that the agency will build calls for seven "layers," with some of them featuring 200 to 400 small, quickly replaceable spacecraft. The sheer numbers will prevent adversaries from destroying an entire system and enable "resiliency through proliferation," Tournear told reporters Sept. 18 at the Air Force Association's Air, Space and Cyber Conference at National Harbor, Maryland.
There won't be a winner-takes-all contract for these fleets, he said. Part of resilience calls for multiple satellite makers providing the spacecraft so there is no single point of failure and to ensure that interoperability is built into the system, he said.
Each layer involves a certain task, including communications, sensing and targeting. All are intended to provide services to combatant commanders in the field. Other more strategic missions such as GPS, global communications and remote sensing will be left to the Air Force's existing systems and the National Reconnaissance Office.
The first layer is command-and-control on the ground. The second layer is a space-based communication system for all the other layers called the "backbone layer" that will be built out first. The SDA intends to launch a pair of demonstration satellites in fiscal year 2021 and then build out a fleet of 200 to 400 spacecraft to create a mesh network, with satellite-to-satellite connections being carried out by laser communications. The agency's goal is an initial operating capability by 2024.
The capability envisioned not "only does communication from satellite systems but from the ground up to satellites and then to tactical users with the goal being that transport system will talk directly to fielded weapon systems. So we're going to use the existing user equipment because that's what the transport layer will talk to," Tournear said.
The system will undergo a technology refresh every two years with a lifetime expectancy of five years for each spacecraft, he said. "So every two years, we will get more and more capabilities," he added.
There will be three sensing layers. The first is the "tracking layer" for advanced missile threats. The SDA will work with the Missile Defense Agency on this layer with some experiments and tests already taking place under the MDA, with an aim for an initial capability in 2024.
The "custody layer" will sense and track objects on the ground roughly the size of a truck. "It will provide a targeted solution and get that information directly to a weapon system," Tournear said. In this case, the SDA does not plan on fielding a fleet of satellites exclusively for this layer. Payloads will be placed on Air Force or other agency spacecraft, he said.
"Our goal is to get data from sensor [to] the shooter as rapidly as possible," Tournear said.
The final sensing system is called the "deterrence layer," which is a space situational awareness architecture that will initially look out from geostationary orbit to the region around the moon. Current systems look at low-Earth orbits up to geostationary orbits, roughly 23,000 miles about Earth, but not a lot of attention has been paid to the region beyond that.
"That is an area that is getting more contested and we want to make sure we have capabilities there," he said. "Maybe there are objects that are orbiting out there that we were not aware of so we can detect them and identify them as possible threats," he said, noting that there will be more civilian activity in the region as NASA sends missions there.
The "battle management layer" will provide autonomy, tipping and queuing and data fusion. This will likely be carried out by onboard processing and cloud computing residing on existing spacecraft rather than on dedicated satellites, Tournear said.
"We want to do as much as possible in space so that we don't have latencies with going to ground, and eventually … we would be able to operate without ground contact work for a given period of time," he said.
The final space-based layer is "navigation." That concept is still being fleshed out but will likely be similar to the battle management layer, with onboard processing to provide navigation and launch data to the other satellites, he said.
"We are orchestrating the fielding and development of the next-generation national defense space architecture. So we're working with a lot of other folks, especially the Air Force to make sure that all of those components necessary for the architecture get built out," Tournear said. The Air Force's current systems will be integrated into the overall architecture, but not the NRO's assets, which will continue to provide the intelligence community with strategic remote sensing capabilities, he explained.
The Space Development Agency will work closely with the NRO to make sure there is no duplication of efforts and that their systems are interoperable, he added.
The Space Development Agency is currently under the office of the undersecretary of defense for research and engineering but will transfer to the proposed Space Force "likely" by 2022, he said. It is intended to be the acquisition arm of the Space Force, when and if that is approved by Congress. It currently has about 27 employees with another 100 planned for a year from now and ultimately 200 full-time personnel dispersed around the country.
The agency is waiting for its first large chunk of funding. The Trump administration asked for $150 million in its fiscal year 2020 budget proposal. Congress rejected the reprogramming of $15 million due to "turmoil," which came on the heels of the abrupt resignation of the agency's first named director, Fred Kennedy.
"People were rightly confused," Tournear said. "We have had a lot of success evangelizing. ... I think a lot of that worry about turmoil has passed," he added.
The agency had an industry day in July and received 150 responses for a request for information on the pair of experimental communication backbone satellites to be deployed in 2021. The first solicitation on that project is "imminent," he said.
"It's SDA's mission to be the orchestrator for that next-generation architecture. So we are the ones that say, 'This is what needs to be done.' But you know, we're not doing that in a way that conflicts right now. We're doing it in a way to ensure that there's the most synergy," Tournear said.
Topics: Space, Space Policy and Strategy