JUST IN: Air Force Special Ops Command Wants in on Great Power Competition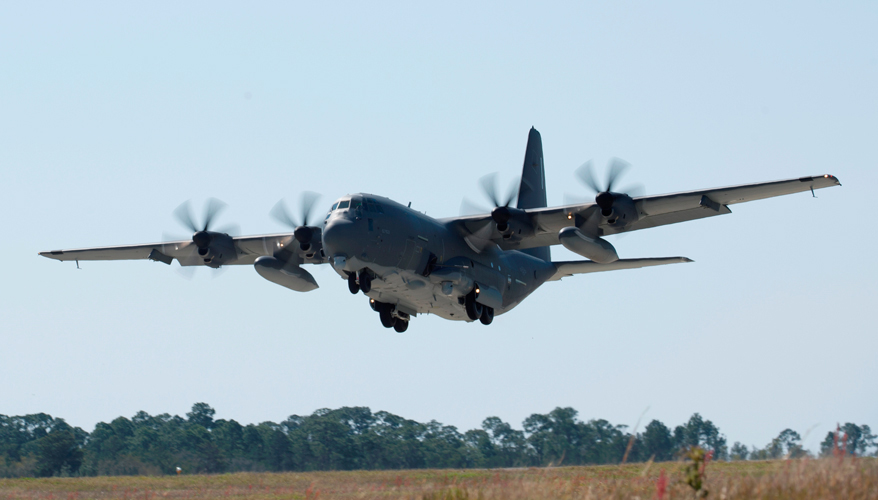 An AC-130J Ghostrider
Photo: Air Force
NATIONAL HARBOR, Md.
— Air Force Special Operations Command has spent the past two decades fighting low-tech insurgents in the Middle East. But the organization is nevertheless primed to take on advanced adversaries like China and Russia, according to its top officer.
Military leaders have leaned heavily on special operators during the post-9/11 wars. However, the 2018 National Defense Strategy called for the Pentagon to pivot its focus from counterinsurgency to great power competition and the possibility of a large-scale war against peer competitors. In this new era, there will still be an important role for special ops, said Lt. Gen. James Slife, commander of AFSOC.
"Over the course of AFSOC's history, most people have tended to put the emphasis on the SOC part of AFSOC. They tend to identify us as the Air Force component of U.S. SOCOM. But frankly, service components are always best for their combat command when they're closest to their parent service. And so at AFSOC, one of the things that I want to do is put the emphasis on AF," he said Sept. 18 during a panel at the Air Force Association's Air, Space, Cyber conference at National Harbor, Maryland.
Air Combat Command Commander Gen. James "Mike" Holmes noted that other nations have developed advanced sensing and long-range precision fires capabilities that the U.S military used to have a monopoly on — a development which will change the future operating environment.
"As you talk about fighting in a contested environment [and] power projection forward, there are places where AFSOC can contribute capabilities to theater air component commanders and joint force commanders that would be useful based on our experience and our organizational competencies," Slife said.
The command has a great deal of practice deploying small forces with a light logistics footprint in very austere areas, and moving around quickly on the battlefield, he noted.
The organization can conduct missions across the spectrum of conflict with varying degrees of visibility and attribution, he added. Those are skill sets that can be brought to bear against advanced foes.
AFSOC forces are already exercising routinely with Air Combat Command and regional combatant command air components, and strengthening organizational ties across the force, he noted.
While the ability to operate stealthily and gain access to critical locations is useful in the fight against violent extremist groups, it's even more applicable for a competition with other nation states, Slife said. However, other commands may not be fully aware of the capabilities that AFSOC can bring to the table, he added.
"What we need to do is kind of open the curtain a little bit on that to the warfighters like these [regional commanders] on the stage so that they understand what capabilities are available to them through the forces that AFSOC provides," Slife said.
The command can throw a heavy punch when it comes to firepower, he noted, citing modifications made to C-130s as an example. The AC-130 gunship is a heavily armed variant of the C-130 cargo aircraft, and carries a wide range of weapons, sensors and other equipment for attack operations. That type of platform could employ long-rang precision fires against great power adversaries, Slife said.
"We've built an open architecture battle management system [on some of the command's C-130s] that allows us to add any munition you want, any sensor onto the platform to employ lethal fires. And so it's not a big step to go from where we are today to go to ideas like palletized munitions and other abilities to use a very large cargo box to provide high capacity precision fires," he said. "This is something that I'm very interested in pursuing."
AFSOC is keeping an eye on what the Air Force is doing to develop hypersonic weapons, which can travel at speeds greater than Mach 5 and are highly maneuverable, Slife told
National Defense
.
"I'm interested in it in the sense that I'm interested in everything that is in the realm of the possible," he said. However, the command has not yet made it a formal requirement to add that type of capability to its aircraft, he noted.
"As soon as I say I want a hypersonic weapon on a C-130, it closes a bunch of doors for other things that might be available. Or as soon as I say I want a cruise missile or, you know, a ballistic missile or something that can be deployed from the cargo compartment, it really starts closing doors. And so for me, I'm more interested in what's in the realm of the possible that we can do here and now, innovate, iterate and experiment. But … hypersonics is certainly part of that realm of things," he said.
AFSOC can leverage Special Operations Command's reputation for rapid acquisition practices to serve as a kind of test bed or "pathfinder" for technologies and concepts that could later be scaled and employed across the Air Force writ large, he said.
Holmes said Slife's ideas are currently being looked at by leaders of the Air Force Warfighting Integration Center.
Experimentation and prototyping is important, but AFSOC wants to avoid the trap of pursuing technologies that are too exquisite to be fielded in a timely manner, Slife noted.
It would be nice to have a teleportation machine equipped with an invisibility cloak that can sequence DNA from low-Earth orbit, he joked. "But at the end of the day we're going to spend the next 20 years chasing that thing. What I would really rather do is field whatever is available now and put it in the hands of operators," he said.
Topics: Air Force News, Air Power