NEWS FROM ASC: Esper Expects 'First Shots' of Next War to Be Space, Cyber Attacks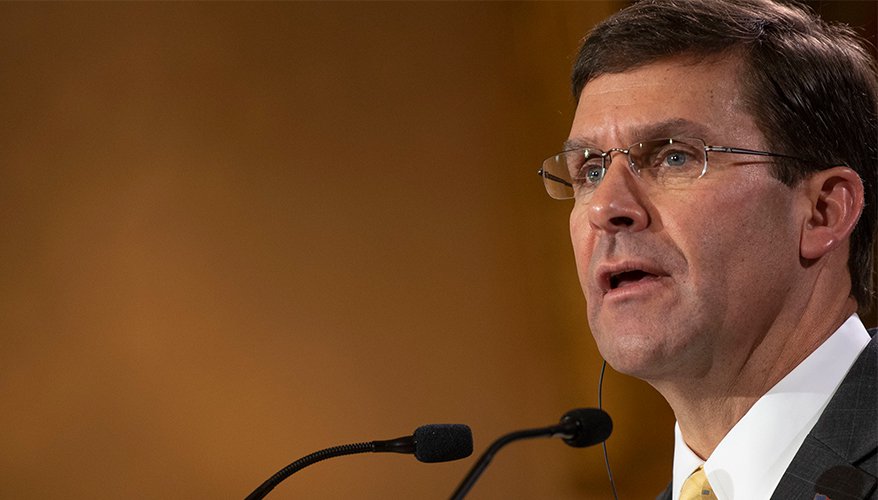 Photo: Defense Dept.
NATIONAL HARBOR, Md.
— The next great power conflict will likely begin in the space and cyber domains, and the U.S. military must plan accordingly, Secretary of Defense Mark Esper said Sept. 18.
The United States is in a peer competition with advanced adversaries Russia and China, he noted during a keynote address at the Air Force Association's Air, Space, Cyber conference at National Harbor, Maryland. Russia is the greatest near term threat, while China poses the greatest long term threat, he said. Both nations are developing sophisticated anti-satellite and offensive cyber weapons.
"My personal view is the first shots of the future fight will be either in the cyber domain or ... the space domain," or perhaps both, he said. "So we've got to be sure we have sufficient capability there."
Last month, Esper signed documents formally establishing U.S. Space Command, a new combatant command which is charged with defending American satellites and preparing for potential wartime operations. But that is not enough, he said. The nation also needs a Space Force to serve as an independent branch of the military focused on space activity.
"The creation of Space Force will allow us to develop a cadre of warriors who are appropriately organized, trained and equipped to deter aggression and, if necessary, to fight and win in space," he said.
Congress has yet to green light the Trump administration's push to set up a Space Force as a new military service.
Esper hinted that future budgets will contain additional funding for space and cyber capabilities. He recently ordered a comprehensive review of the Pentagon's "Fourth Estate" to make sure investments are aligned with the priorities laid out in the national defense strategy, which calls for developing high-tech systems to counter China and Russia. That budget review will expand to the rest of the department as officials aim to shift funding from legacy platforms to programs focused on creating next-generation weapons, he noted.
Meanwhile, the military is also instituting a process to review its force posture and major operational plans to make sure it is positioned appropriately, he noted.
"Our defense-wide review … is putting a microscope on our budget," Esper said. "This … isn't just about saving money. It will allow us to get our warfighters more of what they need to deter our adversaries and, if necessary, to fight and win."
That initiative is already underway, he said. "That will all inform not only how we budget, but obviously how we do our R&D."
Esper said he believes Congress will be supportive of the Pentagon's efforts to modernize and prepare for future fights.
"We all recognize … that the budgets are at the highest [level] they may well be for some time. So if we do not capitalize on this moment, we will lose it and we could find ourselves well behind for many, many, many years to come," he warned.