MODERN DAY MARINE NEWS: Marine Corps Aims to Ease the Burden for Amphibious Warships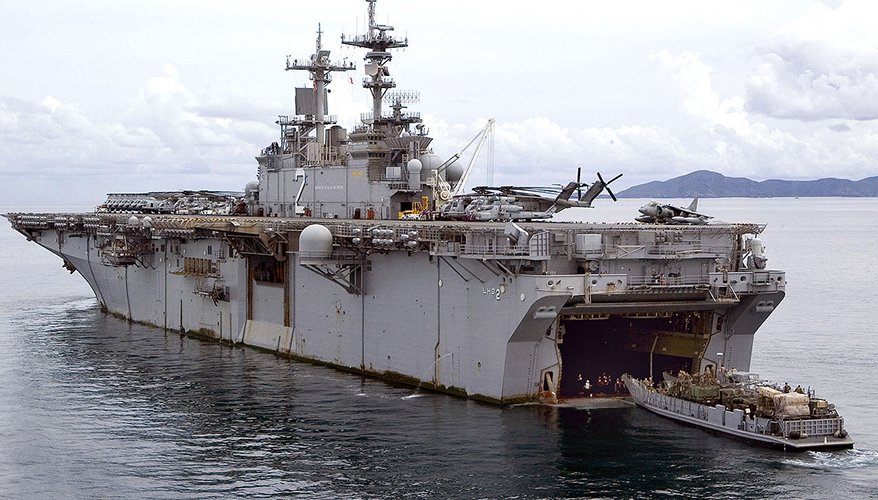 Amphibious assault ship USS Essex
Photo: Navy
QUANTICO, Va. — As the Navy prepares for a potential change in its composition, the Marine Corps is looking for alternative platforms that will relieve some responsibilities from amphibious assault ships.

The initiative comes at a time when the Navy is reexamining its force structure through an assessment slated to be completed later this year, which may lead to changes in the mix of its current fleet. The most recent shipbuilding plan aims to have 355 battle force ships in the inventory by 2034.

Although the Navy will have "primacy" in the force structure assessment, the Marine Corps will do its part by examining the best ways to use its vessels and landing platforms, said Lt. Gen. Eric Smith, commanding general of the Marine Corps combat development command and the deputy commandant for combat development and integration.

"We're looking for ways to use more numerous, more autonomous ... ships," he noted Sept. 17 during a keynote speech at the Modern Day Marine exposition in Quantico, Virginia.

Some tasks can only be performed by an amphibious assault ship, he said, but there must be a "smarter way" to conduct operations, such as logistics resupply, without using those types of vessels.

"We're still the amphibious extension of the fleet," he said. "We're just looking for alternative platforms to take a load off of those L-class ships."

Marine Corps Commandant Gen. David Berger's Planning Guidance document — which was released in August — calls for greater integration with the Navy to counter adversaries' advances in long-range precision fires. To meet this goal, the two services are working together to create a program objective memorandum that is more closely aligned, Smith said.

"The commandant's planning guidance is the best opportunity we have had for naval integration in a long time," he noted. "Naval integration is key for the commandant."
After nearly two decades of counterinsurgency fighting in the Middle East, the Marine Corps is gearing up for great power competition with China and Russia. As the service pursues new capabilities, it must also ensure that it buys equipment that can be easily transported to different locations, Smith said.
"You can't be in a training exercise in Thailand and something happens and [say], 'Oh, adversary, if you could just hold for two weeks, I'm going to go back to Okinawa, [Japan]. I'll pick up my stuff and then I'll be ready to fight,'" he said. "We have to take it with us, it has to be transportable and light."

The service must also ensure that it doesn't provide too much information about its new systems in unclassified settings, he noted. In recent years, the Navy and Marine Corps have been less open in public forums about the capabilities they are working on.

"I'm also not interested in advertising to our adversaries exactly what I'm doing," Smith said. "I am not interested in sharing with our adversaries exact ranges and weights" or other technical details of weapon systems, he added.
Topics: Navy News, Shipbuilding