NEWS FROM ASC: At Military Confab, Sir Richard Branson Lays Out Vision for Space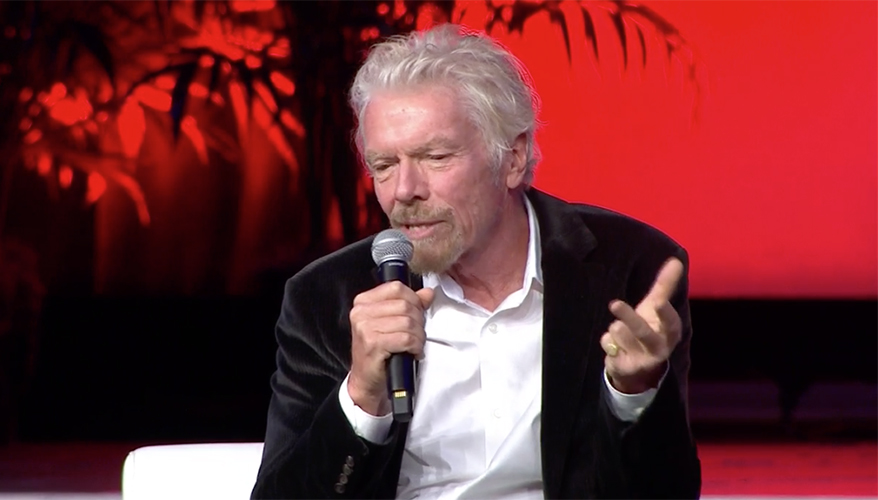 Sir Richard Branson
Video screenshot: Air Force
NATIONAL HARBOR, Md. —
Speaking at one of the world's largest defense conferences, British business tycoon Sir Richard Branson presented his outlook for the future of military and commercial space access.
The high-profile billionaire is the founder of the Virgin Group, which is comprised of more than 60 companies including space ventures Virgin Orbit, Virgin Galactic, the SpaceShip Company and VOX Space.
Virgin Orbit is preparing to launch satellites from 747 aircraft flying at high altitudes, he noted. The plans come as the Pentagon is eyeing agile launch services and tapping into communications satellites in low-Earth orbit to make its space architectures less vulnerable to attack by advanced adversaries such as China and Russia.
"Our thinking behind Virgin Orbit was that at present if you want to put a satellite in space and you're in America, there are two places you can launch from," Branson said Sept. 16 during a Q&A session at the Air Force Association's Air, Space, Cyber conference at National Harbor, Maryland. "Generally speaking, it takes about six months to eight months to get a slot, and obviously having only two places it's quite vulnerable to attack as well."
Having a 747 airliner that can take off on four- or five-hours' notice, drop a rocket and put a new satellite into space may hopefully "be a deterrent to an enemy state to knock out satellites in the first place if they know that America or Great Britain has the capability of replacing satellites within 24 hours," he said.
The company has had meetings with U.S., U.K, Canadian and European air forces to discuss options, he said. In the future, there could be a number of Virgin Orbit planes parked around the world with a number of rockets and satellites attached to them in case they need to be called into action, he said.
"As long as that's done I think the chances of us getting satellites knocked out by an enemy power is very unlikely because we'll able to get our stuff up faster than they can get theirs up" in the event of a conflict in space, he added.
The company has been conducting flight tests and will be launching satellites for the U.S. Air Force and Royal Air Force in the next few months, he noted.
Branson said the military can benefit from tapping into the commercial sector for its space needs because private industry can generally do things more cost effectively than government-run entities.
The business tycoon also offered advice for military brass as the Trump administration moves to set up a new Space Force. Acting on lessons learned from brainstorming sessions and exercises is critical, he said.
"I was just talking to some of your generals, as you do, before coming on" the stage, he said. "A good leader just has to be listening, listening, listening all the time, writing things down and then acting on them. And I think in that way your company or your air force can just get better and better and better."
Meanwhile, Virgin Galactic is moving forward with plans for space tourism.
"What we think is people want to become astronauts," he said. "They want to be able to look back at the Earth through massive big windows, they want to be able to float around."
A new space port in New Mexico has been constructed for the initiative. Branson said it won't be long before he takes his first flight.
"We'll do a few more final test flights and then I'll go up," he said. The round trip is expected to last about three hours. About 700 people have already signed up for the adventure, he noted.
"How many people in the audience would like to go to space one day?" he asked. Almost everyone raised their hand.
While the cost of space tourism will be prohibitively expensive for most people initially, over time the price tag is expected to come down as the number of spacecraft and travelers increases and economies of scale are achieved, Branson said.
Topics: Air Force News, Space