ROBOTICS AND AUTONOMOUS SYSTEMS
NEWS FROM DSEI: Vendors Unveil New Versions of Robotic Subs, Boats at London Show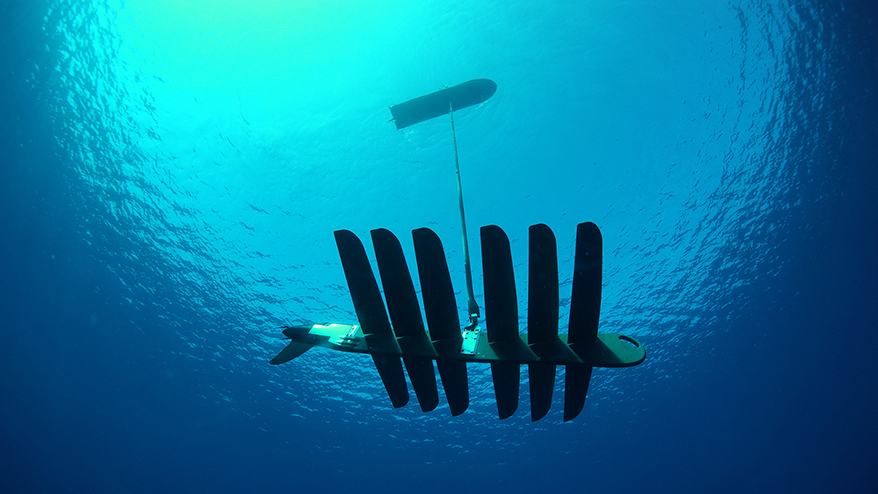 Wave Glider
Photo: Liquid Robotics
LONDON — Makers of unmanned underwater and surface vehicles took the opportunity to reveal new versions of their robots this week at the world's largest defense trade show.

General Dynamics Mission Systems unveiled its Bluefin-12 on the first day of the Defence and Security Equipment International conference in London Sept. 10. Company officials said it was the start of a new generation of the UUV series. GD acquired Bluefin in 2016.

"We have been on a journey to develop the highest quality, highest maintainability, highest reliability and low logistics family of UUVs that we can bring to bear," said Andy Rogers, vice president of undersea systems at the company.

The autonomous Bluefin-12, larger than previous iterations of the UUV, features an open architecture so customers can place sensor packages in its 4,000-square-centimeter bay. It also comes with a turnkey survey package with a high-resolution sonar, environmental sensing, navigation and onboard data processing.

The onboard processing allows for quick turnaround for crews. They can unload the data and send the Bluefin-12 back to sea in about 30 minutes. The modular payload bay "allows users to pick the mission they want," Taylor said at the sub's unveiling.

The 12-model has already found one customer. Prime contractor Thales selected it as part of its contract to provide the Royal Australian Navy counter-mine capabilities for its SEA 1778 program.

Raytheon was promoting its AQS-20 sonar and Barracuda mine neutralizer for a U.K. Royal Navy program.

The market for unmanned surface vessels "continues to grow at a rapid rate, for USVs in a range of sizes," Andy Wilde, director of strategy and business development for undersea warfare systems at Raytheon, said in an email. "USVs provide solutions that are much less expensive than traditional manned ships, and for missions such as mine counter-measures, where an unmanned system keeps sailors away from the hazard out of mined waters."

Raytheon is pursuing the U.K. Royal Navy's "MCM in a Box" program, which is a rapid acquisition, unmanned expeditionary mine hunting and disposal system. The package will include towed sonars, unmanned surface vessels and mine neutralization systems. The program is projected for fielding in early 2022, Wilde said.

The company recently showed the system this summer at the U.S. Navy's ANTX technology demonstration event.

"Raytheon's AQS-20C and Barracuda, operated from a USV, could provide the ability to significantly shorten the mine clearance process by rapidly finding, classifying, identifying and neutralizing mines as they are found, in stride. In an in-stride MCM mission, the USV serves as the tow platform for the mine hunting sonar, and would also carry the Barracuda neutralizer," Wilde said.

"The ... AQS-20C provides complete simultaneous coverage of the water volume and sea bottom, and is the only mine hunting sonar in the world with this combined capability. Its sidescan synthetic aperture sonar provides exceptionally clear images of contacts on the sea floor, with high-resolution SAS capability for acoustic identification," he added.

Also on display at the show was Liquid Robotics' newest Wave Glider, a tethered surface-subsurface system. Liquid Robotics is owned by Boeing.

The Wave Glider is known for its endurance, using the ocean and sun to harvest energy. It can sail autonomously for up to one year and carry a variety of payloads in five different bays, according to a fact sheet. Company representatives at the conference were not authorized to speak to the media.

The new SV3 v300 model improves a couple of key performance parameters, including a six-fold increase in computing power, better ruggedization, easier launch procedures and more efficient solar panels, according to a Sept. 10 press release.

"The new Wave Gliders are designed to help customers streamline their operations, decreasing the amount of time spent on assembly and pre-launch checkouts," Jeff Fiedoroweicz, the company's chief technology officer, said in the statement.
Topics: Global Defense Market, International, Robotics, Robotics and Autonomous Systems, Shipbuilding