ROBOTICS AND AUTONOMOUS SYSTEMS
NEWS FROM DSEI: Estonia's Milrem Robotics Debuts Upgraded Ground Robot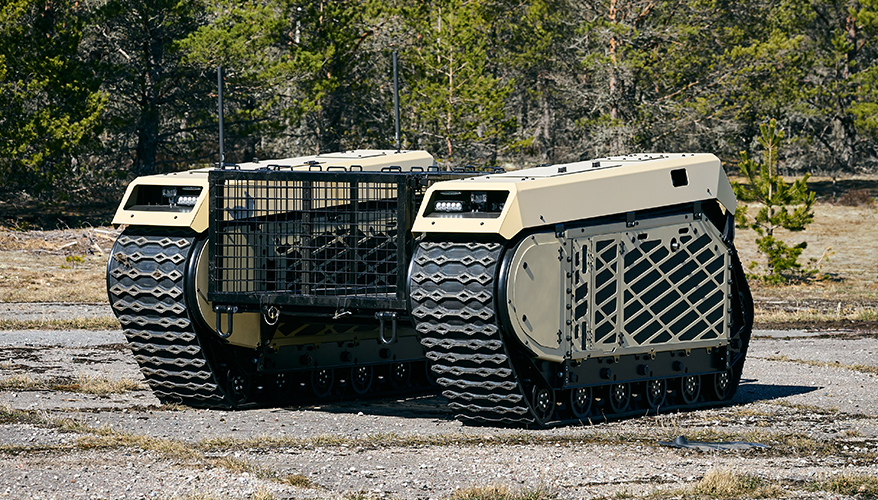 Photo: Milrem Robotics
LONDON — Milrem Robotics, a Tallinn, Estonia-based company, unveiled the newest version of its multipurpose tracked unmanned ground platform during the 2019 Defence and Security Equipment International conference.
The technology — which is known as the track hybrid modular infantry system, or THeMIS — is the fifth generation of the vehicle and has been equipped with more power, enhanced autonomy and an improved cooling system, said Kuldar Väärsi, CEO of Milrem.
"Many different end users have used it [and] provided [us] with feedback," he said during the conference, which kicked off Sept. 10. These include the Estonian, Dutch, U.K. and U.S. militaries.
The company has taken the operational feedback gleaned from these exercises and made improvements to its platform, resulting in the fifth-generation system, he said.
The vehicle has been operated in harsh conditions including in Mali during the French-led Operation Barkhane, he added.
In Mali it is "50 degrees [Celsius] in the shade — but there is no shade. And there is very fine sand — which is almost like dust — so it sticks everywhere," he said. "It's one of the worst conditions in the world in terms of the heat and we can now operate this vehicle successfully there."
The company has also been testing THeMIS' autonomy capabilities with the Estonian defense forces, he noted.
The system is equipped with autonomous features such as obstacle detection and avoidance and other situational awareness capabilities enabled by "deep learning neural networks trained in a virtual learning environment," according to a company product description. It can also work with voice and hand commands, and integrates augmented reality devices.
So far, Milrem has already delivered the fifth version of THeMIS to the Netherlands and Norway, Väärsi said. They will be used as logistics platforms to carry gear and supplies but could later be integrated with warfighting equipment, according to a company press release.
Milrem views the European market as one of its top target areas but is also looking at opportunities in Southeast Asia, the Middle East and the United States, Väärsi said.
The international ground robot market is ripe with opportunity, he noted.
"Many countries have started the initial testing phases [with robotic systems] where they purchase maybe five to 10 units," he said. Once that testing is complete, it is expected that their orders will be in the "magnitude of 200 to 500 systems depending on the size of … [their] army and depending on the exact operational requirements."
Various European countries have ongoing robotics efforts, such as France, the United Kingdom, the Netherlands and Estonia, he added.
Milrem offers a number of payload options for THeMIS, such as a .50-caliber machine gun built by FN Herstal and MBDA's Brimstone missile system. It can also be used with tethered drones, bomb detection devices and firefighting payloads such as a rescue hose reel, he said.
In conjunction with partners such as Kongsberg, FN Herstal, MBDA and ST Engineering, a dozen systems have been integrated onto the platform, according to a company press release.
Topics: Global Defense Market, International