NEWS FROM DSEI: BAE Sees Big Business in Light-Attack Aircraft Component Market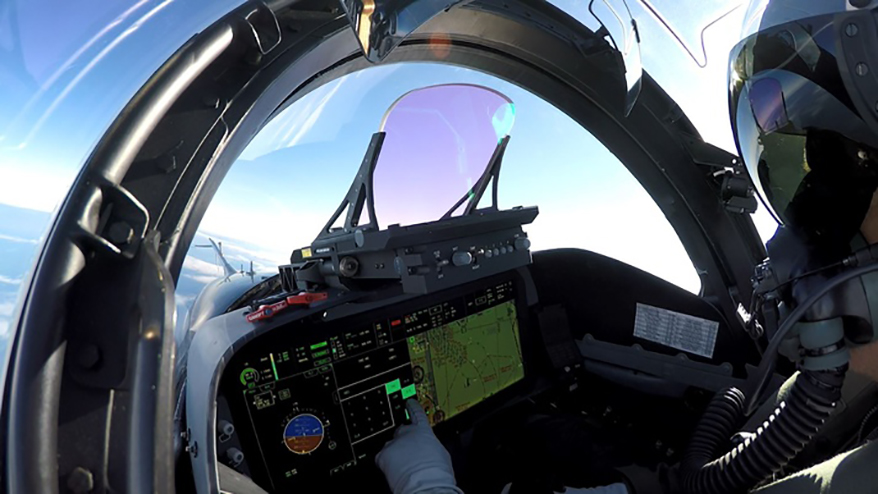 LiteHUD heads-up display
Photo: BAE Systems
LONDON — BAE Systems has cast its eye on the light-attack and jet trainer market and sees an opportunity to be a one-stop shop for the aircrafts' electronic systems and other subcomponents, a company executive said Sept. 12 on the sidelines of the Defence and Security Equipment International conference.

Dave Harrold, the company's senior director of business development-survivability, targeting and sensing solutions, said while light-attack aircraft are far from being a new concept, the missions they must fly and the battlespace around them is rapidly changing and complex.

The platforms "can be much more efficient and cost effective. Not everybody can afford an F-35," he said in an interview. Their missions range from combat search and rescue to intelligence-gathering and surveillance to close-air support.

"What we are seeing in a lot of countries around the world is whether it is a light-attack, or light combat, this kind of aircraft is much more affordable," he said. "We have sold a lot of [BAE] products on a lot of platforms. We are seeing a greater growth in that light-attack environment."

That goes for trainers as well that often cross over to being attack aircraft after "being kitted up," he said.

The U.S. Air Force has also conducted a series of tests to look into whether it would want to acquire a light-attack platform. But that is only one of many opportunities, Harrold noted.

"What we're trying to say is we have so many of these capabilities and longstanding success in these areas that we absolutely would like to be the partners on these programs," he said.

There are three crucial elements required for the aircraft: survivability, situational awareness and precision strike, he added.

As far as situational awareness, BAE is offering its LiteHUD heads-up display and Striker II helmet, which has a day-night capability, 3D audio and full-color display. "It enhances the ability of the operator to have that maximum situational awareness," Harrold said.

The company also has interrogators/transponders to identify friend and foe and a legacy of producing the systems that goes back 75 years. Its Datalink Solutions partnership with Collins Aerospace provides the Link-16 connectivity, he said.

From the survivability perspective, BAE can offer its common missile warning system, which has 4 million combat hours on 3,000 rotary-wing and fixed-wing aircraft. It detects missile threats and deploys the advanced threat countermeasure that sends directed energy at the missile and knocks it off course, he said. Another more traditional system deploys chaff.

As for strike, the company is touting its advanced precision kill weapon system that has been fielded across the four U.S. military services since 2012. Each canister can hold up to seven missiles. With one canister on each wing, the 14 missiles can allow the aircraft to loiter longer without having to return to base to re-arm, he noted.

There is huge interest in the international market in the low-cost missile system and it is available to allied nations for ongoing combat operations through the foreign military sales process, he added.

"What we are trying to do is elevate the conversation to say, 'If you really want to be good at all these mission sets that these kinds of platforms are going to be asked to do, then ... we bring a particular set of technical discriminators, products and capabilities that when put together on the platform create a more powerful combination,'" Harrold said.
CLARRIFICATION: Story has been updated to clarify that the LiteHUD and the Striker II helmet are two different products and that the APKWS is available for FMS sales.
Topics: Air Power, Global Defense Market, International