NEWS FROM DSEI: RAF Puts Development of Tempest Next-Gen Fighter into 'Hyperdrive'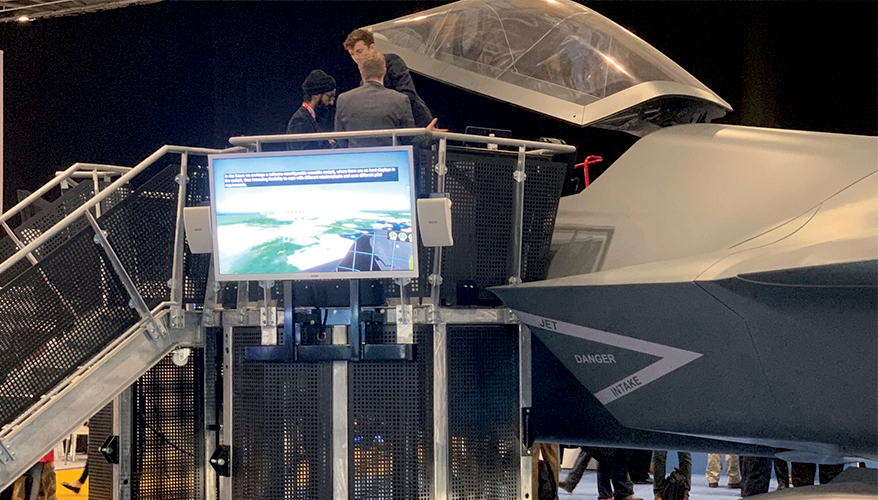 Attendees at the DSEI center conference in London line up to look at a mock-up of the Tempest jet fighter's cockpit.
Photo: Stew Magnuson
LONDON — The Royal Air Force's program to develop a next-generation jet fighter is rapidly accelerating with 1,000 full-time workers being added over the past year and 130 companies under contract, service officials said Sept. 11.

The latest partner to join the Tempest program is Swedish defense industry giant Saab, which will be providing its engineering expertise gained from its successful Gripen E fighter program, Capt. Jez Holmes, team director for Team Tempest, said during a panel discussion at the Defence and Security Equipment International conference in London.

The program has ramped up from about 200 full-time equivalent private sector employees one year ago to 1,000 today, he said. That should rise to 1,800 by this time next year. That number didn't include government personnel. There are about 80 tasked projects underway, he added.

"This is real and delivering real insight, technology maturation and skills development right now across the program," Holmes said.

Secretary of State for Defence Ben Wallace in an earlier keynote speech said, "I'm looking forward to working with Italian and Swedish counterparts to put the program in hyperdrive and take global Britain back into the stratosphere."
On Sept. 10, Italy and the U.K.'s national armament directors signed a statement of intent to partner on Tempest with a corresponding agreement signed between the CEOs of BAE Systems and Leonardo.
Tempest is scheduled to reach initial operating capability in 2035 and full operating capability five years later. It could be in service until 2070 or 2080, said Holmes. The challenge is to design an agile, adaptable and modular aircraft when future requirements are unknown, he added.

"We're very challenged to understand what happens in the coming weeks, let alone the coming years," he said. Mission dependent data can be updated very rapidly today, but changing software and hardware comes very slowly, he noted.

That means investing in the mission system architecture early in the process rather than spelling out precise requirements, he said. Those working on the program are doing conceptual designs, trade space studies and detailed configuration engineering, he added. That involves understanding the art of the possible, what technologies will be needed and how they will be delivered.

"One of the key elements for Tempest is how we deliver not only an adaptable product for all users who might be interested in it, but to make it adaptable for all fighters on a day-to-day basis," he said.

Air Cmdr. Dan Shorr, head of the RAF's combat air position program, said one of the reasons Saab has been brought on board is that it successfully broke the cost and time curve that has plagued so many jet fighter development efforts in the past with its Gripen E program.

It will be a "multinational collaborative process" with the U.K.'s BAE Systems as the lead integrator, Rolls-Royce the engine manufacturer, and foreign partners such as Italy's Leonardo and missile manufacturer MBDA with headquarters in four nations.

Michael Christie, director of future combat systems at BAE, said his company is working on the rapidly changing technology found in cockpits, which leaps ahead about every six months. It is also looking into advanced manufacturing processes that can lead to halving the development time and costs of the aircraft.

"We believe we can do that if we use these kinds of enabling technologies," Christie said. He added that he believes there will be a level of manned-unmanned teaming capability.

Phillip Townley, director of future programs at Rolls-Royce, said programs like this come along once in a generation. "This is our generation's [opportunity] and now we have to deliver," he said.

The engine company intends to provide more than propulsion. It wants to manage and absorb the heat generated by the engine and electrical system and dissipate it. That will require close cooperation with industry partners, he added. "We will do trade studies to work out how we optimize the propulsion system, the electrical system" and how they they interact with sensors and other components, he added.

Iain Bancroft, Leonardo UK Tempest lead, said the company is already deep into systems engineering studies. It has about 20 technology programs related to Tempest across the United Kingdom, including radar, communications and electronic warfare all with an eye toward interoperability which will be required in the future, he said. There about about 260 of the company's engineers working on the program today with another 40 expected by the end of the year.

"We have got to grow the next generation of engineers and this is the program to do that," Bancroft said. "We have people queuing at the door to join this program."
Air Chief Marshall Sir Stephen Hillier lauded Leonardo's contribution to the program and said international programs "is all our future." The agreement means "we will be able to mature technology from across the air domain at an accelerated pace, de-risking programs, reducing cost and bringing capability to the frontline faster than ever before."

Colin Lapsley, Tempest lead at MBDA, said: "We are actively exploring the trade space between the platform, the sensors and the weapons."

The company had a number of weapon systems on display in the DSEI hall alongside a mock-up of the fighter. They included: Deep Strike, a supersonic cruise missile, along with a subsonic version; the SPEAR air-to-surface missile; the SPEAR-EW, which carries a payload with false-target decoying and jamming capability; and two different air-to-air missiles.

"Time, cost and complexity of integration is one of the key areas we are working on," he said. MBDA is cooperating closely with BAE to ensure that new weapon systems can be introduced in the digital cockpit. The right information must be given to the pilot so he or she can make the right decisions, he said.

Holmes was asked if the program had drawn any lessons-learned from the development of the F-35 joint strike fighter. It did, but it also looked at the pitfalls of programs going back to the beginning of the jet age, he noted.

"Will we do any better? I hope so," he said. "There are no guarantees."
Topics: International