GLOBAL EOD CONFERENCE NEWS: Pentagon Sees IED Threat from Peer Adversaries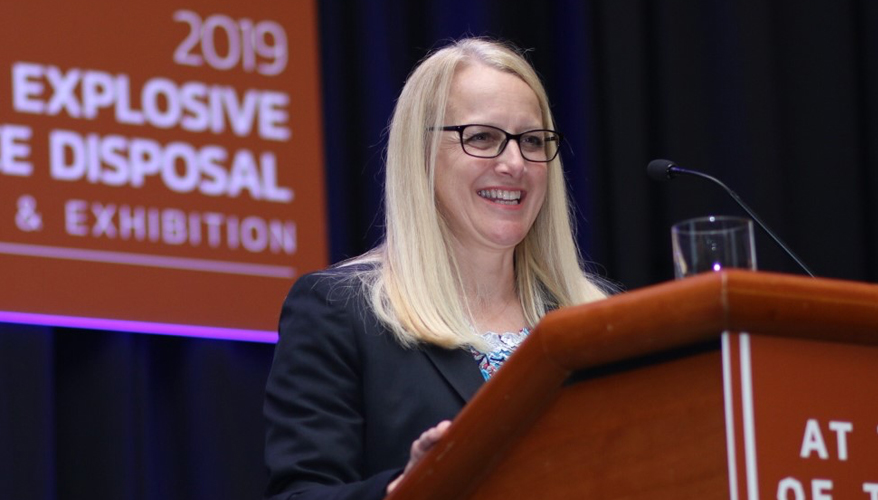 Lisa Swan
Photo: Melanie Yu/NDIA
BETHESDA, Md. ­— During the height of the wars in Iraq and Afghanistan, one of the greatest challenges the U.S. military faced from insurgents was the scourge of improvised explosive devices — low-cost bombs that were deployed on roadsides and other areas frequented by warfighters — that killed or maimed thousands of troops. But as the United States enters an era of competition with advanced adversaries such as Russia and China, the threat from IEDs will endure, an official with the Defense Threat Reduction Agency said Aug. 6.

"The improvised threat isn't going away," said Lisa Swan, director of counter-improvised threat technologies at DTRA.

The military is now thinking about how it can take lessons learned from the past 15 years of defeating improvised weapons and apply it to great power competition, she said during a keynote address at the National Defense Industrial Association's annual Global EOD Conference and Symposium in Bethesda, Maryland. The National Defense Strategy of 2018 listed both Russia and China as peer competitors.

"I don't know how nation-states will use improvised threats — obviously no one does — but I don't know why they wouldn't," Swan said. "We've seen how low-cost solutions can be significantly disruptive to our operations."
Swan defined an IED as a device or system — as well as it's associated tactics, techniques and procedures — that is designed, fielded and employed unconventionally to adversely affect U.S. forces and their partners. However, that definition may need to be tweaked in the future depending on how such weapons are deployed by more advanced nation-states, she noted.

Swan said she believes nation-states would utilize asymmetric weapons in future fights. Such tactics would slow down the U.S. military's ability to operate and be a major distraction, she noted.

"Last time around, [the enemy] controlled our freedom of movement," she said. "They limited what we could do."
She added: "My hope would be that we'll take what we've learned about how to respond to those threats — including the networks behind them — and apply that as we move forward into great power competition."
The pervasive use of roadside bombs by insurgents in Iraq and Afghanistan required the Pentagon to rapidly ramp up the production and deployment of mine resistant, ambush-protected vehicles at a cost of billions of dollars. The systems were credited with saving tens of thousands of lives. Other technology solutions were shepherded by the Joint Improved Explosive Device Defeat Organisation, or JIEDDO. The organization has evolved and is now known as the Joint Improvised-Threat Defeat Organization, or JIDO.
Swan noted that improvised threats constantly change and compel U.S. forces to adapt. She compared the process to a game of chess.

"They make an advance, we counter it," she said. "Part of our challenge is anticipating where the threat is going to go next — not physically, but from a technology standpoint."

Scientists in Swan's office are examining technology trends and how new systems can help the military. But they are also looking at how such systems could be turned around and used against U.S. troops, she noted.

The counter-improvised threat technologies office is currently pursuing new capabilities that could be used in future warfighting environments. For example, it is working on an airborne system that is capable of rendering ammonium nitrate — a vital ingredient in homemade explosives, or HME — ineffective from a distance while also minimizing damage to surrounding communities, Swan said.

Ammonium nitrate has been used in some of the world's most notorious terrorist attacks, including the 1995 bombing of the Alfred P. Murrah Federal Building in Oklahoma City, as well as attacks on U.S. Embassies in Tanzania and Kenya in 1998. It has also been widely used by the militants in Iraq and Afghanistan and by the Islamic State, according to Swan.

"In the past, we were sweeping the ground for fertilizer looking for fertilizer or ammonium nitrate," she said. However, there is now a "demand signal from our forward-deployed warfighters ... for a solution to neutralize homemade explosive material from an airborne platform."

The office has funded research that led to three demonstrations, she said. The first was a reactive mixture that combined with the HME and demonstrated near elimination of the explosives. The second test was of a polymer-type solution that rendered the explosives inert for a minimum of six days. The third used an unmanned aerial vehicle to deploy a counter-HME material which ignited the explosives and burned them safely.
"There's still work to be done to make it a better delivery system and to take care of completely eliminating [the threat], but it was pretty effective," she said.

New technology is also needed to deal with booby trapped structures such as buildings that have hidden IEDs inside, Swan said. Her office is specifically looking for autonomous or semi-autonomous solutions, she noted.

So far Swan's team has tested devices that can provide real-time situational awareness, she said. It wants systems that can facilitate mapping and explore multi-level buildings without guidance from a human operator. It is also looking for improved cameras and radios, she added.