3D Training Tool Upgraded For Apache Maintainers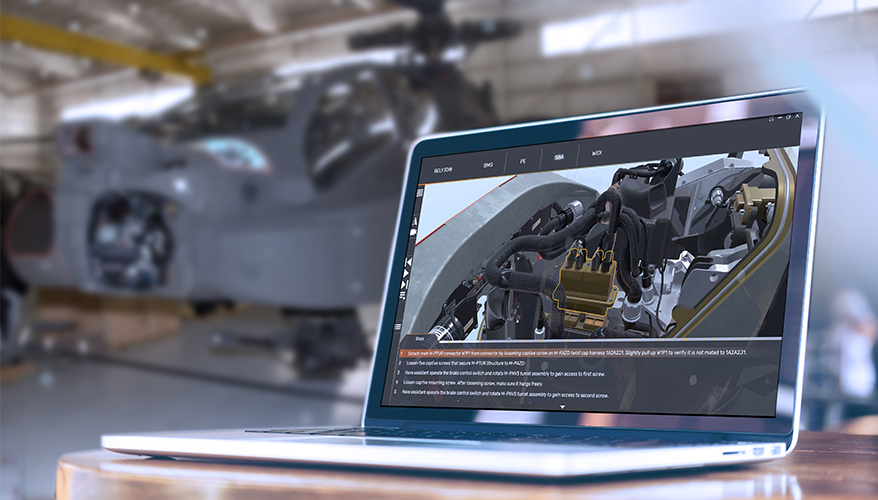 Photo: Lockheed Martin
Lockheed Martin has launched the newest version of its advanced 3D instructing technology for AH-64 Apache sensor maintainers.
RELY3D is an advanced visualization and training tool that leverages capabilities from mainstream gaming technologies to train system maintainers, according to the company.
The product is made of four modules. The first provides users with an animated version of the sensor system, said Mike Taylor, program director for Apache M-TADS/PNVS international and fleet support.
The module "is an animated version of what our system looks like and allows the user to touch … different pieces of the system, rotate it, move it around [in] real time on a laptop or tablet and kind of have an exploded diagram," he said.
The second module focuses on troubleshooting and provides users with a step-by-step guide on removing and reinstalling repairs, he noted.
The third is a wiring diagram "that shows all of the cabling, harnesses and wiring connectivity between the various pieces of our system," Taylor explained.
The last module gives users the ability to download the likely path to troubleshooting system issues.
Lockheed Martin began building the training tool in 2012 and fielded the system in 2015 with the first two modules, Taylor said.
"RELY3D very obviously [and] clearly demonstrated what a visual-based training tool can do versus an electronic-based" tool, he added. The system is currently in its second version.
The technology has shown the ability to provide a 50 to 70 percent proficiency increase with users and gives them the ability to pinpoint problems on a wiring diagram module rather than on a drawing, he said. The office also conducted a case study through which they saw a 60 percent efficiency increase, he noted.
The training simulator undergoes continuous upgrades.
"Capability is constantly being added to the system," Taylor said. "We are about to field [a] modernized day sensor assembly which is a huge game changer."
There will be more updates to the system as the platforms gather more data, he noted.
"We pull all of our data … out of our engineering systems and pour it right into any upgrades we apply to RELY3D, and that will continue," Taylor said.
Topics: Training and Simulation