Aerojet Rocketdyne Opens New Facility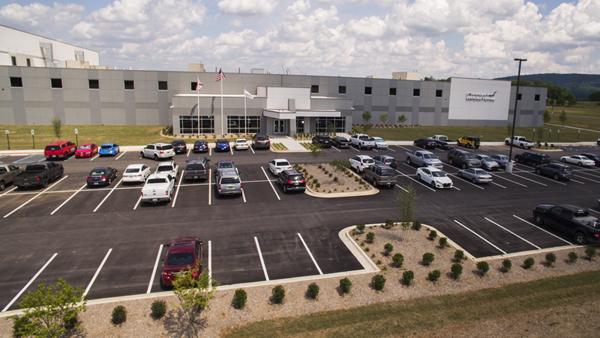 Photo: Aerojet Rocketdyne
Aerojet Rocketdyne has opened a new advanced manufacturing center to produce rocket propulsion products for missile defense programs.
The 136,000-square-foot facility in Huntsville, Alabama, was declared operational in June, according to the company. It will be used to produce hardware for military programs such as the Terminal High Altitude Area Defense system, or THAAD.
Additionally, the "Aerojet Rocketdyne team in Huntsville is developing the propulsion elements that could support the nation's Ground-Based Strategic Deterrent and developing the boosters for the next generation of hypersonic weapons," Eileen Drake, the company's CEO and president, said in a statement.
Jim Ramseier, the site director for the facility, said the company is building systems such as solid-rocket motor cases, which is "essentially the pressure vessel and the structural piece of the rocket motor." The manufacturing facility has completed its third THAAD case and is about halfway into a second set of Standard Missile-3 cases, he noted.
The facility is designed to manufacture solid-rocket motor cases of multiple sizes and do support work, he said. Some supporting processes include filament winding and curing.
For the Standard Missile-3, the solid-rocket motor case and other components will be manufactured in Huntsville before final assembly at the company's facility in Orange County, Virginia, Ramseier said.
Aerojet Rocketdyne decided to pursue a new site to consolidate its rocket motor cases into one location, he noted. Not only was that more affordable, but the company also realized it had redundant capabilities and capacity at different sites, he said.
"One of the things that really made a lot of sense was to consolidate and focus on case manufacturing and hypersonics and those type of products in Huntsville," he said.
Aerojet Rocketdyne moved production from its Gainesville, Virginia, and Sacramento, California, facilities to Huntsville, he noted.
There are "a lot of positive things about Huntsville, Alabama, and it made a lot of sense to build a focused facility in this area," he said. As the home of Redstone Arsenal and NASA's Marshall Space Flight Center, Huntsville is nicknamed "Rocket City."
Topics: Strategic Weapons