NEWS FROM AUVSI DEFENSE: Army Envisions Picking Its 'Flavor' of Robotic Combat Vehicle Capabilities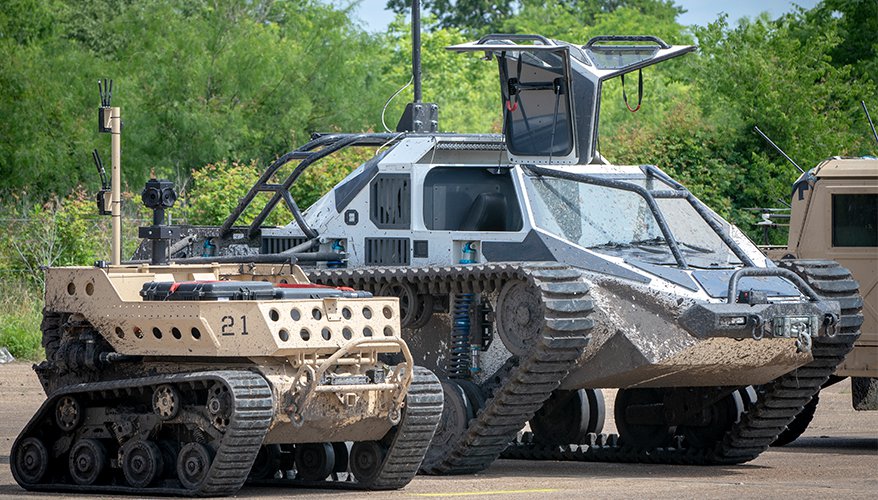 Unmanned combat vehicles
Photo: Army
The Army is reaching out to industry to explore non-developmental solutions for its robotic combat vehicle, according to a service official.

As part of its effort to replace its legacy fleet of Abrams tanks, Bradley infantry fighting vehicles and Strykers, the Army has been pursuing the next-generation combat vehicle initiative, which consists of a mix of manned and unmanned systems that work in tandem.

For the robotic combat vehicle, or RCV, the service is pursuing three variants, which include light, medium and heavy platforms.

"We will put robots into very precarious situations," said Brig. Gen. Ross Coffman, director of the next-generation combat vehicle cross-functional team. For any task "that a human should not do on the modern day battlefield, we want a robot in that space."

The Army seeks platforms that are semi-autonomous and can be fitted with different weapons systems and sensors, he noted during a keynote speech Aug. 21 at the Association for Unmanned Vehicle Systems International's Defense-Protection-Security Conference in Washington, D.C.

"You pick your flavor," he said. For example, the Army could potentially deploy drones from ground vehicles, he noted.

The plan is to start off with two humans controlling each robotic system, which is "going to be simple," he said. "Where I want to go [eventually] is 12 robots controlled by one human, and I think that's very doable," he added.

The service has three RCV experiments slated for 2020, 2021 and 2023, Coffman said. Each experiment will be held at different echelons, and the 2023 event will be conducted with all three vehicle variants, he noted.

The Army sent out requests for white papers to industry for light- and medium-variant prototype proposals earlier this year, Coffman noted.

According to notices on FedBizOpps announcing the requests, the service is looking for four RCV-light and four RCV-medium non-developmental items for government evaluation, test, and manned-unmanned teaming experimentation. The Army can award other transaction authority agreement contracts for up to two ground vehicle systems for each variant, the notices stated. However, there are no projected quantities for any potential follow-on production efforts.

According to draft requirements, the Army wants the RCV-light to be a reconnaissance vehicle that is transportable via CH-47 sling load and C-130 aircraft. It should be able to travel up to 25 miles per hour while carrying at least 1,200 pounds. The RCV-medium should have a direct fire capability and be transportable via a C-130.
Topics: Army News, Land Forces