EXCLUSIVE: Q&A with Air Force Chief of Staff Gen. David Goldfein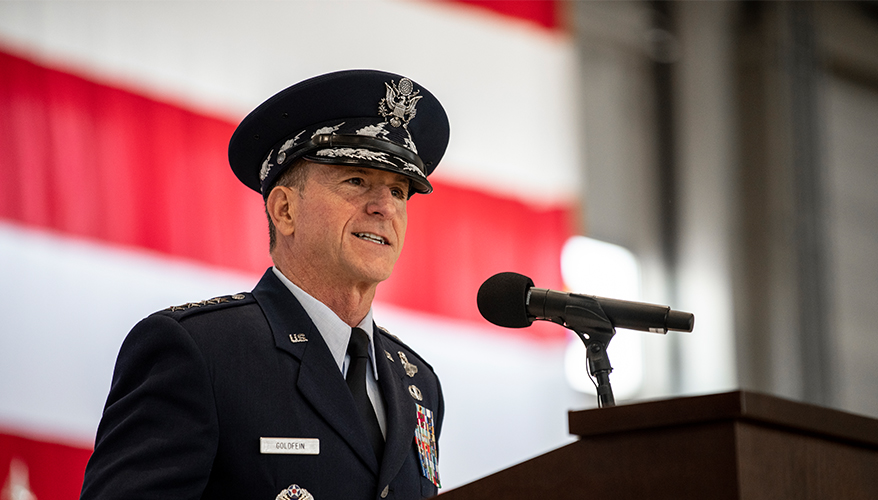 Photo: Defense Dept.
Gen. David Goldfein is the 21st Air Force Chief of Staff. On July 31, he spoke with National Defense staff writer Connie Lee to discuss a wide range of issues facing the service. The following Q&A has been lightly edited for length and clarity.

Q: When do you anticipate the Air Force fielding an operational hypersonic weapon [the Pentagon's top R&D priority]?

A: Right now we're on track to reach ... early initial operating capability in FY '22. So we're doing this under the new authorities granted to us by Congress. The 804 authorities allow us to prototype and experiment. So we're moving pretty quickly. One of the things that's ... an important part of our story, of course, is how closely we're aligned with the other services. ...We're taking the best of breed from each service. And quite frankly, we don't care which service it comes from. If it works well, we incorporate it quickly.

Q: What is the timeline for the hypersonic conventional strike weapon program?

A: It's going to go through design reviews in '20, testing in '21 and we're supposed to reach IOC in '22.

Q: Several European countries have unveiled plans to build sixth-generation fighters. How far along is the Air Force in thinking about a sixth-gen fighter? What kind of capabilities might it have, and how would it be better or different than fifth-generation aircraft? When is the Air Force hoping to start developing and fielding a sixth-gen fighter?

A: Anytime we have competitors who are in the ring, the service benefits and the nation benefits because it drives innovation and drives costs down and we get a better product. So I'm actually pretty excited about it. I just tell you that I'm not locked into sixth-generation as being a single platform. I think it actually limits our thinking if we go down that path. I don't know right now whether it's a platform, it's a number of platforms, it's a family of systems, it's a whole domain. I want to keep that wide open so we can really drive towards game-changing technology as we go forward.

It has to be able to penetrate. It has to be able to persist. It has to to be able to protect. It has to be able to proliferate. And it has to be able to punish. And so this … family of systems, in my mind, is designed to go do all of those things. It has to be able to penetrate the worst potential defenses we could be up against. It has to be able to have the legs to persist in that environment for long as we need it to persist. … I'm not focused on a single vehicle. It may be a significant number of vehicles.

Q: How would you assess the current trajectory of the KC-46 aerial refueling tanker program?

A: This new tanker has to do, essentially, a few things. It has to be able to fly well. It has to perform the tanking missions. It has to be able to defend itself. And it's also got to contribute to a network as we go forward based on how we're all moving in multi-domain operations.

I was really actually very impressed with some of the stock equipment that we got when we bought a commercial 767 that came with it because it has some of the most advanced weather radar. It's very stable.

Q: When do you anticipate resolving problems with the KC-46 such as those associated with foreign object debris? Is there a timeline?

A: Not really a timeline, because what the company [Boeing] has to address is culture and compliance. And in some ways a culture of compliance. You walk into a hangar in the United States Air Force and most hangers you could eat off of it because we have built a culture of compliance such that tool management, cleanliness — all those things are a big part of the culture of maintaining the aircraft in the United States Air Force. We need that same culture on the [production] line of the KC-46. So I can't give you a timeline, I can just tell you that we have high expectations that this will be fixed, fixed quickly and it will be an enduring fix.

Q: The Defense Department has designated space as a warfighting domain and adversaries are beefing up their counter-space capabilities. Do you see any advantage in the U.S. basing anti-satellite weapons in space to deter or defeat these adversaries?

A: I believe that a war that either starts or extends in space, in that scenario, everyone loses. There are no winners that come out of that scenario. And so we have been focused on approaching this challenge in a collaborative way, not in a coercive way. That's why I hosted the first international air chiefs conference on space with 12 countries represented for the first one. We're expanding that for the upcoming Space Symposium because our dialogue is about deterrence. How do we ensure that we establish rules of behavior in space that those of us who operate there can abide by so that we don't go down this path of a war that either starts or extends into space? ... We've got to be prepared to deter so that war doesn't extend or begin in space because if that were to occur, everyone loses.

Q: The F-35 joint strike fighter full-rate production decision is slated for later this year. Does the Air Force anticipate fixing all of the aircraft's deficiencies by this time?

A: It's been so long since we procured an airplane, our muscle memory is a little bit off. Now, having said that, I'm very happy and … operationally I couldn't be happier with what I'm seeing from the F-35. ... My concerns right now are focused primarily on agile software and in sustainment to ensure that we can scale the sustainment enterprise to match the growing fleet size that is our program of record. I'm a pretty demanding customer when it comes to that.

Q: Former Defense Secretary James Mattis said F-15, F-16, F-22 and F-35 squadrons must be 80 percent mission-capable by the end of fiscal year 2019. It has been speculated that the F-22 fleet will not meet this goal. When does the Air Force anticipate F-22 fleet reaching an 80 percent mission capable rate? Does the service have any plans to upgrade the capability of the aircraft in the coming years?

A: It's going to be tough. It didn't help to have Hurricane Michael come through. That affected the fleet. But I'll tell you where I am. There are five elements of aviation readiness. ... The question about MC rates is only one small piece of that.

How have we done [in addressing the problem]? Well, people — we had a short shortage of 4,000 maintainers and now we have a shortage of zero. Pilot shortage — we were on a downhill spiral. We've leveled off and we're seeing indications now that it's going in the right direction for the first time in about five to 10 years. I could go through each one and tell you where we've invested and how our readiness has improved. But MC rates, as a measure, is only one small piece of overall aviation readiness.
Topics: Air Force News, Air Power