New Army Small Arms to Boost Soldier Lethality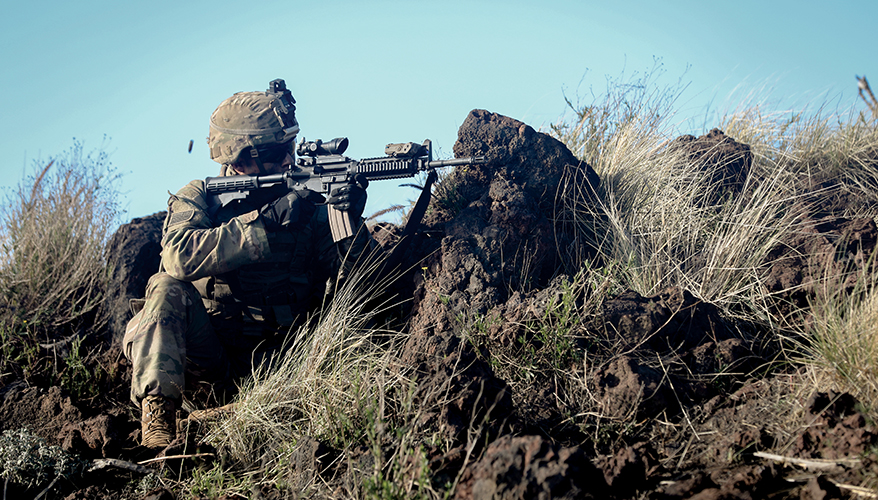 M4A1
Photo: Army
FREDERICKSBURG, Va. — A slew of new weapons that will increase the lethality of troops are coming down the pipeline, according to Army officials.
The systems — which include everything from the next-generation squad weapon to machine guns — are within sight, said Lt. Col. Steven Power, the Army's product manager for individual weapons.
Speaking during a panel discussion at the National Defense Industrial Association's Armament Systems Forum in Fredericksburg, Virginia, on the eve of the 75th anniversary of D-Day, Power said the significance of soldier weapon systems cannot be overstated.
"The importance of individual soldiers as they made their way onto Omaha Beach and the importance of the individual equipment that they carried is as true today as we face near peer adversaries … as it was then," he said.
Over the past year, the program office has reached numerous milestones across several portfolios, Power said. One of the biggest was fielding more than 200,000 M4A1 rifles.
The "next-gen [squad weapon] is going to be awesome when it comes out. But in the meantime, the fact that we have put a quarter of a million M4A1s in the hands of soldiers in a year is something I'm extremely proud of," he said.
The service has also completed nearly 64,000 M4 to M4A1 product improvement program upgrades to existing systems over the last 12 months, according to Power's presentation slides. It is pursuing the Army acquisition objective of more than 850,000 systems by fiscal year 2022, and is 70 percent there now, he added.
Additionally, there is an M4A1 follow-on competition which will be full and open to industry, Power said. It is currently in source selection and an award will be made in the first quarter of fiscal year 2020.
Power noted that sometimes people wonder why the Army is pursuing a new M4 when it is also going after the next-gen squad weapon program.
"Depending on what happens with next-gen, most of the Army — at least in the short term — is going to continue to have M4s," he noted.
Another large program is the squad designated marksman rifle, he said. The Army has been working to put the system into the hands of soldiers and had its first unit equipped at Fort Bliss, Texas, last year.
"That precision capability in the squad level is tremendously important if we fight a near-peer" competitor, he said.
The service in May also had its first unit equipped for the sub compact weapon — which is also known as the sub machine gun — for protective services battalion soldiers, he said.
It's a "very niche capability within the Army," he said. "We did it in a year and the soldiers love them. … [The weapon] is absolutely a blast to shoot."
The Army has also produced over 50,000 modular handguns over the past year with another 335,000 systems still on contract with Sig Sauer, Power said. They will be distributed across the services and other government agencies.
In June, the Army awarded a contract worth up to $151 million for the Grenadier sighting system — which will be outfitted on the M320 grenade launcher — to Wilcox Industries Corp. of Newington, New Hampshire.
"We are buying over $30 million worth of those systems in the first delivery order," Power said. "It's going to tremendously increase the lethality in the squad of the M320, especially with those munitions that the [program manager for maneuver ammunition systems] is developing for us."
The system will provide soldiers with a day and night capability, he noted.
An upcoming opportunity for industry is the follow-on to the M320 program, Power said. Currently Capco Inc., a Grand Junction, Colorado-based company, manufacturers the system for the Army, he said.
"We will bring whoever wins this next competitive solicitation on board to produce that for us going into the future," he said. The "M320 is going to be in the Army formations for a long time, largely because of the incredible munitions that PM MAS is working on for that … partnered with the Grenadier sighting system."
Progress is also being made on the next-gen squad weapon, said Lt. Col. Jason Bohannon, product manager for next-generation weapons. The program — which includes a rifle and automatic rifle — will replace the M4 carbine and the M249 squad automatic weapon.
It provides a common cartridge between the two systems as well as fire control, he said. "It's treated different because each of those items independently aren't standalone," he said. "We're treating them as a system for the squad."
The weapons are envisioned to be fielded initially to about 100,000 soldiers. The program has three lines of effort including a science-and-technology element and two prototyping components, Bohannon said.
The first prototyping effort is reaching its culmination now and included five companies and six different platforms, he said.
"We asked them to do some hard problem solving for us. They did and we learned some things," he said. "It was a technical system demonstrator. We're in receipt or we'll be in receipt of those weapons very, very shortly."
Bohannon noted that through prototyping the Army was able to validate new technology.
The second prototyping effort will focus on a systems approach, he said. "That's the one we believe will potentially lead to production," he added.
The question posed to industry was, "'We know you can fire projectiles in extreme velocities, but if you were to balance that automatic rifle with a lighter weight rifle … what trades would we have to make?'" Bohannon said.
Speed is critical to the next-gen squad weapon program, he said.
People sometimes say, "'Well, you've got Section 804 authority from Congress and that's the reason you can go fast,'" Bohannon said. "But it's not. The reason we can go fast is because we have constant and open dialogue with industry."
Bohannon noted that he is on the phone with members of industry on a regular basis and there's never a question that should go unanswered.
"If you call my office, we're going to get you an answer," he said.
The Army is taking advantage of new contracting authorities and methods as it works to prototype and field technology faster, said Col. Elliott Caggins, product manager for soldier weapons.
"We think that we should embrace middle-tier acquisition," he said. "It doesn't mean you're going to cut corners. What it means is you're going to take ... a different technique in order to achieve the outcome that you desire."
The authorities — which were granted under Section 804 of the fiscal year 2016 National Defense Authorization Act — is meant to deliver capabilities in a period of two to five years.
However, just because the program office isn't using the joint capabilities integration development system, which is commonly referred to as JCIDS, or the DoD 5000 doesn't mean acquisition officials are cowboys in the Wild West and skirting the rules, Caggins said.
"[We have] instilled our own discipline and rigor into the system," he said. "You're still going to test things. You're still going to work to priorities."
But by adopting middle-tier acquisition processes, the Army is able to prototype and field capability faster and more affordably, he noted. "This is the way we should do business," he added.
Meanwhile, the service is working on a number of new soldier systems through Army Futures Command, which was stood up last year. It is intended to shake up the service's acquisition process and speed up the delivery of new technologies. The organization — which is based in Austin, Texas — includes a number of cross-functional teams, or CFTs, that are focusing on long-range precision fires, next-generation combat vehicle, future vertical lift, the network, air-and-missile defense and soldier lethality.
The solider lethality team is working closely with the Defense Department's close-combat lethality task force. The task force, the brain child of former Secretary of Defense Jim Mattis, has a goal to develop, evaluate, recommend and implement improvements to U.S. squad-level infantry combat formations in order to ensure close-combat overmatch against high-tech adversaries.
Such formations have historically accounted for almost 90 percent of the military's casualties.
Matthew Walker, a capabilities developer with the soldier lethality cross-functional team, said both organizations are partnering to get troops better technology. Part of that effort is recognizing that soldiers at the squad level need special equipment and tools that are different from the rest of the Army.
"Everything you can imagine that an infantryman uses we used to give to Lottie Dottie everybody in the Army," he said. "I didn't get a mechanic's tool set. I didn't get all the cool stuff that the guys over in the engineering side got, but they got everything I got as a tool of war."
In the past, every time an acquisition official tried to get something better for troops at the front lines, the effort would grow exponentially to include new equipment for every single soldier, he said.
"It would then be cost ineffective and we would never get anything better," he said.
Now the cross-functional team is trying to keep numbers as low as possible, Walker said.
It is working on a variety of efforts including the next-gen squad weapon, situational awareness tools, body armor, training and human performance, he said.
Meanwhile, the Army is working on a major effort to upgrade the service's five government-owned, contractor-operated ammunition plants, said Brig. Gen. Alfred Abramson, senior commander of Picatinny Arsenal and program executive officer for PEO armaments and ammunition.
The ammo plants include Holston in Kingsport, Tennessee; Radford in Radford, Virginia; Lake City in Independence, Missouri; Iowa in Middleton, Iowa; and Scranton in Scranton, Pennsylvania, he said.
Most of those facilities were built in the 1940s and still look like they date from the World War II era, he said. "We've got to modernize those to get capability for the future."
The service has requested $475 million in President Donald Trump's fiscal year 2020 budget proposal for the upgrades, Abramson said. That is more than the $458 million that was allocated for this fiscal year.
Modifications and upgrades at the facility are slated to come online within the next two to three years, he said.
Additionally, Abramson noted that the Army is investing heavily in ammunition. Despite moves across the service to realign resources for its top six priorities, the ammunition and armaments portfolio is well supported by Army leadership, he said.
The service received nearly $2.3 billion for ammunition and armament procurement in 2019. The 2020 budget request calls for $2.59 billion for those accounts, Abramson noted.
There has also been an uptick in its research, development, test and evaluation funding.
"The takeaway from that is we need more munitions, but we also have committed to … making those munitions better, making them do more than what they did before," Abramson said.
Topics: Army News, Land Forces