ROBOTICS AND AUTONOMOUS SYSTEMS
Army Assessing Marine Corps Unmanned System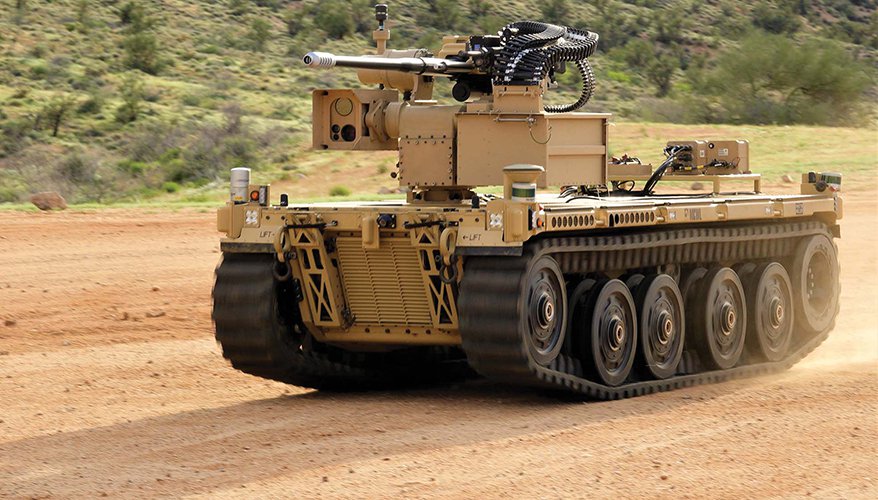 Expeditionary modular autonomous vehicle
Photo: Pratt & Miller Engineering
A platform designed for the Marine Corps is being tested for the Army's robotic combat vehicle initiative.
The expeditionary modular autonomous vehicle, or EMAV, program started in 2017 and was originally developed for the Marine Corps Warfighting Laboratory, said program manager Brian Barr.
The Marine Corps "had a lot of experience doing autonomy work on current vehicle platforms … and they got to a point where they needed a custom, purposed vehicle to continue the work in off-road autonomy," Barr said. "We developed this robotic platform for that."
The EMAV is a tracked, diesel-electric series hybrid unmanned ground system that weighs 6,800 pounds and can carry a payload of 7,200 pounds, Barr said.
Now the Army has a next-generation combat vehicle initiative to develop a new family of systems that will replace its aging fleet. As part of the service's plan to modernize the force, a cross-functional team was set up to pursue the technology.
Col. Warren Sponsler, deputy director of the cross-functional team, said during the National Defense Industrial Association's Robotics Capabilities Conference and Exhibition in Columbus, Georgia, that the service was preparing for phase 2 of its robotic combat vehicle work.
The service is aiming to develop the vehicles in light, medium and heavy variants. It held a phase 2 demonstration and assessment at Texas A&M University in May.
EMAV was assessed for the light and medium vehicle categories during the assessment, Barr said. During the event, platforms were separated by payload capacity, allowing the EMAV to compete in two categories, Barr noted.
Meanwhile, the Marine Corps is also experimenting with the vehicle's first two prototypes.
The systems participated in an experiment with Marines in fall 2018 and another assessment of the platforms was slated for August at an Army National Guard base in Indiana, Barr said.
The Marine Corps is "continuing to experiment with it and they are reaching out to collaborate with Army customers to witness those experiments," Barr said. "There's good collaboration going on."
While Pratt & Miller Engineering has developed two prototypes that have been in testing for over a year, the company is currently building two additional platforms and recently recieved an order for another two units, Barr said.
Topics: Robotics, Robotics and Autonomous Systems, Marine Corps News, Army News, Land Forces