Directorate Wants to Change View of Nonlethal Weapons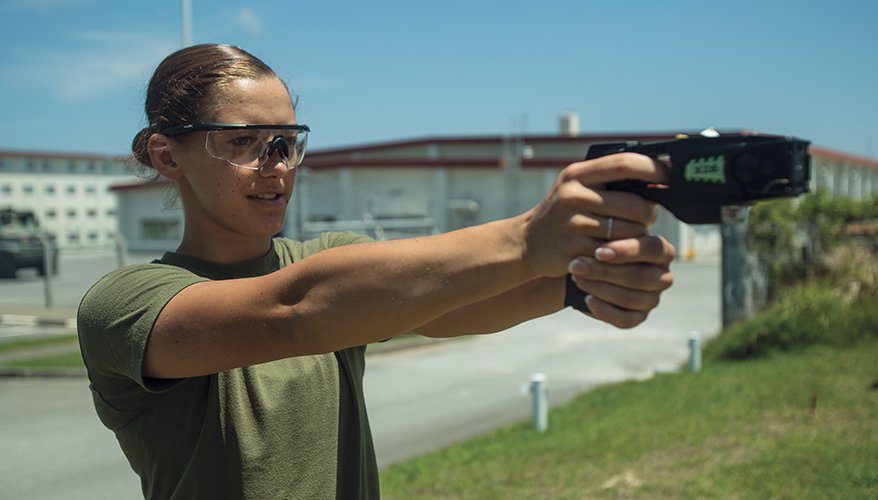 Nonlethal weapons testing
Photo: Marine Corps
FREDERICKSBURG, Va. — Modern warfare is often characterized by heavy firepower such as guns, tanks and attack aircraft. But as the United States faces operations in the "gray zone" — actions that remain below the level of conventional armed conflict — there is an increasing need for nonlethal options.
In charge of the Pentagon's effort to develop such weapons is Marine Corps Col. Wendell Leimbach, director of the Defense Department's joint nonlethal weapons directorate. Leimbach, a former tank officer and self-described "lethality junkie," said nonlethal weapons will play a key role in the future of warfare.
"We are not currently fielding capabilities that enable our warfighters that are out there engaging in those gray zone operations to actually compete," he said during remarks at the National Defense Industrial Association's Armament Systems Forum in Fredericksburg, Virginia.
U.S. adversaries around the world know that the United States is reticent to escalate conflict, and they take advantage of that through unconventional tactics, he said.
"Lethality is absolutely critical in the modern combat environment that we find ourselves, but the world's most lethal, incredible force must also be able to compete in all the other phases of combat," Leimbach added.
However, it has often been a slog trying to convince officials and industry of the need for greater investment in nonlethal systems, he noted. That struggle was awkwardly illustrated during the conference when nearly half of the attendees in the ballroom billowed out as the panel discussion transitioned from guns and ammo to Leimbach's portfolio.
"The mass exodus that occurred right before our eyes is indicative of precisely the problem," he told the remaining participants. "While I don't dispute that the lethality is an absolute necessity, there is another part of the conversation. … [But] you saw everybody walk out the door because they don't even want to talk about it because it's nonlethal."
Leimbach noted that the directorate is doing well and has created a myriad of effective capabilities, but it is up to the various services to determine the prioritization of such systems, he said. "Because we are nonlethal, we are not prioritized and all of those capabilities that are developed by the directorate successfully have languished and do not get fielded," he said.
To remedy that, Leimbach wants to embark on a new conversation with military officials and industry.
"We are trying to change the way people talk about nonlethal capabilities and to talk about how they actually ought to be employed," he said. "I like to use the term 'intermediate force.' We need to stop talking about nonlethal and start talking about intermediate force capabilities that exist."
He hoped refocusing the conversation to the term "intermediate force" would yield better results.
"Hopefully intermediate force will allow me to have a follow-on conversation with somebody and that will enable me to get … the services to start prioritizing the investment in these capabilities," he said.
Gray zone tactics have been employed by numerous nations but China, Russia, Iran and North Korea make up the lion's share, according to a July 2019 report, "By Other Means: Part One: Campaigning in the Gray Zone," by the Center for Strategic and International Studies, a Washington, D.C.- based think tank.
"With the significant costs of engaging the United States in combat, and the growing range of indirect and non-military tools at their disposal, rivals are finding avenues for threatening U.S. interests without triggering escalation," the report said. "Their coercive tools range the spectrum of fake news and online troll farms to terrorist financing and paramilitary provocations. Such approaches lie in the contested arena somewhere between routine statecraft and open warfare — the 'gray zone.'"
Russia and China are the most worrisome of the group, the report said. "China is the most concerning, followed by Russia, given the breadth and quality of each state's toolkit and their relative potential effects on U.S. interests," it said.
John Schaus, a fellow at CSIS' international security program, said gray zone strategies thrive at the margins of acceptable state behavior and are intended to delay or paralyze competitors' decision-making.
Such actions can create difficulties for other countries, not only in deciding whether to respond, but also how and with which organizations and tools, he noted in a CSIS paper titled, "Competing in the Gray Zone."
Leimbach said there are numerous examples of the United States facing such tactics.
For example, "we do not field capabilities that enable the warfighter to push back against fishing vessels that are clearly not fishing vessels — but we can't prove it — and yet they play chicken with our ships," he said. "We can't do anything about that because we aren't going to be the guy that shoots … an innocent fishing vessel."
Another example includes the scenario of a child throwing a rock at a tank, he said.
"That's a no-win proposition for the tank," Leimbach said. "We're not preparing that tank crew to engage in that environment. I was a program manager for tanks. I know exactly what that tank could do, and it could either sit there and do nothing, ... go home or, the inconceivable, which is kill the kid."
It would not be difficult to incorporate ocular interrupters or acoustic devices on military platforms — such as the amphibious combat vehicle — that would solve that issue, he said.
The directorate is working on numerous projects, including directed energy weapons, said David Law, chief of its technology division.
The organization is investing in active denial systems that use a high-power beam of 95 gigahertz waves to repel individuals without killing them, he said.
"You don't see the beam but you feel the beam," he said. "It doesn't take long for … [an enemy combatant] to stop doing whatever they were doing."
While the beam would not kill someone, it could still hurt them, Leimbach said. "Nonlethal is not non-painful," he added.
The directorate is working on ways to reduce the size of its active denial system, Law said.
"The key was to develop and shrink that technology," he said. "We've been well underway to do that now."
The directorate has gone from a heavy expanded mobility tactical truck-type system to an adjunct system with solid-state active denial technologies that will allow it to integrate with smaller tactical platforms, he said.
Law noted that the beam can move at the speed of light. As long as a user has access to electricity, they have an unlimited magazine.
"You can hit individual targets, or you can scan and push everybody back," he said. "That's a unique capability."
Additionally, the beam can go through windshields and be used to thwart vehicles or vessels, he said.
"Active denial is definitely something … we have been interested in and continue to be interested in, but we need to continue to reduce the size and weight and cost of the system," he added.
Using nonlethal systems in concert with lethal systems can have a powerful effect, he added.
The directorate is also working on a pilot program with the Air Force to create electrified vehicular barriers on bases, Law said.
"The services across the U.S. have been having a really hard time with folks running the gates," he said. "Mechanical barriers work very well, but sometimes they work too well, and we've had lots of loss of life."
Last year, the Air Force approached the directorate and asked for help to create a nonlethal solution, Law said. Via the pilot program, the organizations have developed a technology where probes located in the ground zap vehicles with 500,000 to 600,000 volts of electricity.
The electricity goes "into the undercarriage of the vehicle, that disrupts the engines on that vehicle [and] it will stop that vehicle," he said. "The vehicle stalls and now the Air Force security forces can come and take care of the situation."
Within two to three minutes, the targeted automobile can be restarted and driven off, he added.
"Akin to that is our high powered microwave counter-electronic effects to stop vehicle and vessel engines," he said. "We're doing that now at hundreds of meters … so we can stop threat vehicles, vessels and really anything that has electronics on it."
Law noted that the directorate is developing a new science-and-technology strategic plan, which will be rolled out in the next few months.
Additionally, it is planning to release new broad agency announcements in fiscal year 2021. In fiscal year 2020, it plans to start looking for specific BAA topics, he added.
The organization utilizes a number of contracting vehicles including other transaction authority agreements via the Department of Defense Ordnance Technology Consortium, or DOTC, he said.
It "should be no surprise that we, too, love DOTC," Law said. Such consortiums have become increasingly popular throughout the Pentagon.
It also works with Naval Surface Warfare Center Indian Head, he said. The center facilitates its broad agency announcements, he added.
Because the joint nonlethal weapons directorate falls under the purview of the commandant of the Marine Corps, it also employs the service's small business innovation research/small business technology transfer program, Law said.
"We are a big SBIR and STTR super user," he said.
Additionally, starting next year, the directorate will be part of the Marine Corps' rapid innovation funding initiatives, he said.
Kevin Swenson, acquisition division chief of the directorate, said the organization is planning an advanced planning brief to industry that will run from the third quarter of fiscal year 2020 to the second quarter of fiscal year 2021.
"We're partnering with the services," he said. The event will have a range component for vendors. It will also incorporate a symposium-like aspect reminiscent of the annual Modern Day Marine Exposition, he added.
There will also be an advanced planning brief to industry that includes not just the Marine Corps but interested parties across the Defense Department, Customs and Border Protection and the National Guard Bureau, he said.


Topics: Land Forces