JUST IN: Navy Chief Anticipates 3D-Printed Nuclear Weapons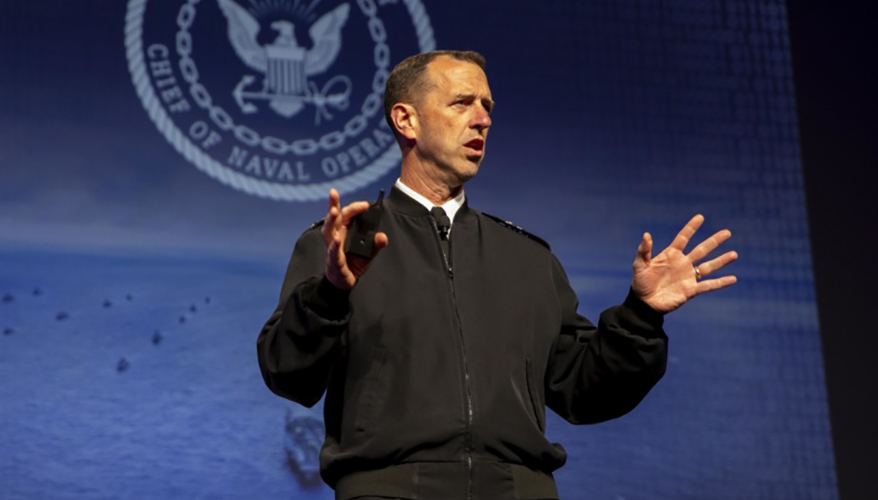 Photo: Navy
Other nations could use 3D printing to develop atomic arsenals, according to the chief of naval operations.
"Much is changing here in the nuclear world," Adm. John Richardson said July 2 during remarks at a breakfast in Washington, D.C., hosted by the Mitchell Institute for Aerospace Studies. "There are more nations seeking to join the club. Some with high technology, some with low technology. ... It's relatively simple. With the advent of additive manufacturing and 3D printing, these types of weapons are going to be very easy to craft in very small scale."
These systems might include "dirty bombs" that use high explosives to spread radioactive materials, he noted.
The United States could be entering an era where these types of weapons are part of the strategic landscape, which would give other countries asymmetric capabilities to undermine U.S. military advantages. Meanwhile, great power adversaries such as Russia have large arsenals of low-yield nuclear warheads that are of great concern to Pentagon planners.
Richardson noted that the 2018 Nuclear Posture Review proposed acquiring low-yield nuclear weapons to bolster deterrence.

"In the near-term, the United States will modify a small number of existing [submarine-launched ballistic missile] warheads to provide a low-yield option, and in the longer term, pursue a modern nuclear-armed sea-launched cruise missile," the review stated.

The United States needs to continue doing research to stay ahead of the threats, Richardson said. "The low-yield nuclear weapons … tried to address some of these asymmetries that have emerged since we last really did some research," he added. "The nuclear element of this [force] mix ... deserves a lot more attention in my book."
Richardson's remarks come amid partisan bickering on Capitol Hill about the future of the U.S. strategic arsenal.
The Democrat-led House Armed Services Committee's version of the fiscal year 2020 National Defense Authorization Act would ban the deployment of low-yield nuclear weapons on Navy submarines. Meanwhile, Republicans in Congress have largely backed the Trump administration's strategic modernization plans, including the acquisition of low-yield weapons. The Senate version of the 2020 NDAA, which was crafted by the GOP-led Senate Armed Services Committee, authorized fully funding the programs.

The policy differences could come to a head in the coming months when lawmakers from the House and Senate go into conference to negotiate a final NDAA bill that could pass both chambers of Congress. It's unclear what the outcome will be.

Meanwhile, Richardson said the Pentagon also needs to bolster its nuclear command, control and communications capabilities.

"We've got to make sure that we revitalize the nuclear command-and-control system … to harden it against all of the modern challenges" including cyber threats, he said.
The Navy leader's comments came just days after Air Force Chief of Staff Gen. David Goldfein said the Defense Department should consider using commercial low-Earth orbit satellites to create a more resilient NC3 architecture.
Topics: Navy News, Missile Defense