JUST IN: Texas Universities Building High-Tech Facilities to Aid Army Futures Command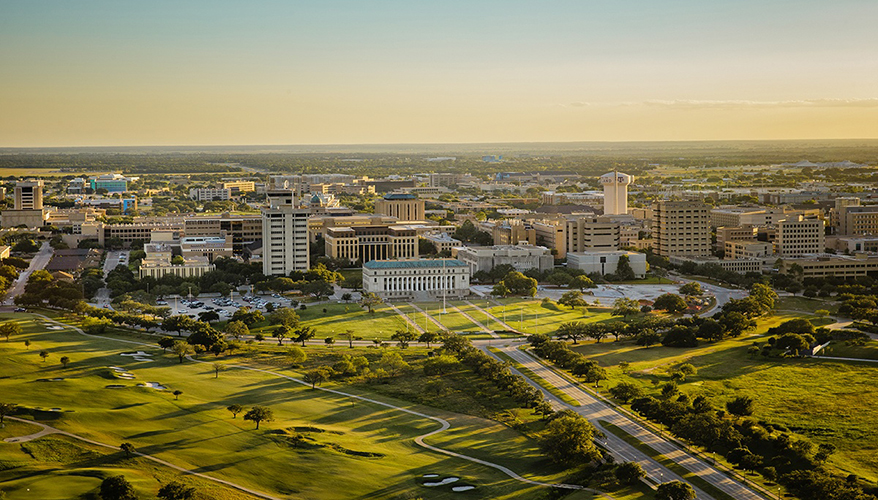 Aerial view of the campus of Texas A&M University.
Photo: Texas A&M Marketing & Communications
Army Futures Command, which was established last year to spearhead the service's top modernization efforts, is getting some major help from universities in Texas, according to its top officer.

Austin was selected as the new organization's headquarters location in part because of its proximity to top research universities. Academic institutions are investing "some pretty significant money" to beef up the command's infrastructure, said AFC Commanding General Gen. John "Mike" Murray.

"In the case of University of Texas, they are building us a robotics institute, converting an old building into a robotics lab at a fairly significant cost," he told reporters July 18 during a briefing at the Pentagon.

Murray tasked the university's engineering experts to help develop technology that would enable Army platforms to breach a complex obstacle without having to put a single soldier within a kilometer of the breach site, he said.

The school is also working on batteries, energy storage, and position, navigation and timing technologies, he noted.

Futures Command is pursuing a variety of unmanned systems, to include next-generation combat vehicles. The Army wants to collaborate with academia and industry on these efforts.

"Tele-operation of robots is kind of the baseline of current technology, to include what you can see the Russians have done," Assistant Secretary of the Army for Acquisition, Logistics and Technology Bruce Jette noted during the press conference. "That's sufficient for some operations, but it's not the vision for where we want to go."

The insertion of artificial intelligence into platforms will be critical for enhancing the capability of unmanned systems and reducing the manpower requirements necessary to accomplish mission tasks, he said.

"It is probably this concept of full autonomy that's going to be the hard challenge," Murray said.

Autonomous capabilities for the air and sea domain are further along than they are for the land domain, he noted.

Commercial industry is making advancements in autonomous vehicles, he added, but if a military platform is driving off road "there are no lane markings, there are no street signs, there's no vehicles around you for Lidar to help you identify where you are."

Completely autonomous cross-country movement of military vehicles is not coming in the near term. "But as we start to look, you know, increments out [at] what comes next, I think it's probably" achievable, he said.

Murray said there needs to be a national debate about how far the military should go in incorporating AI into its systems and operations. The AFC chief said he understands the concerns that some experts have about the technology. However, potential adversaries don't share the same qualms, he added.

"Artificial intelligence is coming to a battlefield. It's not a question of if. It's just a question of when and how far behind or ahead do we want to be when that happens," Murray said.

Meanwhile, Texas A&M University is working on hypersonics projects — the Pentagon's top research-and-development priority aimed at acquiring missiles that are highly maneuverable and can travel at speeds faster than Mach 5 — and directed energy research for Futures Command, Murray said. It will also build a facility away from the main campus where there is room to grow, he said. There, soldiers and engineering students will be to collaborate on projects.
Murray was asked for his reaction to a Government Accountability Office report that was released earlier this week, "Army Futures Command Should Take Steps to Improve Small Business Engagement for Research and Development."
He agreed with GAO's assessment that the command needs to do more in this regard. Its Army Applications Laboratory is focused on nontraditional small business partners, he noted. Nevertheless, "we got a ways to go," he added.

Murray is standing up a small business office inside AFC headquarters and is currently in the process of hiring a leader for the new team. The objective of the initiative is to make sure the command is more knowledgeable about what small businesses are working on so it can capitalize on the technologies they are developing.

Futures Command also plans to do more to connect small businesses with prime contractors.

"We're looking at, at some point in the future, hosting an event in Austin to try to establish some relationships between small business and defense primes, because the one thing I do worry about with small business is the ability to scale," Murray said.

"There's lots of ways they can scale, and one of the ways is working with a defense prime," he added. "Defense primes have relationships with small businesses, but maybe not the ones we're working with. And so [AFC needs to figure out] how can we start to make some connections for these small businesses where they can produce the [necessary] scale for us?"
Topics: Army News, Land Forces