JUST IN: Army to Release Solicitation for Robotic Combat Vehicle Prototype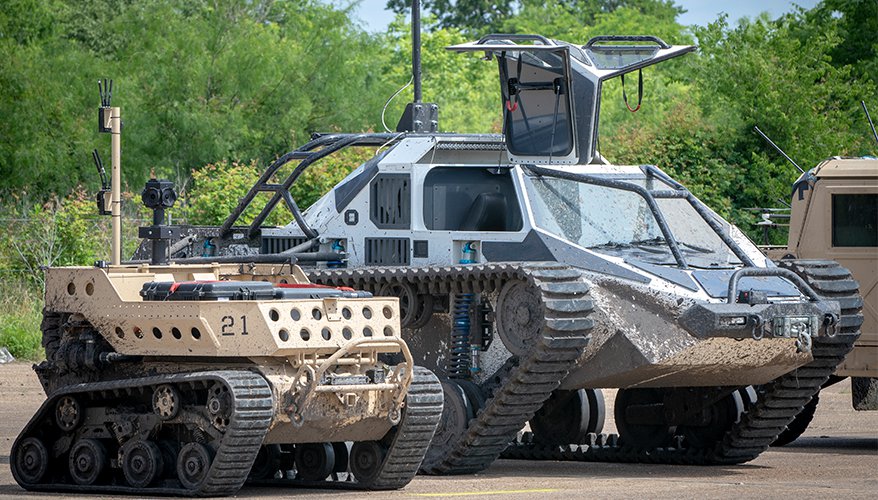 Unmanned Combat Vehicles
Photo: Army
The Army is rolling forward with its initiative to acquire robotic combat vehicles and will soon issue a solicitation for a prototype, the head of the group spearheading the effort said July 16.
Developing a family of next-generation combat vehicles is the Army's No. 2 modernization priority behind long-range precision fires. The service has established a cross-functional team to advance the initiative, which includes acquiring an optionally manned fighting vehicle and multiple variants of robotic combat vehicles, or RCVs.

The service has already built four experimental RCVs based on the M113 armored personnel carrier that can be tele-operated by soldiers riding in manned platforms, said Brig. Gen. Richard Coffman, director of the next-gen combat vehicle cross-functional team.

"They are on their way to Camp Grayling, Michigan, to go through final shakeout tests," he told reporters July 16 during an Army Futures Command media day at Joint Base Myer-Henderson Hall in Arlington, Virginia. "We're doing experiments for proof of principle" at the platoon level for phase one of the program, he added.

The service plans to acquire three RCV variants — light, medium and heavy — that could carry different-sized payloads.

It has already issued a solicitation to industry for white papers for the RCV-light. In about 10 days, the Army will post a solicitation on FedBizOpps for white papers for the RCV-medium, Coffman said. The prototyping initiatives are using other transaction authority agreements, which Congress provided the Pentagon to help speed up the acquisition of new technologies. The Army plans to select one vendor for each of the OTA agreements.

An experiment with the four Army-built vehicles is slated for fiscal year 2020, he noted.

A second experiment, slated for 2021, will take place at the company level. They will include the four Army-built robotic platforms, as well as four light and four medium RCVs provided by industry, Coffman said.

"We really want to see what's on the street now and then capitalize on that and really make a determination: 'are those good enough?'" he said. "Let's see what industry can deliver today rather than wait 10 years. But if industry can deliver a quality product at a good price, then we have a decision to make whether or not to go forward with that today or continue to develop" other systems.

RCV-heavy platforms won't be introduced until the third experiment, slated for 2023, he said. "Those are going to be the most costly, and so we're putting those off to the end so that we can learn from the lights and the mediums."

The service aims to equip the first unit with robotic combat vehicles by 2026.

As the technology develops, the Army wants the systems to have greater levels of autonomy.

The existing Army-built prototypes are tele-operated and they can navigate to waypoints dictated by soldiers, Coffman noted.

"They can say, 'I want you to go from X to Y to Z and stop,'" Coffman said. "That technology exists today. … But what we're really trying to do in the requirements and what we think is achievable within probably the next three to five years is lower the amount of touchpoints [and] interventions by a human."

The service envisions having up to 12 robotic vehicles with higher levels of autonomy managed by a single soldier, he noted.

"Absolutely we're going to move towards the [robotic] swarm, but right now we're not experimenting with it today," he said.

Coffman suggested humans will still be in the loop when it comes to unmanned platforms employing lethal force.

"We're not talking about killer robots that you just let out, let it go and conduct a mission and then come back," he said. "What we're talking about is being able to understand terrain, its impacts, how the enemy will use that, moving into a position of relative advantage to enable either other robots or humans to accomplish the mission. That's absolutely something we're striving for, but we are years, if not a decade away" from having that capability, he added.

An unmanned platform could potentially replace the Army's M1A1 Abrams tank. Coffman said the service will conduct two studies this year and next year that could help shape what a follow-on system might ultimately look like.

"This may not be a tank," Coffman said. "We need to determine what the enemy is, what we want to destroy that enemy with, and how survivable the vehicle needs to be to accomplish that mission, and then design it around those" requirements.

"It may hover and shoot lasers. As long as it's decisively lethal, I don't care," he added.

Meanwhile, the Army issued a request for proposals in May for the optionally manned fighting vehicle. Responses from industry are due by Oct. 1.

"We'll get our bid samples — which are physical representations and the paper proposals — and then from October to March we will do … a source selection," said Col. John Bryan, project manager for next-generation combat vehicles.

Technical and operational experts will evaluate the proposals, and vehicle testing will be conducted at Aberdeen Proving Ground, Maryland, he said.

Senior leadership will then make a downselect decision based on the results. "Then we'll award up to two prototype contracts to continue to develop those vehicles until we get to our end state for this particular increment," Bryan said.

However, there will be another full and open industry competition before the Army awards contracts for low-rate initial production and full-rate production, he noted.

"Even a company that doesn't play today could come in with their own dark horse submission and win" a production contract, he said. "It could be a company that wasn't selected on this [prototype] phase, or it could be a company that never even proposed on this phase."

"A company could conceivably … watch the program, develop with their own dollars what they believe is a better proposal, and then we'll do [the industry competition] over again," he added. "That will take us into our low-rate initial production phase and then into our full-rate production phase."

The Army plans to equip the first unit with optionally manned fighting vehicles by 2026.
Topics: Army News, Robotics and Autonomous Systems