NDIA POLICY POINTS DEFENSE DEPARTMENT
Use EXIM Bank to Expand U.S. Global Influence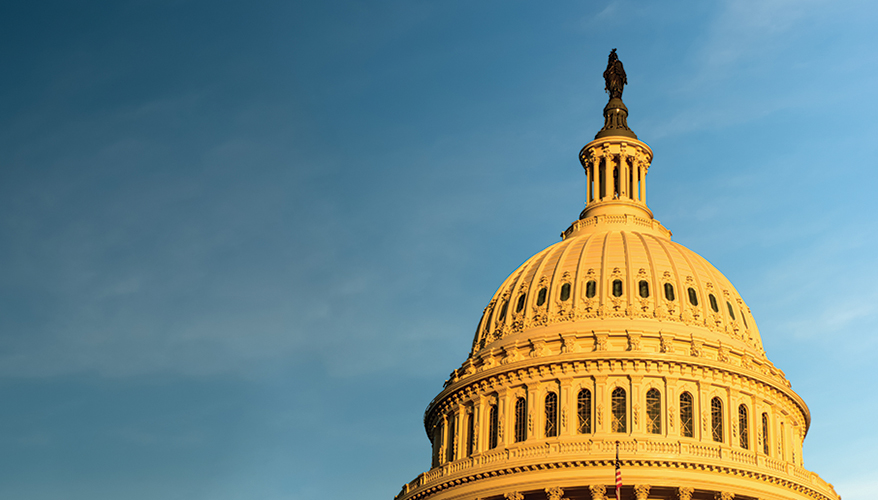 Photo: iStock
The United States' commitment to influencing global policy through soft power has atrophied recently, exemplified by a reluctance on the part of the U.S. government to leverage foreign military sales and direct commercial sales programs to further America's interests in regions targeted by its competitors.
And while defense exports provide a fraction of overall U.S. exports, this reluctance disadvantages America in its competition with China, a country aggressively using critical industries to supply vulnerable, strategic allies and partners with dual-use exports and infrastructure funding to bind these nations to Beijing and its interests.
As the nation re-evaluates its global presence, China fills strategic voids, demonstrating to U.S. allies and partners its technological and industrial capabilities by investing in their economies.
To counter this challenge to America's global standing, the U.S. government must recognize this threat and use every tool in its kit to bolster national security through economic instruments, implementing an innovative Marshall Plan for the 21st Century to counter Beijing's soft power campaign.
One tool the government should use is the Export-Import Bank of the United States. The Senate recently confirmed three new board members, allowing the EXIM Bank to operate at a full quorum. However, this does not meet the emerging strategic requirements posed by China's assertive investment strategies. The government must reimagine the bank as a strategic economic tool to enhance long-term U.S. interests abroad. It must redefine its mission to make clear its role in U.S. foreign policy and national defense, complimenting the Overseas Private Investment Corp.'s mission, but with the advantage of attracting the defense industrial base.
At present, the bank does not promote the long-term economic and security interests of the United States. Why? Its mission does not extend beyond mitigating moderate risk of
U.S. companies exporting goods overseas. Simply put, its mandate narrowly defines what its authorities allow. In contrast, current U.S. national security guidance advocates countering China's global expansion through broad support of private industry to develop and field high-end critical technologies.
Beijing's Export-Import Bank's mission similarly supports global trade; however, it offers much larger guarantees and investments and it focuses on projects and industries that align with China's long-term national interest, such as the Belt and Road Initiative and its Made in China 2025 industrial strategy. The bank has provided more than $150 billion to the Belt and Road Initiative and Morgan Stanley predicts Beijing will provide more than $1 trillion by 2027. The U.S. government, in contrast, plans to invest a paltry $113 million as a "down payment" in the Indo-Pacific region to counter China.
By redefining the EXIM Bank's mission to include supporting national defense priorities, and increasing investment, the U.S. government will catalyze the defense industry, boosting trade competitiveness with export financing as well as potential funding for research and development and the prototyping/fielding of innovative systems for dual-use purposes. Not only will this enhance the defense industry's ability to sell abroad, it will also create jobs across America.
The United States must embrace new ways to use EXIM Bank authorities to enhance global influence. China's "success" in increasing its global influence depends on its capacity to use foreign direct investment to fund infrastructure projects in vulnerable, cash-strapped countries. The United States needs to seriously consider this model and use the bank's funds to support U.S. companies using American materials to build overseas infrastructure and construction projects in developing countries for security and defense-related purposes.
This type of large, long-term investment will allow the United States to effectively compete in targeted emerging markets currently entangled with China's extensive Belt and Road networks.
Congress must appropriately fund the EXIM Bank and give it sufficient authorities to successfully shift its mission focus. Congress' authority over commerce and trade policy makes it the principal actor in reimagining its mission. Some in Congress, though, say the bank's operations violate free market rules, arguing it subsidizes industry when outside financing is not required. Critics also argue EXIM resources flow to countries competing with the United States. However, China is consistently using its export credit agencies and development funds to gain long-term power and influence, frequently at the expense of the U.S. government in strategic regions. Congress has the authority to shift the mission focus of the EXIM Bank and quell its detractor's arguments by directing the bank to target a more diverse group by adding authorities that will allow for the transfer and export of more dual-use military products, and by controlling how much financing opportunities the organization gives to near-peer competitors.
The government must recognize the benefits of using the bank as a tool to strengthen U.S. foreign policy and national security. In both the short and long term, restructuring its mission will help counter Chinese expansionism while simultaneously promoting American innovation and American companies.
Most importantly, it will strengthen and extend U.S. security cooperation agreements with nations in ways that will enhance national security and global stability. If the nation continues to use the EXIM Bank only for limited export promotion, it will surrender global influence, leaving it at a significant disadvanage trying to maintain a favorable balance of international power.

Christian Larsen is a legislative research associate on the NDIA Policy Team. He can be reached at clarsen@ndia.org. Rachel McCaffrey, executive director of Women In Defense, contributed to this column.
Topics: Defense Department, International, Global Defense Market