SPECIAL REPORT: China, Russia Hypersonic Programs - Real Progress or Bluster?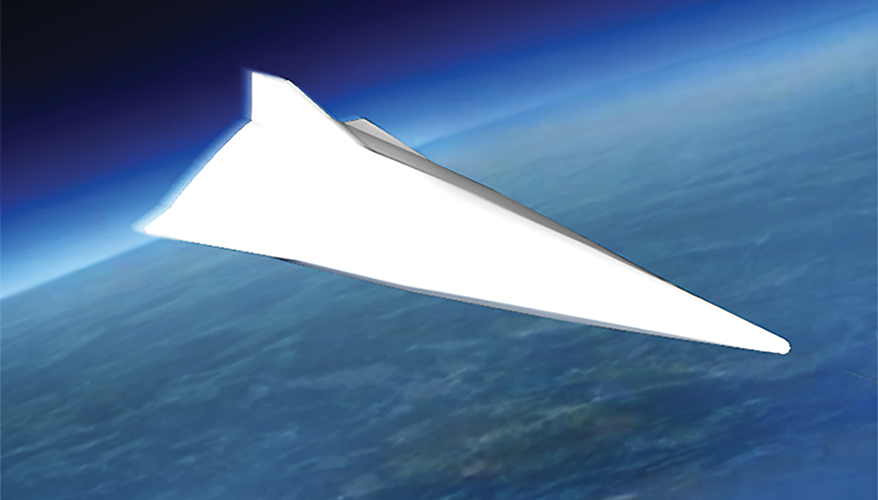 Chinese hypersonic concept
Art: Wiki commons
This part 2of a 2-part special report on hypersonic technologies.
China and Russia's intention to pursue hypersonic weapons lit a fire under the U.S. military, forcing it to re-invigorate its own programs.
But just how far the two rivals have come in their own programs and whether or not they can penetrate the United States' missile defenses is a matter of debate. Are they behind?
Have they caught up? Or are they ahead of the United States when it comes to this disruptive technology?
The answers are opaque, experts said.
When the United States began to shift its attention to counterrorism missions after the Cold War, Russia and China used it as an opportunity to bolster their air and missile portfolios, said Tom Karako, director of the missile defense project at the Center for Strategic and International Studies.
"The Cold War ended, and we kind of patted ourselves on the back. And we said, 'Aha, we've got air superiority,'" he said at the Hudson Institute. But Russia and China had begun to adapt, and they've begun to adapt especially with a spectrum of air and missile threats, he added.
Since then, the two countries have taken steps to invest in the research and development of hypersonic weapons as they face great power competition with the United States.
These platforms can reach speeds of Mach 5 or higher while maintaining their maneuverability, making them a strategic asset in missile defense.
China is already close to fielding hypersonic systems that can go thousands of miles beyond its shores to hit U.S. carriers and forward-deployed forces, according to Michael Griffin, the Pentagon's undersecretary of defense for research and engineering. He noted that the United States does not have systems to counter these weapons.
"Should they choose to employ them, we would be, today, at a disadvantage," he told the Senate Armed Services Committee's subcommittee on emerging threats and capabilities in testimony last year. "It is among my very highest priorities to erase that disadvantage, creating our own systems to hold them at risk and to provide defense."
The push to outpace the United States in weapons development is also reflected in Beijing's defense budget. China's military budget has doubled in the last decade, Griffin told the House Armed Services Committee's subcommittee on intelligence and emerging threats and capabilities in prepared testimony in March.
According to the Defense Department's 2019 annual report to Congress, "Military and Security Developments Involving the People's Republic of China 2019," China's military budget is expected to increase by an annual average of 6 percent, shooting it up to $260 billion by 2022. However, a lack of accounting transparency makes it difficult to pinpoint how much of its spending is specifically geared toward hypersonic weapons development and other categories such as research and development and foreign weapons procurement.
"Assuming accurate economic projections and a steady defense burden, China will remain the largest spender in the Indo-Pacific region besides the United States," the report said.
But Beijing still has obstacles to overcome for hypersonic glide weapon development. These systems require a large network of support infrastructure, some of which include navigation technologies and reliable data networks, according to a May report, "China's Advanced Weapons Systems," released last year by Jane's by IHS Markit.
"Should China be able to combine these capabilities, it will have a weapons system with the potential to destabilize and arguably reshape regional and global security dynamics," the report said. A hypersonic glide vehicle "will provide a leap forward in regional defense and increase the range of the missile."
This would also potentially allow the Chinese to threaten surface ships out to the second island chain, which consists of ocean-locked land masses from Japan through the Mariana Islands, according to the document.
Tate Nurkin, the leading author of the report, said the "big area of development" for China is hypersonic glide vehicles, which are put on rockets and shot high in the air to reach high speeds while gliding back to Earth.
Between 2014 and 2018, all known tests of Beijing's DF-ZF hypersonic glide vehicles have been successful except for one, according to the report.
"Obviously we don't know what the objectives of the tests are," Nurkin said in an interview. "The systems seem to work. One of them failed fairly spectacularly."
In August 2014, the glide vehicle experienced a suspected failure, the report said. James Acton, co-director of the Nuclear Policy Program and a senior fellow at the Carnegie Endowment for International Peace, said in 2017 that the system likely experienced a booster failure.
However, these glide vehicles are "a pretty disruptive capability," Nurkin noted.
"The weapon is something that should cause the United States concern," he said. "If it really is a weapon that can go Mach 5 ... and defeat U.S. missile defense systems, that puts carriers at risk."
Another notable Chinese effort includes the development of the dongfeng-17, a medium-range ballistic missile designed to hold a hypersonic glide vehicle. The missile is anticipated to reach initial operational capability by 2020 and is estimated to have a range between 1,800 and 2,000 kilometers, according to CSIS' Missile Defense Project.
China Times reported in January that eight of the missiles would be able to destroy a U.S. aircraft carrier. The weapon is based on Beijing's dongfeng-16B medium-range ballistic missile, the outlet stated, but has a better range and warhead.
China state media has also reported the development of a hypersonic wind tunnel that would be used to test aircraft that can travel up to Mach 25. Han Guilai, a researcher with China's State Key Laboratory of High Temperature Gas Dynamics under the Chinese Academy of Sciences, told China Central Television that the researchers in Beijing have already used another wind tunnel to test a hypersonic plane at ranges of Mach 5 to 9.
"The new tunnel will aid the engineering application of hypersonic technology by duplicating the environment of extreme hypersonic flights," Guilai said last year. "Once issues are discovered during these ground tests, they will be ironed out before test flights begin."
China has set its eye on developing hypersonic weapons to target the "gaps and seams" of the United States' defenses, Karako noted.
"They're trying to fly beneath and around our ballistic missile defense architecture — turns out we've gotten pretty good at that over the past couple of decades and getting better all the time," he said.
When asked if China's advancements are credible or just propaganda, Nurkin said it is difficult to tell.
"I sort of take somewhere between the alarmist and dismissive approach on China," he said. However, Nurkin noted that he leans toward taking China seriously, given its large amount of effort on hypersonic weapons.
It would be best to frame China's hypersonic weapons development as "reaching parity" with the United States missile defenses, he added. Washington will need new ways to shoot these down, he noted.
"I don't know if China is significantly ahead in hypersonics," he said. "I don't think they are, but I think that they have cut the gap to such a degree that it's a real and pressing challenge for the U.S. defense community to maintain advantage."
For Russia, claims about its hypersonic weapons development should be taken with a "grain of salt" until there is more flight testing, said Paul Schwartz, an analyst at CNA who specializes in the Russian military.
"They've touted these weapons and — from open sources — they seem to be actively pursuing them," he said in an interview. However, the Russians "are notorious about advertising one particular date and then having that date slip and then slip again and then slip again."
One of the country's systems includes an anti-ship missile called the Zircon, according to TASS. In April 2017, the Russian outlet reported that the missile reached a speed of Mach 8 and can be shot from a 3C14, a universal launching platform. The weapon is said to have a range of 400 kilometers and is slated to be launched from a ship for the first at the end of this year, the outlet reported in March.
Russian President Vladimir Putin's interest in hypersonic technology is not new, Schwartz said. Many of the country's efforts to develop these weapons have experienced starts and stops, he noted.
However, these initiatives have caught the United States' attention in an era of great power competition, said Tom Callender, a senior research fellow for defense programs at the Heritage Foundation.
"Russia is not going to … play nice in Europe," Callender noted.
During the Stalin era, the country examined the possibility of using long-range hypersonic bombers as a delivery vehicle for an atomic weapon. However, "ultimately ballistic missiles prevailed as the most effective means of proceeding and hypersonics sort of languished for many years," Shwartz said.
Interest was renewed after U.S. President Ronald Reagan proposed the "Star Wars" initiative, he noted, which was a space-based 1980s anti-ballistic missile program. It experienced a roadblock following the collapse of the Soviet Union, and hypersonic weapons development was shelved again.
"It looks like these programs were dusted off and then continued, restarted or reinvested and then reinvigorated," he said, basing his opinion on open-source reporting.
For instance, Russia's Avangard hypersonic glide vehicle appears to be a successor of earlier programs, he said. Putin revealed the weapon in March 2018. He later stated that the boost-glide system is scheduled to be delivered to the military this year. Avangard has a range of over 6,000 kilometers and can change course while mid-flight through the atmosphere, according to Russian state media.
"The glide vehicle is capable of flying at hypersonic speed in the dense layers of the atmosphere, maneuvering by its flight path and its altitude and breaching any anti-missile defense," TASS reported. One unit equipped with the Avangard hypersonic glide vehicle is slated to go on combat duty by the end of the year, reports have said.
Additionally, the RS-28 Sarmat — Russia's new intercontinental ballistic missile — may be able to carry Avangard, Defense Intelligence Agency Director Army Lt. Gen. Robert Ashley Jr. said in May at the Hudson Institute.
An air-launched hypersonic missile called the Kinzhal, or, "Dagger," is also said to be in the works. The system is said to have a range of 1,500 to 2,000 kilometers and can carry a nuclear or conventional payload of 480 kilograms, according to CSIS. RT, a Russian international television network, stated in May that Putin stopped by Akhtubinsk, a southern city in Russia, to examine a MiG-31 jet with a Kinzhal missile.
Although Russia has been working on these weapons for some time, the United States is paying more attention to Moscow's hypersonic weapons efforts now because of great power competition, Callender noted.
Putin appears to have the budget to fund the research and development of these programs, Shwartz said, but moving the weapons into production "is another matter."
"It depends on how many they might want to produce and so forth," he said. "But I would not count out their ability to actually continue with R&D efforts at least."
Callender said a decline in Russia's economy could subsequently lead to a decline in its military capabilities, similar to what the country experienced post-Soviet Union. The Heritage Foundation's 2019 Index of Economic Freedom noted that low oil prices, the annexation of Crimea and the push to revamp the military have "strained" Russia's public finances. Even if Moscow does purchase hypersonic weapons, he noted, they may not be able to afford as many systems as China can.
"They're gonna have a hard time sustaining this," he said. "That might be part of the reason why they're trying to tout any of these tasks as [a] big success," he added. Putin may be "trying to create the image of this capability as a deterrent even when they may not have them."
The strategy includes publicizing their hypersonic weapons development through the internet and making public announcements, he noted.
"They're putting stuff out there," he said. "They're making their own announcements with cool videos and everything."
Both Russia and China are very good at information warfare, he added.
However, Karako said, "Putin is a good marketer, but I think the consensus is that there's a lot of truth to the assertion that the threat is real here."
Part 1: Defense Department Accelerates Hypersonic Weapons Development
Topics: Emerging Technologies, Air Power, Global Defense Market, International