NATO Nations Strive to Standardize Training Systems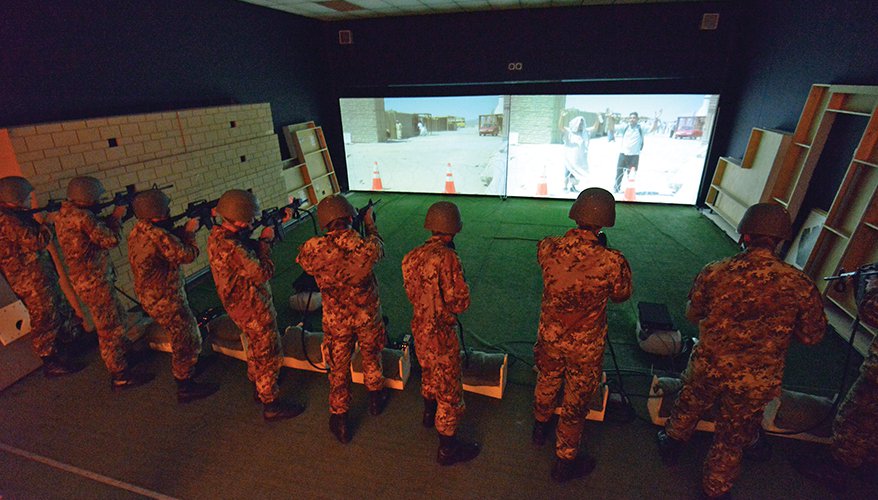 Photo: Defense Dept.
STOCKHOLM, Sweden — Technology in the training and simulation field is advancing so rapidly that some militaries in the NATO alliance are having a hard time grasping how to best use it, experts recently said.
Militaries, for example, are caught up in the virtual reality craze and buying goggles without much thought into how they will use them, said Germany's Lt. Col. Wolfhard Schmidt, branch head of training development at NATO's joint forces training center.
"I think the most important point is that we are not afraid of the new technology and I think nobody is, but we have to make it clear how we to want to use it and where are the limits," he said during a panel discussion at the ITEC 2019 conference in Stockholm, Sweden, co-sponsored by the National Training and Simulation Association.
Running out to buy the latest gadgets also creates stovepiped systems when NATO nations come together to train, he said.
As is the case with all military equipment, individual NATO nations make their own decisions on what equipment to buy, and training and simulation systems are no exception, he said. NATO plays the role of a moderator, but can't force its member militaries to adhere to standards.
However, they can only bring plug-and-play systems when taking part in joint exercises, said Adrian Voiculet, technical officer in the NATO Science and Technology Organization's modeling and simulation coordination office.
"We are trying to avoid the stovepiped environment by promoting open standards," he said in an interview.
Schmidt added: "It's not a computer game. It is training and that means the training needs standards."
German Navy Cmdr. Jorg Feldhusen, staff officer of education and training at the center of excellence for operations in confined and shallow waters, said, "We also need to develop a vision of where we do we want to go in the future. What are our real training needs? And then look at the opportunities that new technology can offer us."
NATO nations see the benefit of synthetic training — mixing live training with simulations in order to gain efficiencies and lower costs, noted Feldhusen. This kind of training is possible in the German navy now, he added. It "will provide us a low cost, scalable, challenging training in a controllable environment. And that's very good," he said.
But synthetic training will never replace live training, Feldhusen said. "We will need that live training, especially when it comes to ship movements and everything," he said.
However, synthetic training can shorten the preparation time so sailors can concentrate on live exercises, he added.
Modern day crews will require this new training technology because they have to maintain operational readiness, he said.
"Even the crews which are not on board their ship can train when they need to train," Feldhusen said. Simulations cut down on expensive live-fire exercises, he noted.
"Synthetic training of an entire ship's crew is very hard to realize and there are a lot of things out there, such as virtual reality — you can run around with goggles and a lot of things. But always keep in mind, is all that technology necessary?" he asked.
"Do we need to give a goggle to every sailor on board the ship to train them all together? I don't think so. So sometimes less is more," he added.
Markus Schuppert said his company, thyssenkrupp Marine Systems of Kiel, Germany, is offering holistic crew training for European navies. Most naval trainers have focused on bridge operations, command-and-control rooms or the machinery control rooms. The company's technology can expand that, but customers are behind the curve, he said.
"When you're talking about procurement processes you see far too many stakeholders, but there's hardly any decision-makers. So the procurement cycles are completely detached from innovation cycles," he said.
Solutions are often evaluated with regard to how they fit into the existing training. The lack of a holistic perspective prevents the navies from improving the overall training organization, he added.
Feldhusen said: "It cannot just be technology push, it has to be a pull from the demand side. And before you can do that, I think you need to have a better understanding of where you want to be or where you need to be a couple of years down the road. We do try to address that, but it's a challenge."
David "Rusty" Orwin, head of U.K. sales for Bohemia Interactive Simulations, said, "There are some great ideas, some great technology. How do we make use of that technology and deliver it for the benefit of training?
"That [younger] generation coming through is expecting the latest technology when they turn up to get trained."
It's a matter of expectation management, he said. "If you have them immersed, they're interested and then therefore, hopefully the training benefits should go up."
Maj. Ray Townsend, commanding officer of a P3 training and operations squadron in the Royal Canadian Air Force, fears more stovepiped systems even as the training and simulation technology improves.
"I feel that connectivity is one of the main issues that's going to either have success or failure maximizing these things in the future," he said.
Meanwhile, as individual NATO nations question where they are going in training and simulation, the U.S. Army is proceeding rapidly with its Synthetic Training Environment program, which is listed as one of the service's top modernization priorities.
Tom Lasch, modeling and simulation strategist at the Joint Multinational Simulation Center, 7th U.S. Army Training Command, U.S. Army Europe, said, "We are about to embark on a revolutionary jump into technology with the synthetic training environment." The initiative calls for soldiers in all echelons to engage in 20 bloodless battles before they ever see real combat and to do so with realistic virtual training and other methods.
The Army has only made "moderate" investments in virtual reality training compared to the computer gaming industry, he noted. "The good thing is we have reaped the benefits of that technology from the entertainment industry."
The Army program executive officer for simulation, training and instrumentation Brig. Gen. Michael Sloane, in a keynote speech at the conference, said the program is moving forward at a quick pace.
"We have a great ability to get requirements approved very rapidly, get funding, then get after prototyping very rapidly to inform requirements. It's a very different way of doing business than we have done in the past," he said.
Wim Huiskamp, chief scientist of modeling, simulation and gaming at TNO-Defense, Security and Safety, a Netherlands-based independent research organization, said NATO nations are still pondering where they need to go on training and simulation. "We just don't know yet," he said. "What I would like to see with the augmented reality, virtual reality is something similar to a holodeck and that sort of the ultimate immersion.
"But do we know what we're going to do with it? If we had that type of ability — if it was there out there on the exhibit floor — how would we use that capability?"
European militaries need to start thinking about what kinds of simulators they want and how to best use what they have, he added.
Voiculet said NATO's Science and Technology Organization lists modeling and simulation as one of its seven main research areas.
The NATO Modelling and Simulation Centre of Excellence was established in 2012 to help member nations train, analyze, verify and validate their simulators and ensure they adhere to NATO standards. It does this through a modeling and simulation standards subgroup, which works closely with the U.S.-based Simulation Interoperability Standards Organization, he said.
NATO had 19 modeling and simulation research programs ongoing as of March, according to a list provided by the Science and Technology Organization.
Some examples are: M&S Support for Crisis and Disaster Management and Climate Change Implications; Low Slow Small Threats Modelling and Simulation; Live, Virtual Constructive Training in the Maritime Domain; and Top 10 Cyber Effects for Campaign and Mission Simulation.
The organization is also looking at how to link military aircraft simulators, Voiculet said. However, the familiar red tape problem is standing in the way.
"It's very challenging, not because of technology but because of security policies," he said.
Topics: Training and Simulation, International, Global Defense Market