ROBOTICS AND AUTONOMOUS SYSTEMS
Reapers to Give Marine Corps New Set of Warfighting Tools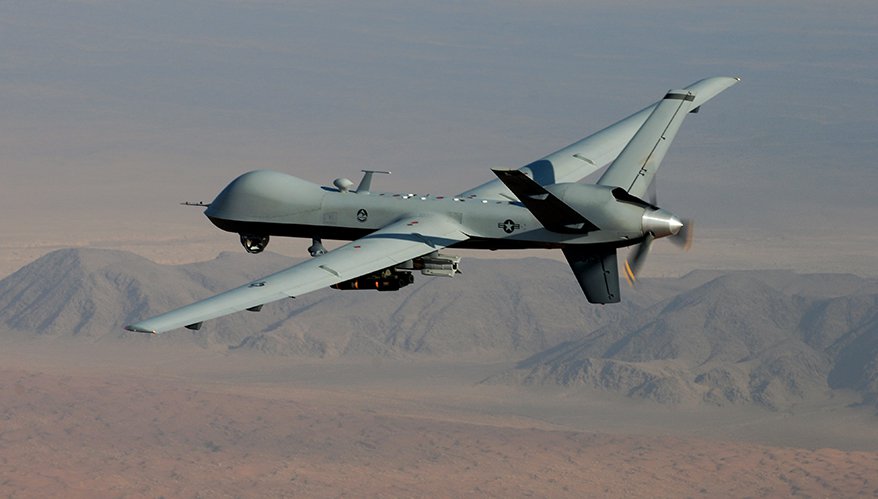 MQ-9 Reaper
The MQ-9 Reaper — a General Atomics-built drone that has been used extensively over the past decade for military strikes against insurgents across the Middle East and Africa — may soon be a permanent fixture in the Marine Corps' inventory.
In President Donald Trump's fiscal year 2020 budget proposal, the Marine Corps requested three systems, with an additional three planned for fiscal year 2021. The service asked for $117 million to purchase the first three systems, according to a Marine Corps spokesperson.
Rear Adm. Randy Crites, deputy assistant secretary of the Navy for budget, said the platforms fulfill an urgent operational need for the service.
"We intend to transition this to a program of record once we complete the program validation process," he said during a briefing with reporters at the Pentagon.
Lt. Gen. Steven R. Rudder, deputy commandant of the Marine Corps for aviation, said the service currently uses contractor-owned, contractor-operated MQ-9s.
"The purchase that we have in this year's budget allows us to buy these systems that we're already operating," he said during an April hearing of the House Armed Services subcommittee on tactical and land forces.
The move will allow the Marines to install certain weapons and conduct missions that they cannot currently execute under the existing contracting mechanism, he added.
Capt. Christopher Harrison, a spokesperson for the Marine Corps, said the service has been operating the Reaper under the contractor-owned, contractor-operated agreement for two years. It has been used for multiple types of missions.
"The MQ-9 Reaper provides increased lethality to the Marine Air-Ground Task Force by providing persistent intelligence, surveillance and reconnaissance and strike capability, which the Marine Corps has not previously possessed in an unmanned system," he said.
Harrison noted that the service has also previously experimented with MQ-9s during its weapons and tactical instructor courses in Yuma, Arizona.
Bryan Clark, a senior fellow at the Center for Strategic and Budgetary Assessments, a Washington, D.C.-based think tank, said the platforms will be a key enabler for electronic warfare missions in the future.
The service currently has plans to integrate Intrepid Tiger II program pods onto the MQ-9s, he said. Intrepid Tiger II is a family of communications and electronic warfare payloads that provide airborne electronic attack and electronic warfare support for Marine aviation platforms, according to the service.
The Marine Corps has previously integrated the system on the EA-6B Prowler but those will be retired this year, Clark said.
Intrepid Tiger pods onboard a Reaper would allow the Marine Corps to conduct missions such as "jamming, deception jamming to try to confuse the radars, ... or they can do noise jamming to try and just drown out the radar's ability to hear anything," he said.
They can also be used to passively listen for enemy signal emissions, he added.
Having such a capability in the service's inventory will be important as the military faces great power competition with peer competitors such as Russia and China, Clark said.
"Great power competition plays out to some degree in places like Syria," he said. "The Russians have been using Syria to test out some of their electronic warfare systems."
Additionally, the Marine Corps is conducting a series of experiments and demonstrations in the Asia-Pacific where it is executing missions out of austere bases, he said.
"What they're thinking of doing is maybe using ... the MQ-9s off of those places in the Philippines to do surveillance for them, as well as to do some of these electronic warfare missions," he said. "It's really a way to try to give the Marines more of a capability to deal with great power competitors more so than … the lower-end stuff they did in Iraq and Afghanistan."
Acquiring the Reaper will allow the service to conduct surveillance and electronic warfare in the South China Sea, he added.
The Marine Corps would also be able to employ the MQ-9 in an armed reconnaissance role in places such as Iraq, Afghanistan, Syria and Africa, he added.
Clark noted that General Atomics has continuously improved the Reaper over the years, giving it longer endurance and the capacity to carry more payload all while keeping it affordable. Additionally, it's at a price point where it's cheap enough that it can be used for great power competition-type missions, he said.
"It's a great electronic warfare platform because it will be detected — especially if it's emitting, doing jamming — so you might as well use something that's cheap to do that," he said. If an "adversary decides to shoot it down, it's unmanned, it's only $10 million, $12 million at the most. And you can certainly buy enough of them that if you lost one, that's something you can recover from compared to even an EA-6B where you wouldn't want to lose any of those."
General Atomics — the manufacturer of the Reaper — declined to be interviewed for this story.
Harrison noted that while the decision to purchase a handful of Reapers will give the service new persistent strike capability, the long-term objective is for the Marine Corps to be able to gain valuable insight from operating and sustaining a group 5 unmanned aerial system via its Marine Air-Ground Task Force unmanned aircraft system expeditionary, or MUX, program. Group 5 systems are a category of drones that have the greatest size and endurance compared with other unmanned aerial vehicles. The service has requested $21.16 million in the fiscal year 2020 budget for the program, he said.
"MUX will be a critical capability for future Marine Corps expeditionary operations, providing the service persistent intelligence, surveillance and reconnaissance that is strike capable with vertical/short take-off and vertical landing capability to operate from amphibious assault ships," he said. "In addition to its strike capability, MUX will also provide airborne escort for existing platforms, as well as cargo resupply for distributed operations."
The funding requested would provide technical concept maturation and experimentation for MUX, ensuring the program remains on track to provide the Marine Corps with an operational capability by fiscal year 2026, he said. The effort includes the development of system architectures and rapid prototyping of critical components to inform a future program of record, he said.
Harrison added that the MUX program has already benefited greatly due to lessons learned from previous operations and experiments with Reapers.
Clark noted that it would be possible for the MQ-9s and MUX systems to work together in the future.
With "the MQ-9, the benefit of using it in concert with these aircraft would be that it has got a really long endurance," he said. "You could have a Reaper deploy with it as overwatch ... [with] armed support."
In one possible scenario, the Marine Corps could deploy troops via MV-22 Ospreys from the Philippines to a faraway location. The tilt-rotor aircraft could carry them several hundred miles, but another system — such as the MUX — could be used to deliver cargo ashore. The Reaper — which has an endurance of nearly 24 hours — could follow and protect it or conduct electronic warfare support, he explained.
However, Clark noted that he hasn't seen a lot of momentum occurring with the MUX program.
"The problem is that it's a developmental effort and the Marine Corps doesn't have a lot of developmental money," he said. Based on comparisons to other large, vertical-launch unmanned aircraft programs, such as the Defense Advanced Research Projects Agency's Tactically Exploited Reconnaissance Node, or TERN, effort that predated MUX, Clark said he anticipated the aircraft to cost substantially more than a traditional military helicopter such as the MH-60.
"It made it a difficult proposition for the Marines to develop and then buy a lot of these MUX," he said. "That's why the MUX effort has ... sort of stalled."
However, the Reaper would be able to conduct some of the missions that the MUX is envisioned to do, he noted.
"If you can deploy the MQ-9 from a land base that's a long way away, you can use it to do armed reconnaissance that the MUX might do," he said. "It might be able to do some of the ISR that the MUX might have done. It just wouldn't be able to do the cargo carrying job that the MUX can do."
However, an MV-22 would be able to take on the cargo delivery mission, he added.
"The MQ-9 gives them part of that alternative way, and I think that's kind of what they are looking at," he said. It could give the Marines a way to make up for the fact that they might not be able to develop the MUX, he added.
"Between the MV-22 and the MQ-9, you'd probably be able to do everything you could do with the MUX, just not as well necessarily," he added.
Congress will have to appropriate the funds for the new Reapers, but Clark said he doesn't expect there to be much pushback.
What the Marine Corps is doing is "really intriguing," he said. "This is really the first case of a service looking at using an MQ-9 in more of a high-end warfare application rather than simply to do reconnaissance [and] strike in the Middle East."
Harrison noted that the Marine Corps also expects lawmakers to be amenable to the request, noting that both the Reaper and MUX efforts fulfill an important requirement at a lower cost than legacy aircraft.
Topics: Marine Corps News, Robotics and Autonomous Systems, Robotics, Air Power