JUST IN: New Marine Corps Infantry Weapons on the Horizon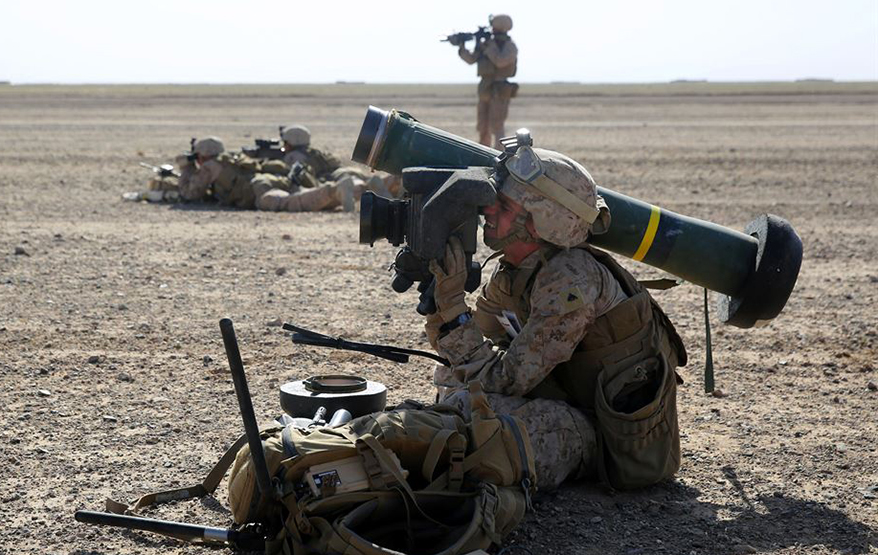 Photo: Marine Corps
FREDERICKSBURG, Va. — The Marine Corps is pursuing a slew of new technologies to give infantrymen the edge on the battlefield, said an official June 4.

"We are undergoing probably the largest modernization in the infantry squad in the last 25 years," said Lt. Col. Tim Hough, program manager for infantry weapons at Marine Corps Systems Command's ground combat element systems division.

Everything from optics to the weapons themselves are getting revamped, he said during a panel discussion at the National Defense Industrial Association's annual Armament Systems Forum in Fredericksburg, Virginia.

This "is going to change significantly how we fight from how fast you can maneuver to how lethal Marines are going to be on the battlefield," he added.

The service is currently seeking a new low cost and highly reliable rocket motor, he said. The Marine Corps is decreasing the number of tube-launched, optically-tracked, wire-guided (TOW) anti-tank missiles in the infantry battalion from eight to four and increasing the number of Javelins from eight to 12.

With "that increase in the number of Javelins we need reliable motors that are low cost," Hough said.
The military is now gearing up for potential conflict with great power competitors Russia and China, and Javelins can be used in fights with near-peer adversaries, he noted.
Another area of interest is a new suppressor for rifles. The Marine Corps is planning to release a request for proposals to industry, Hough added.

"The intent is to suppress every M4, M4A1 and M27 in the infantry community," he said. "Our intent there is to move quickly and find the best possible suppressor we can that is good enough in order to move out in a quick enough fashion."

The Marine Corps plans to award a contract for a suppressor by the fourth quarter of fiscal year 2020, he noted.

Another top priority for the infantry weapon program office is the dual-tube, white phosphorus squad binocular night-vision goggle, Hough said. The service currently has an RFP out for the system with proposals due by June 21. He noted that the RFP was originally due on June 7 but after speaking with industry the deadline was extended. The Marine Corps expects to announce a contract award by mid-July.

"The intent there is to give Marines a better optic over what they have in the infantry community right now," he said.
The service is also working on a new squad common optic that will be outfitted on the M27 to give Marines greater fidelity. "We're fielding to every infantry rifle platoon in order to give an automatic capability to the entire infantry rifle platoon," Hough said. The optic is currently undergoing testing. An RFP should be released by late first quarter or early second quarter of fiscal year 2020, and a contract award is slated for third quarter of fiscal year 2020, he said.

Hough noted that the Marine Corps is planning an industry day with the infantry weapon program office for late fourth quarter of this fiscal year or early first quarter of the next fiscal year. He said he is considering combining the event with the Modern Day Marine exposition in Quantico, Virginia.

Hough emphasized the need for better dialogue between government and industry as they collaboratively approach weapons development.

There has to be "engagement at the grassroots level, right where the rubber meets the road," he told a room full of members of industry. "Engagement at the PM level and below is where I think you're going to make the most traction for your efforts and what you're trying to do."

The government needs realistic timelines and estimates of what can be fielded, when it can be fielded and what's in the realm of the possible, he said.

Hough noted that the Marine Corps is focused on getting the right capability faster, even if that means something isn't perfect.

"If I need a car to drive down [Interstate]-95 … I don't need the Tesla when I can drive the Honda Odyssey," he said. "That's good enough and gets us what we need."

Hough called for industry to invest more internal research-and-development dollars toward new technology, but also noted that the Marine Corps must do a better job of crafting forward-looking strategies so companies can make the right choices.

"We all recognize it's hard for industry to invest their IRAD when you don't know where we're going," he said. "You need some level of plan or strategic direction by the service so that you can make informed decisions ... because we understand there's a fight for dollars within each company."
Topics: Marine Corps News, Land Forces