JUST IN: Army Moving to Modernize Ammunition Plants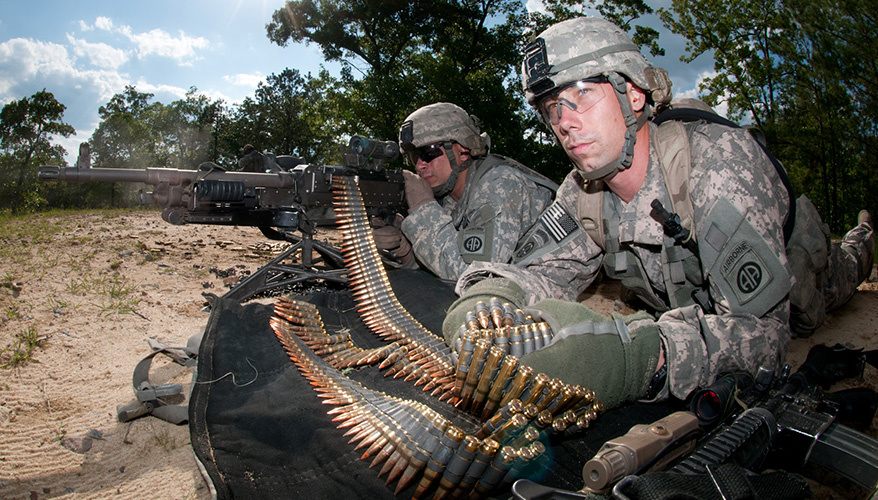 Photo: Army
FREDERICKSBURG, Va. — The Army is working on a major effort to upgrade the service's five government-owned, contractor-operated ammunition plants, said the senior commander of Picatinny Arsenal June 4.
The ammunition plants include Holston in Kingsport, Tennessee; Radford in Radford, Virginia; Lake City in Independence, Missouri; Iowa in Middleton, Iowa; and Scranton in Scranton, Pennsylvania, said Brig. Gen. Alfred Abramson, who also serves as the program executive officer for PEO armaments and ammunition.
Most of those facilities were built in the 1940s, he noted during remarks at the National Defense Industrial Association's annual Armament Systems Forum in Fredericksburg, Virginia.
Some of those facilities look like they date from the World War II era, he said. "We've got to modernize those to get capability for the future."
The service has requested $475 million in President Donald Trump's fiscal year 2020 budget proposal for the upgrades, he said. That is more than the $458 million that was allocated for this fiscal year.
Abramson noted that the 2019 National Defense Authorization Act calls for increased investment in the ammunition industrial base.
The need for more spending comes as the Army is embarking on a major modernization effort through its newly established Futures Command that is based in Austin, Texas, Abramson said. The service's top modernization priorities include long-range precision fires, next-generation combat vehicle, future vertical lift, the network, air-and-missile defense and soldier lethality. The service has created eight cross-functional teams that will be spread across those lines of effort.
The Army is "focusing on modernization priorities, modernization capabilities. But at the same time … [there is] a commitment and recognition that if we're going to build a better mouse trap, so to speak, we've got to invest in the" government-owned/contractor-operated ammunition plants, he noted.
Currently, the Army is struggling to produce sufficient amounts of materiel at these facilities, he said, citing the Holston plant as an example. "Today we cannot keep up with the demand signal for the explosives that Holston can produce," he said. "We are currently going through a very expansive expansion, modernization and facilitation effort at Holston just to keep up with the demand today."
Modifications and upgrades at the facility are slated to come online within the next two to three years, he said.
According to Abramson's slides, the Radford plant manufacturers propellants and propellant ingredients. The Lake City facility provides small caliber ammunitions. The Iowa plant loads, assembles and packs ammunition items. The Scranton facility manufacturers metal parts for artillery, mortars and some Navy projectiles.
Abramson noted that the Army is investing heavily in ammunition. Despite moves across the service to realign resources for its top six priorities, the ammunition and armaments portfolio is well supported by Army leadership, he said.
"We continue to see growth … in our procurement accounts," he said.
The Army received nearly $2.3 billion for ammunition and armament procurement in 2019. The 2020 budget request calls for $2.59 billion for those accounts, Abramson noted.
There has also been an uptick in its research, development, test and evaluation funding, he said.
"The takeaway from that is we need more munitions, but we also have committed to … making those munitions better, making them do more than what they did before," Abramson said.